Naming ceremony or Namkaran is a beautiful ceremony of naming the child. Whether it's your baby boy or baby girl, naming your child would always feel like a blessing. In Hindu tradition, the namkaran or naming ceremony depends on the people how they want to have it performed. Some people like to go to the temple, some prefer a grand ceremony. So, it totally depends on how you want the naming ceremony to be.
The Hindu Baby naming ceremony is usually performed by a pandit. The Havan and pooja are performed followed by drawing the horoscope of the child. After that the name is chanted by his or her parents. 
No doubt that the naming ceremony or Uyyala is beautiful and has it's significance. But if you're wondering how to have a grand one for your newborn then there are sure some things that you should consider knowing! 
Things to Consider for a Naming Ceremony in Hyderabad
Naming Ceremony Days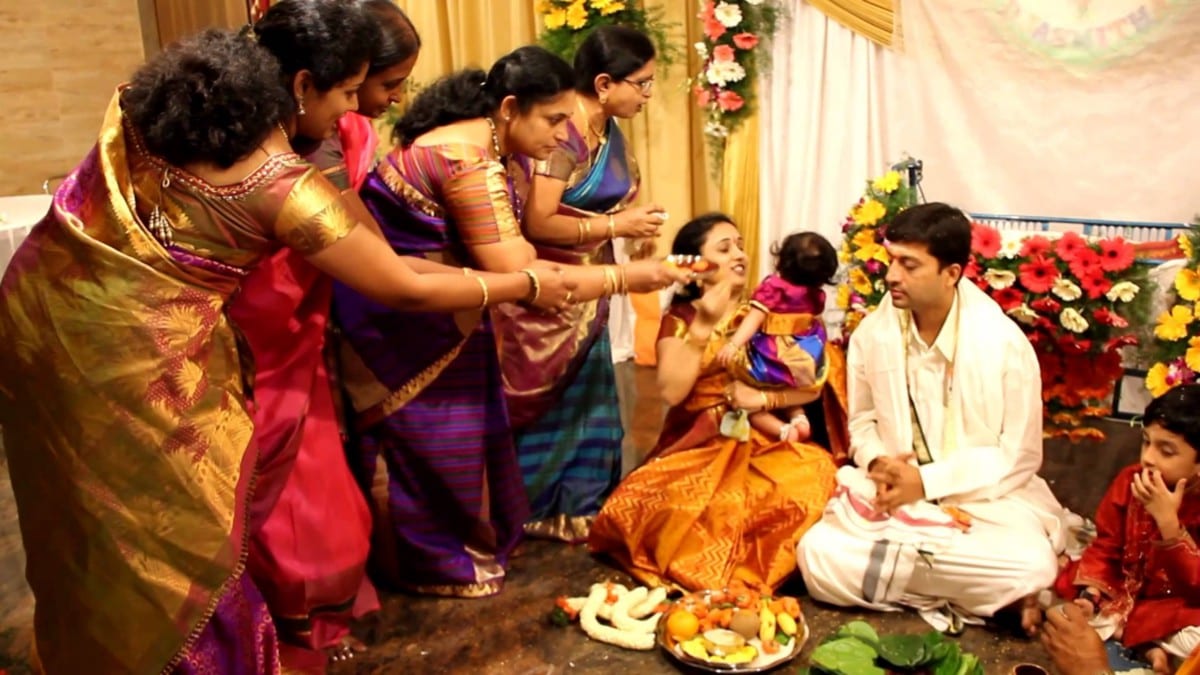 If you are going to have a grand naming ceremony remember that you need to choose the right day for it. The new born child is supposed to be named 11 to 12 days after birth. This is why you need to take care of the date you fix for the ceremony. It should be in accordance with the birth of the child. 
Arranging a Banquet for the Ceremony
A Grand ceremony does need a grand place so that it can be performed beautifully. You can choose among a variety of Banquet halls and venues in Hyderabad for it to be executed the way you want. A Banquet hall will let you have a lavish ceremony for your newborn. 
Gathering Pooja Material 
Naming ceremony involves the Pooja with Pandit as this way only a hindu baby naming ceremony is performed. So, you need to make sure to gather the Havan Samagri, and need material for the naming of your child. 
Choosing Grand Decorations 
Cradle Decorations are something that you need for your ceremony to be grand. The decorations tend to make any event grand and lavish. So, make sure that you choose wonderful decorations. You can find a variety of naming ceremony decorations for boys and naming ceremony decorations for girls online in Hyderabad.
Sending Naming Ceremony Invitations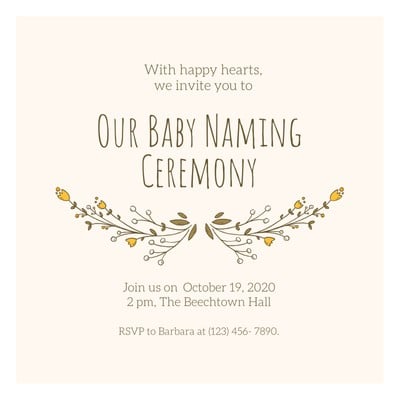 Don't forget to get a Naming ceremony Invitation Card printed. Gather the names of the family and friends you want to invite and write the names on the invitation cards so that they can be sent on time. If you want only your close ones to be there then you can send the Naming Ceremony Invitation for baby boy or baby girl according to that! 
Selecting Delicacies
Food must be added as you're celebrating the naming of your child. Make sure to choose delicacies that will leave your guests finger-licking. Also, don't forget to add dessert or something sweet that helps you to celebrate the happy occasion! 
Grand Naming Ceremony Decorations to Have in Hyderabad
The City of Hyderabad will give you plenty of places and decorations to celebrate your occasions. Decorations will let the people remember your naming ceremony as a grand event. It not only beautifies the occasion but also adds elegance to it! 
You can have a wonderful Naming Ceremony Decoration or Cradle Decoration- 
Naming Ceremony Decoration for Baby Girl
Create a wonderful atmosphere with the naming ceremony decoration for your baby girl in Hyderabad. Here are some of the best theme decorations you can go for-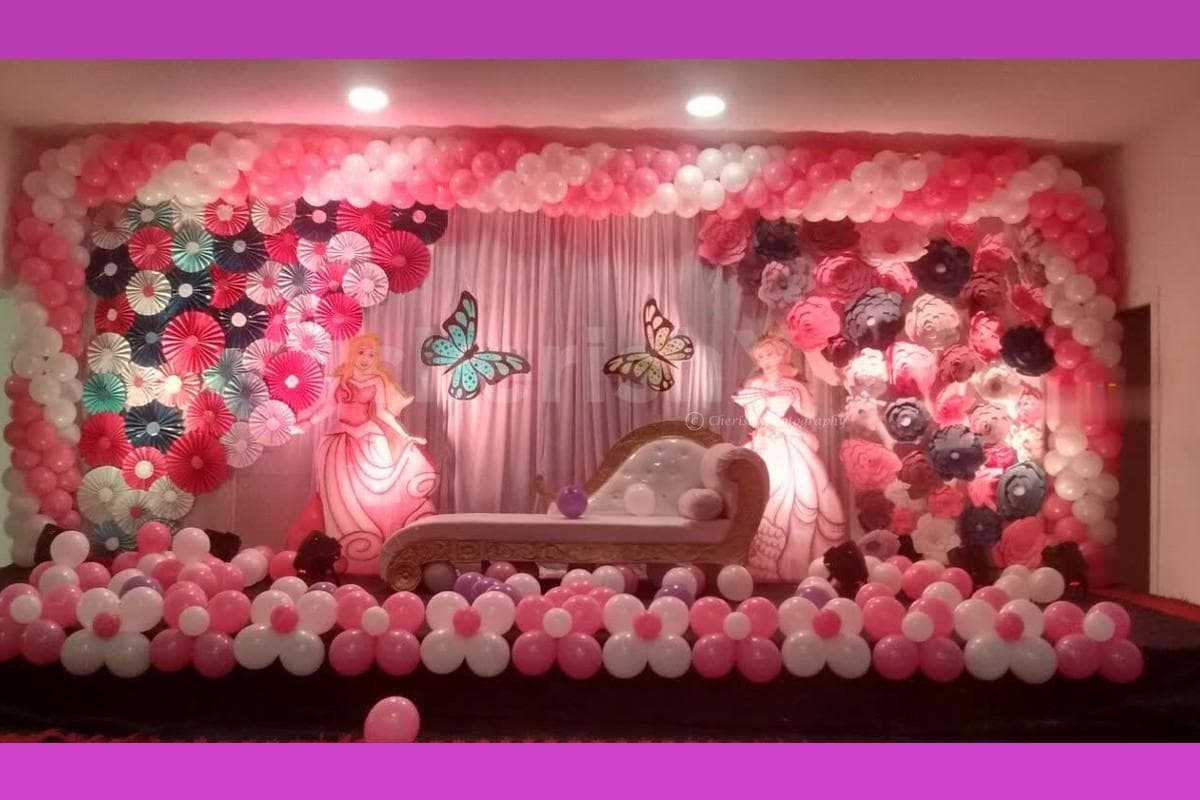 Get this wonderful Princess theme decoration for the naming ceremony for your baby girl. You can have a grand decoration for your grand celebration. Curated with a lot of elements, this decor highlights the event beautifully! It includes a White satin cloth stand backdrop, Multicolour paper fans for the backdrop, Flower crafts on backdrop Balloon (Pink & White color) arch, Princess sunboard cutouts of 3ft each, Butterfly sunboard cutouts of 1 ft each, LED par lights, Balloon Bunches (Pink & White ) for hall decoration, and more.
Every girl while growing up has played with one or the other barbie dolls so making the Barbie doll come out alive in your decoration might be the best thing to do! 
This decor could be the perfect way to welcome your daughter. You can take adorable pictures of her. The decor is wonderful and includes a draped backdrop, paper flowers, paper crafted mirror frames, baby name thermocol letters and more items for a perfect decoration! 
Welcome and celebrate your daughter with this beautiful butterfly theme decoration. Your naming ceremony decoration will surely tell the story of your event. This Uniquely designed Butterfly Theme Decoration includes Theme flex stand backdrop of 30×8 ft, Bird form cut out on balloon bunch row, Medium size, Small size butterfly stickers on the balloon arch, Row of green leaves paper cut to cover up balloon arch, Wooden Cake table stands, Iron cake table stands, Small flower bouquet stands inside the iron cake table stands, Baby Name LED letters of 1 ft, LED par lights, Balloon (Yellow, Purple, Pink, Light green and White colour) arch, and more.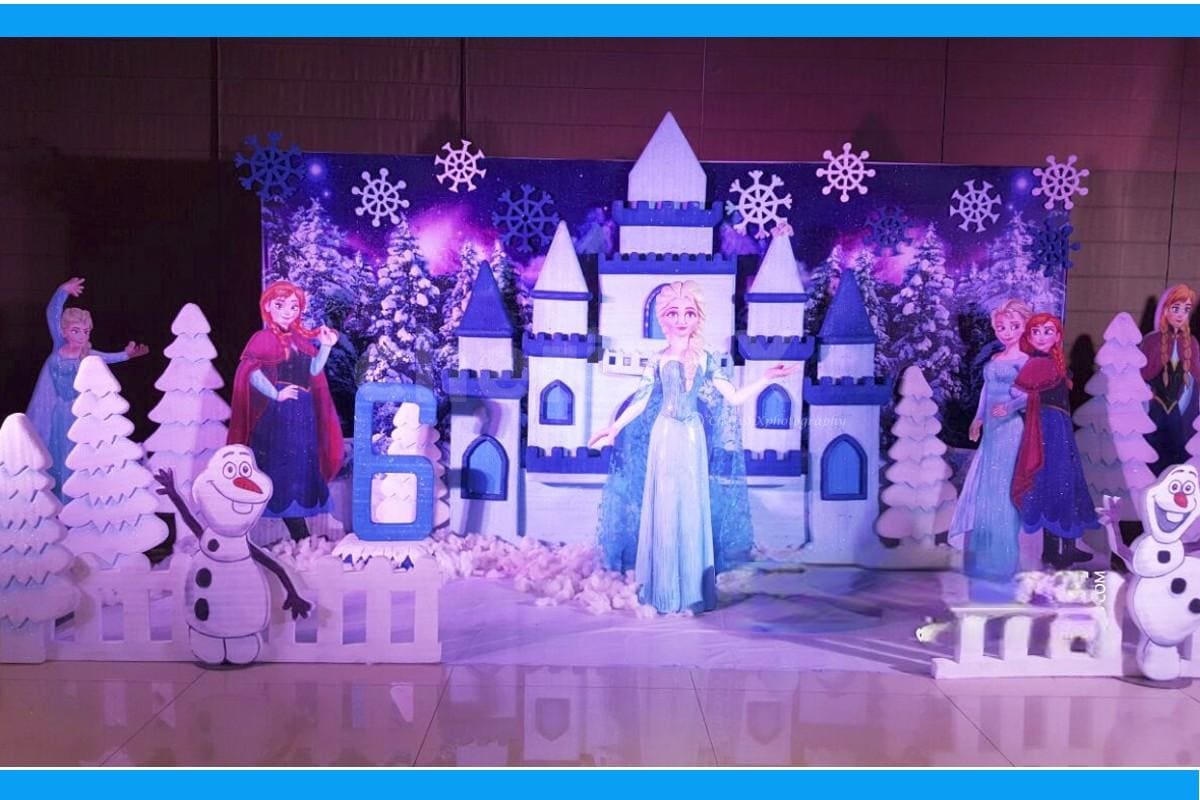 A perfect decor for the naming ceremony of your daughter! It creates the whole aura of the castle of Elsa and Anna, giving your guests a beautiful picture. 
With decorative items such as Snowflakes, Castle form cut-out, Paper snow type cut-outs, Olaf form cut-outs, the Frozen movie is brought to life. So, get one for your baby girl and make the event special! 
Naming Ceremony Decoration for Baby Boy
Create a wonderful atmosphere with the naming ceremony decoration for your baby boy in Hyderabad. Here are some of the best theme decorations you can go for-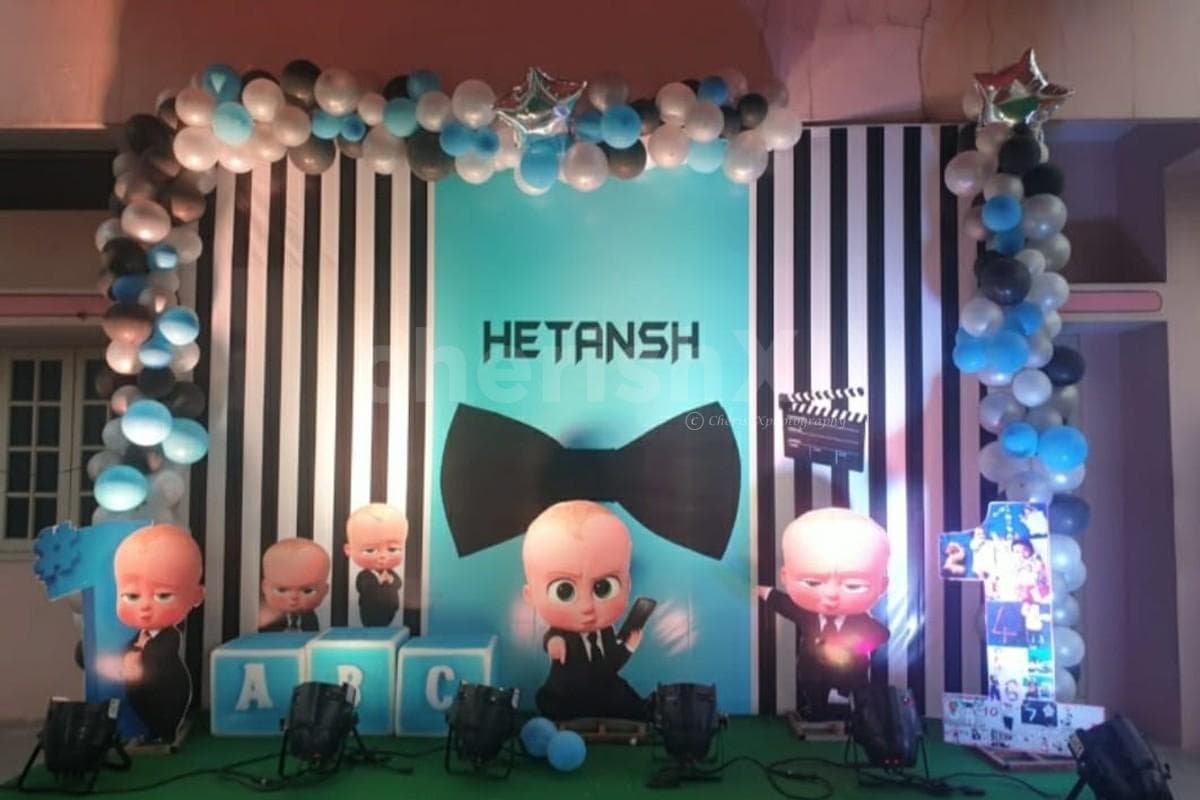 The Boss Baby theme is loved by not only children but adults as well. The portrayal of the movie in the decor surely fascinates everyone which is why adding it to your event will make it much more attractive. 
The Classy Baby Boss Theme Decor includes Theme Flex stand, balloon arch, Cake Table Decoration and more. You can make the party grand with this grand kid's theme decoration. So, celebrate the naming ceremony beautifully with this attractive decor!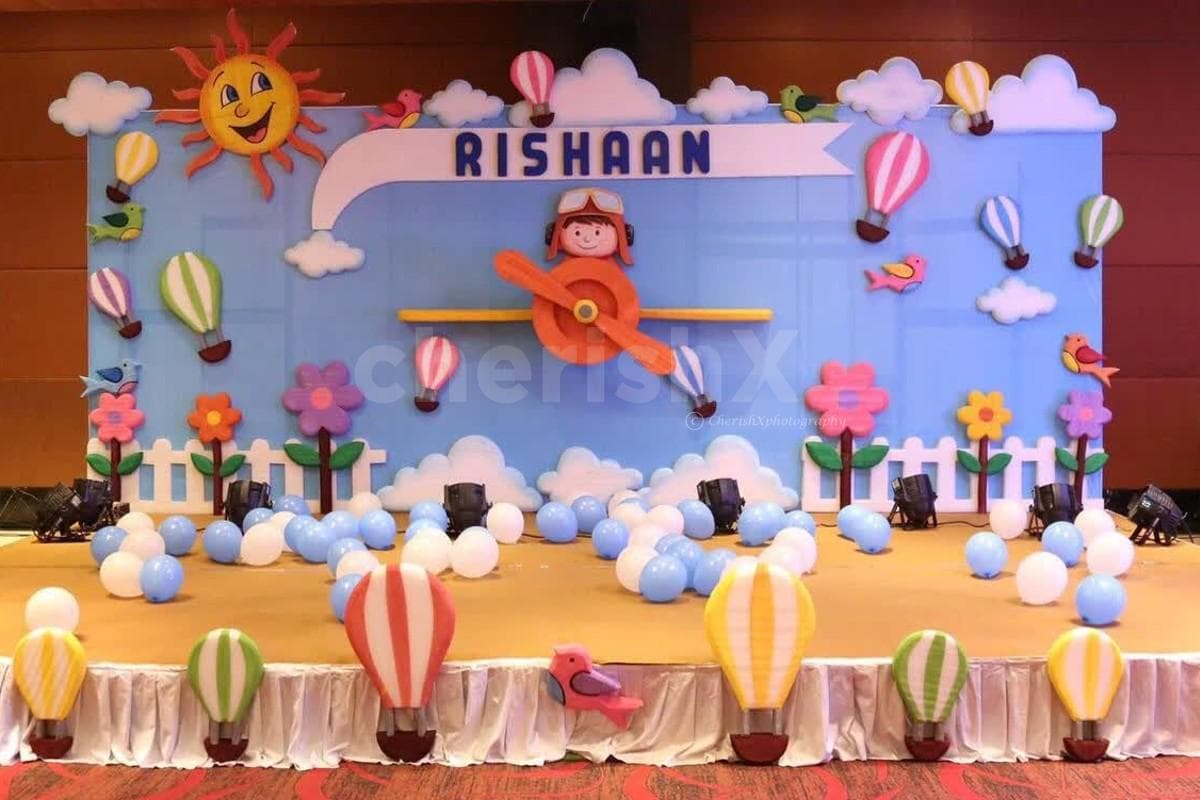 Hot air theme balloon decorations are a lot in trend which is why having it for your baby boy's birthday or naming ceremony is sure going to make the celebration awesome. It's a grand decor by CherishX that will make the party memorable. The kids are likely to have a lot of fun. 
This Grand decor includes wonderful decor items such as Hot Air Balloon Cut-outs, small bird form cut-outs, sun form cut-out and more. 
Celebrate your baby boy's naming ceremony with a Royal Prince theme decor. Let everyone know like you have been blessed with a little prince. This Grand decor is elegant and makes your celebration look grand. 
It includes a grand backdrop, silver crystal hangings, theme cut-outs, Royal Prince form cut-out, and more themed items to add to the decor!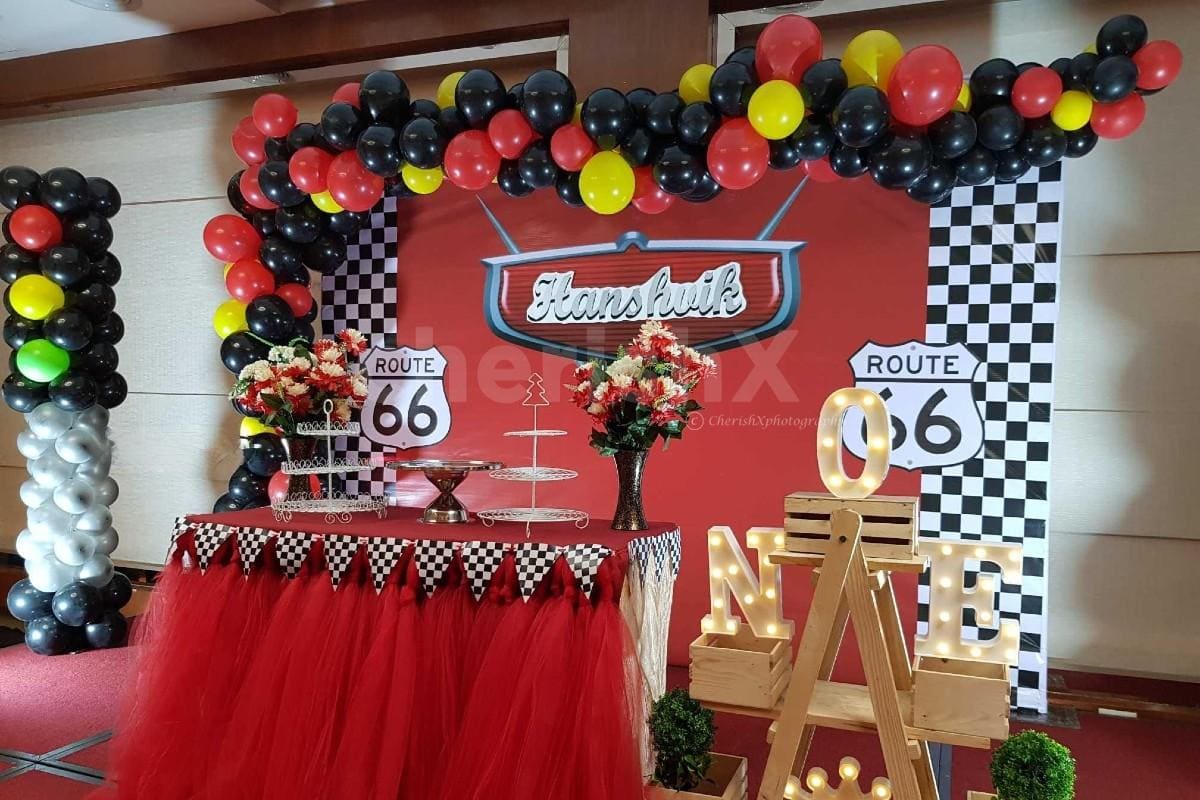 Boys surely love cars so why not surprise your baby boy with a Car Theme decoration. Celebrate his birthday beautifully with a Grand Car Theme Decor. 
The Fascinating decor includes Flower Bouquets, Balloon Arch, theme banner, theme cut-outs and more. You can easily find this grand decoration in Hyderabad Online. 
With all of these naming ceremony decoration ideas, you can celebrate your occasion beautifully. Let yourself take in the lovely naming ceremony wishes by enhancing your event with these ideas. Celebrate and arrange the event beautifully by making use of these wonderful ideas. 
You can easily find fascinating Naming Ceremony Decorations at CherishX.