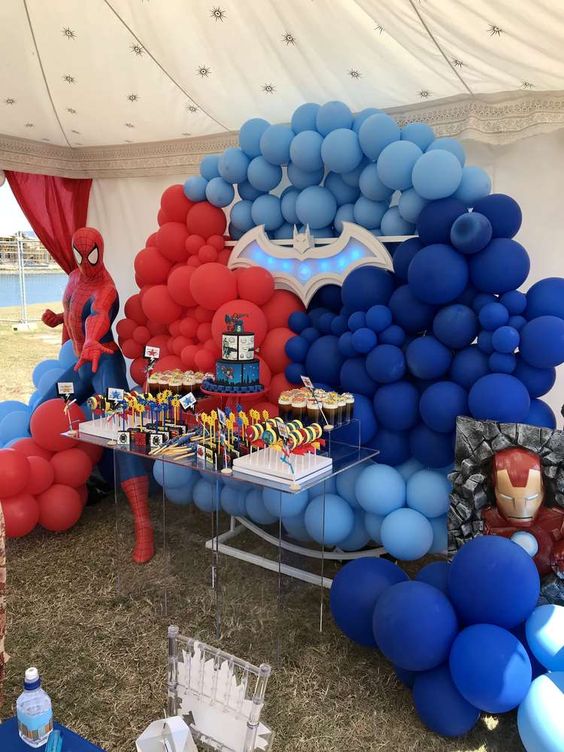 As a parent, we all want to celebrate our kid's birthday parties in a grand and memorable style. Particularly in a way that our kids will fall in love with. Hence, what's better than organizing a theme birthday party having everything from balloons to cake aligned with the theme?
Not only kids, but even adults also admire the coolest spiderman, and for celebration, opting for a spiderman theme birthday decoration is a top-notch idea. Make your child dressed as the savior of the world- superhero Spiderman. Let's make the best party with perfect Spiderman Theme Birthday Decorations Ideas which is one of the popular themes for birthday parties.
Turn your venue into a complete new pedestal for celebrations by getting the ultimate spiderman theme birthday decoration. Get customized cupcakes, spiderman theme cakes, entrance decoration, a welcome board, etc that will make your child feel at the top of the world. Surprise your kid and guests by presenting the birthday with beautiful theme party decorations!
Let us check some of the exceptions ideas for your theme party below
Spiderman Theme Birthday Decoration
Want to host the amazing birthday party that your family and friends will vouch for more? If yes, we can assist you with great ideas that your people will love and be happy with. Well, one thing is for sure arranging a party like this for your loved one, will win his or her heart and memorable moment.
Spider-Man Theme Birthday Decoration
You must be excited to host a grand party celebration for your child. And, what's better than his/her favorite character? This simple yet elegant decoration your child will cherish for a long. Under this category, you can opt for spiderman theme foil balloons, the floating balloons of red, black, and light blue color, fairy light, and golden color letter foil balloons. With the help of professionals, a Spiderman Theme Birthday Decoration will leave a lovely design at your venue.
Spider-Man Birthday Theme Decor
Spiderman is one of the legendary action characters that have a different kind of craze in the hearts of children and adults. So, if you want to celebrate your dear one's birthday and wish for a Spiderman Birthday Theme Decor, opt for this category. In this, you will get a happy birthday golden letter foil balloon, spiderman theme cutouts, a backdrop, an arch of balloons, and a spiderman foil balloon along with the star.
Superhero Kids Theme Customizable Balloon Decor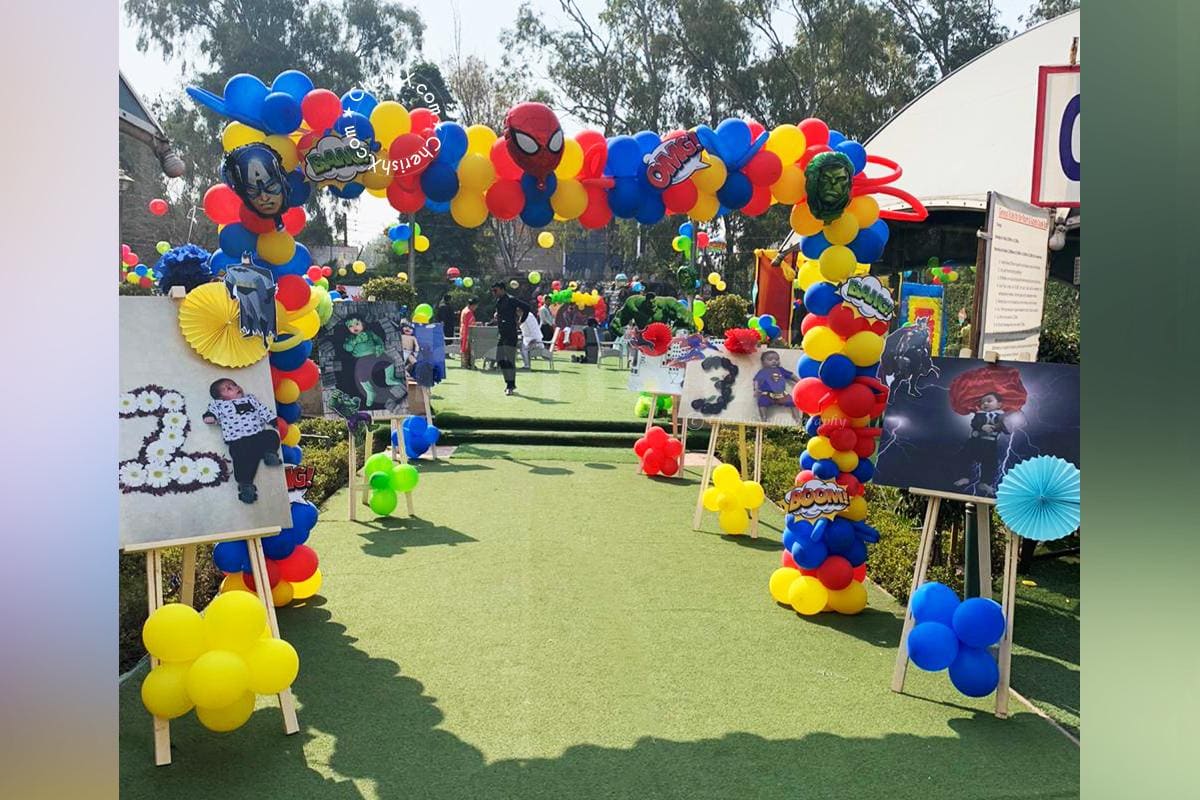 We all love to celebrate our birthdays, but picking a theme for a birthday celebration gives that extra special feel to everyone. Particularly for kids, a Superhero Kids Theme Customizable Balloon Decor is what makes them happy and excited. With this theme, you will get a welcome arch of different colors balloons, face foil balloons of Spiderman, Hulk, and Captain America. Along with this, the spiderman flex backdrop is decorated with an arch of balloons, character cutouts, a personalized theme backdrop, sunboard, lanterns, and a lot more.
Table Decoration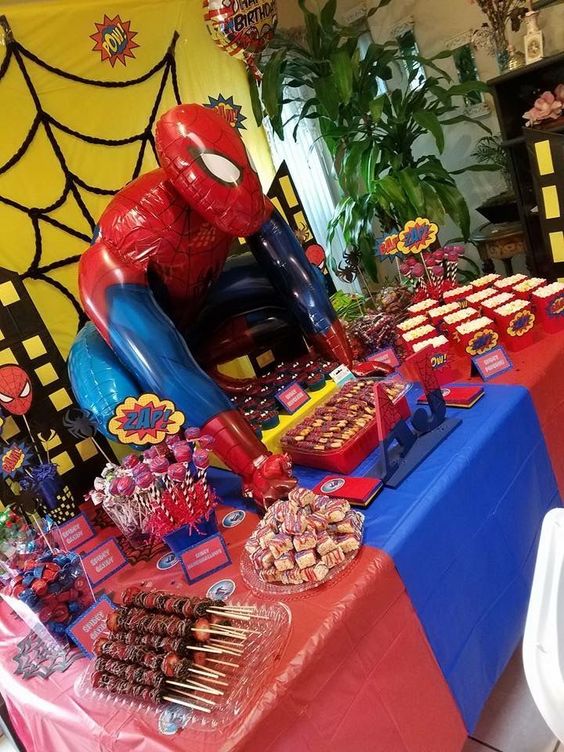 If your child is too crazy about Spiderman, then give him/her a perfect birthday celebration. With the spiderman theme birthday decoration, a table is a vital part as that will have a center of attraction i.e cake. To begin with, wrap the table with a spiderman theme tablecloth. If you are not able to find that in the market, you can go with a red and black tablecloth as well.
Apart from the cake, you can add different sizes of cutouts of spiderman and balloons on the table. Do not add a good sum of balloons near or on the table as that can create a mess around.
Backdrop
A spiderman theme birthday decoration is easy, fun, and memorable. It is a general yet unique party theme for kids. This action hero is loved by all and children especially find this theme's birthday decorations attractive as the set-up is vibrant and full of colors.
No wonder spiderman theme birthday decorations are quite popular with children of all ages. And the best part is that it is one of the easy birthday decoration ideas. A simple and elegant backdrop for a theme birthday decoration with balloons and paper streamers will definitely catch your guest's attention. You can go with red, black, and blue shimmer curtains, add fairy lights and spiderman cutouts.
Costumes
A well-known, and well-loved superhero, spiderman is one of the more prevalent action characters for kids. And, if you are planning a spiderman theme birthday party, you can buy a costume, and make your child a superhero on their special day.
Also, you can give a few popular dialogues that can be spoken to give a perfect dose of entertainment to your party. With snazzy dialogues and a shimmery outfit, get ready to bedazzle children and adults alike.
Buy a lightweight, more durable, extremely comfortable spiderman costume for your kid with a better fit. Also, if your kid is not ready for the costume of spiderman, you can opt for a black and red dress as well. This will also align with the theme.
Invitations
With new trends every day approaching, sending featured invitations for birthday parties is what makes your celebration unique and seamless. You can choose from the comprehensive range of impressive invites. The birthday invitation is the key element of the party and it has to be as impressive as your party as this will be the first thing your guests will see.
Pick an exclusive selection of invitations that can be customized and are particularly designed to make the celebrations special. To match the theme, design the invitation with a spiderman photo.
Returns Gifts & Favours
Your birthday party will be incomplete without giving your guests return gifts and favors. This way they will remember you for your ideal gifting range and will look out for more parties hosted by you in the future.
To align with the theme, you can gift your little guests a multipurpose toy box that Is extremely useful for kids of all ages. These can easily store clothes, toys, games, papers & much more and can also be used as a sitting stool. Besides, you can go with a spiderman theme wrist watch, tent house, toys, bat-ball, and sticky wall-climbing spiderman. There are a plethora of gifting ranges available at the online store or in the market.
Activities / Games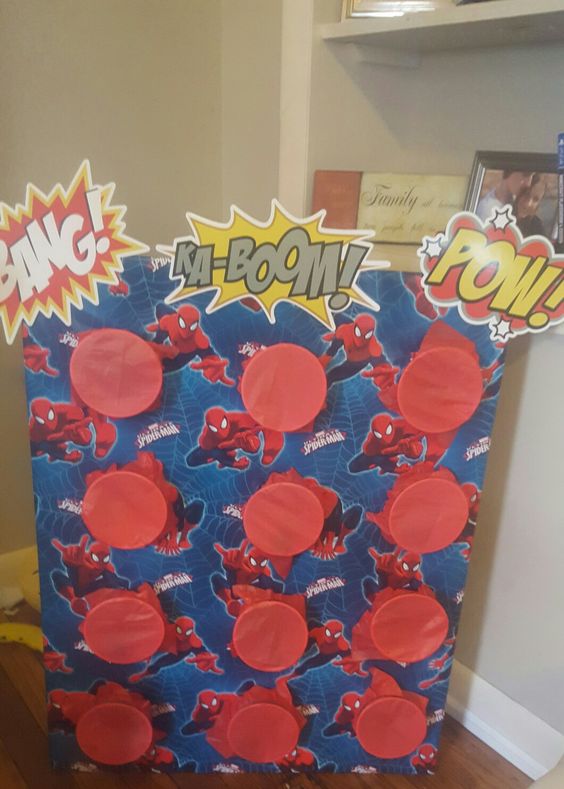 Just decorating the hall, and giving delicious food to your guests is not going to make an awesome birthday party. For that memorable and grand birthday party, you have to take a bit further steps to keep your guests entertained. For that, you can arrange some interesting spiderman birthday party activities that include, face painting, a magic show, juggling, cartoon walkers, balloons twisting, a fishing game, etc. Some numerous games and activities can make the birthday party entertaining and memorable for your kid and guests.
For your adults, you can keep the parcel game, or set up a DJ stage so that they can shake a leg with you.
Food
When you are throwing a spiderman theme birthday party for your kid, add these theme-inspired edibles to mesmerize your guests even more. Prepare some gorgeous, Spiderman Oreo pops that will offer great inspiration for the dessert bar. Grab some English muffins and concoct some mini pizzas out of them. Also, add some adorable fruit kabobs, top them with some strawberries and turn them into mini Spidermen.
Go for a Spiderman-inspired pasta salad with colored rotini, olives, cheese, and mini pepperonis, with beautiful and delicious chocolate chip cookies. Spiderman-inspired candy apples and cupcakes are the party catchers. Also, adding some classic, red fruit punch can fill up the pitchers and garnish them with a crafty web.
Main Character
To add more entertainment to your party, you can get a live cartoon character for your child's birthday celebration. Have an awesome birthday celebration that will add more fun to your party. These live characters can greet and play with children and even can be present for the cake cutting. Simple, let your kid enjoy and make your guests ready to experience a fascinating birthday eve
Sitting Arrangements & Decoration of Chairs
With a spiderman theme birthday decoration, add the right backdrop matching the theme. If you do not want to invest more in the chairs and tables, you can go with these Spider-Man throw pillows that can be kept on the chairs or sofas.
Whether he is climbing down a wall, shooting the web from his wrists, or swinging, Spider-Man is an easy-going action hero for all. With pillows, add comfort and transform any couch, bed, or chair into the perfect birthday sitting space!
Also, you can add a photo booth displaying the spiderman design for all the selfies that can later be posted on your social media.
Welcome Board
Having a welcome board at an entrance gives your guests not only information about the party but also a great feel of welcome. You can go for a Spiderman Personalized Welcome Board for Kids Birthday. And, print your kid's name and age or photo on it. Then, make that stand or with the help of double-sided tape paste that on the front door.
Balloon Bouquets
Spiderman is a superhero in American comic books published by Marvel Comics and in movies, television shows, and video game adaptations set in the Marvel Universe. In the spiderman balloon bouquet, you will get one Spiderman foil balloon, red latex balloons, a silver small star at the bottom, a balloon stand, a blue ribbon bow, and further can be customized as per your need.
Cake Decoration
Are you looking out for a dreamy cake for your little one who is a hardcore fan of spiderman? If yes, then order a majestic and unique cake that will amaze you and your guests. Spiderman is one of the well-known cartoon superheroes in the world and has a huge fan following everywhere. It is one of the characters popular among kids.
Spiderman with extraordinary powers and spider-like abilities is what all the kids adore. Thus, to give that breathtaking view, a new Spiderman cake is a must. You can avail of this cake in many flavors, shapes, and sizes. The enormous range of birthday cake options will help you to make the right choice for your little one's birthday.
To add more fun, grab the spiderman knife, birthday caps, and candles. Brighten up your child's birthday with the correct theme and the matching cake to see his/her excitement reach a new level.
Tableware – Cutlery and all
Give your spiderman theme birthday decoration an advance step by investing in some matching cutlery and tableware. Opt for red disposable flatware wrapped in a blue paper napkin with a red ribbon napkin ring with a superhero charm.
You can choose the tableware like full sets of knife, fork, and spoon or dessert sets with a fork and spoon, or just forks or spoons. There is plenty of spiderman theme cutlery available in the market.
These superhero party flatware sets will surely coordinate perfectly with the superhero bubble wand party favors. Also, you add a small drinking glass and straws of the spiderman theme that your little guests can take them as well.
Why CherishX?
Having numerous years of experience in organizing birthday parties, CherishX has a talented and skilled team of professionals who are always ready with innovative solutions and plan the best of everything to make the celebration memorable for clients. Whatever is your requirement we are capable to fulfill them in a perfect manner. Avail personalized birthday solutions at an economical price.
The team help you with different theme birthday decorations ideas as well and assist you in implementing those ideas. Also, our experts work with the sole aim to offer our clients remarkable services and make their celebration memorable and splendid for all.
What are you waiting for now? Let CherishX organize an outstanding and wonderful birthday party for your kid. For any additional services, get in touch with our customer support today!