Don't you think 2023 is here already in a blink of an eye? No matter the time, the celebration is always exciting. Midnight parties, countdowns, cakes and decoration makes it all the more fun!
To make your new year party awesome, you need plenty of New Year Decoration ideas. Whether you are planning a party at home or any other place, decorations make the party much more attractive.
You can plan a great party with amazing New Year Party Decoration Ideas. Here, are some of the best that you can go for-
Rose Gold Colour is a lot in trend. The colour is attractive and grabs the attention of everyone around. Throw an awesome new year party with a rose gold theme decoration and enjoy the feels of the coming year.
Use Rose Gold Balloons with black colour themed balloons and make your new year decoration attractive. CherishX also offers you a gorgeous New Year Rose Gold Theme Decor that you can have anywhere; at your home or banquet hall. The decoration is done at your chosen location by CherishX's professional decorators.
Gold theme New Year Decoration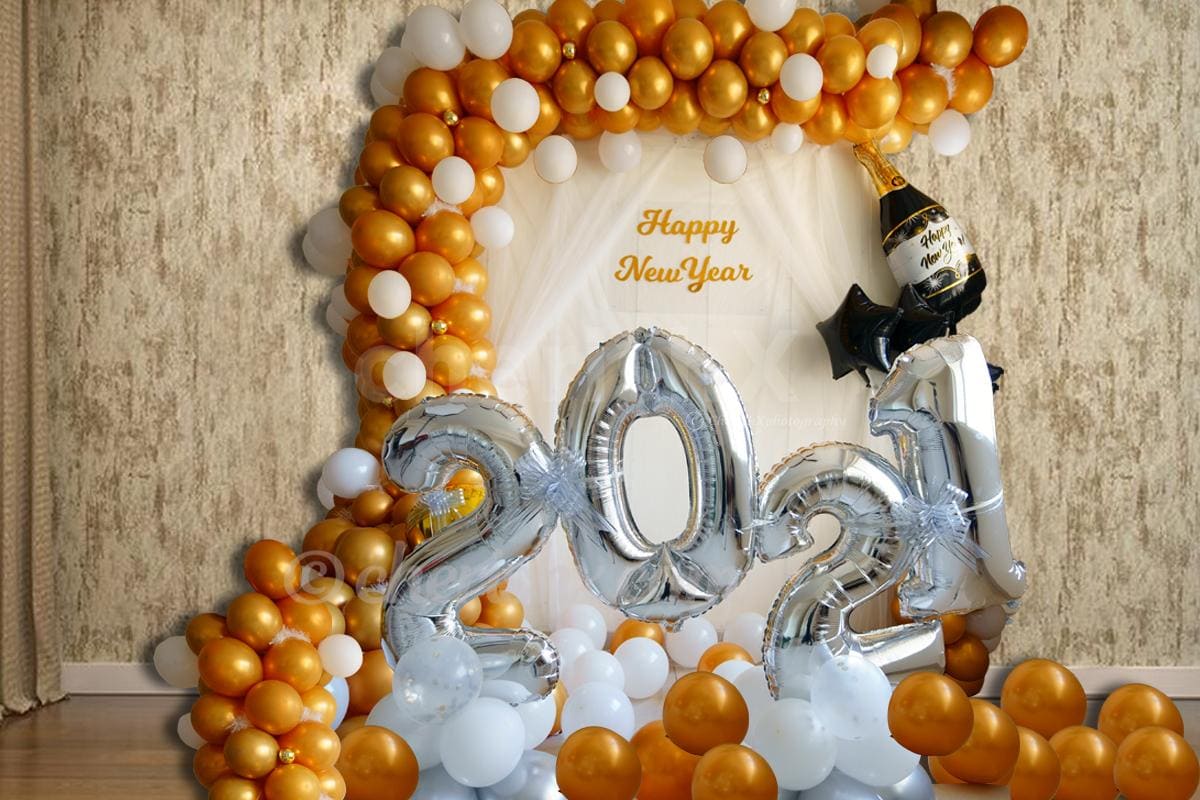 Gold theme decoration is also an attractive decoration that you can have for New Year. You can have Premium New year Gold Decoration filled with Chrome Gold and White Balloons. You can feel the vibes of the coming year and enjoy the party with the same spirit.
The Balloon decoration is likely to grab the attention of your guests. So, make the party lit by adding this gorgeous decoration to your home or office.
Black Themed New Year Decoration
Get a Premium Black themed New Year Decoration for your new year party at home or office. Whether you are planning a grand party or a smaller one, this decoration is sure to fit it all. The premium quality balloons are sure to give the perfect shine needed for your celebration.
This can be a great way to welcome the year 2023 and enjoy it with your close ones. Add on the gorgeousness to your event and celebrate the new year beautifully!
Lantern Decoration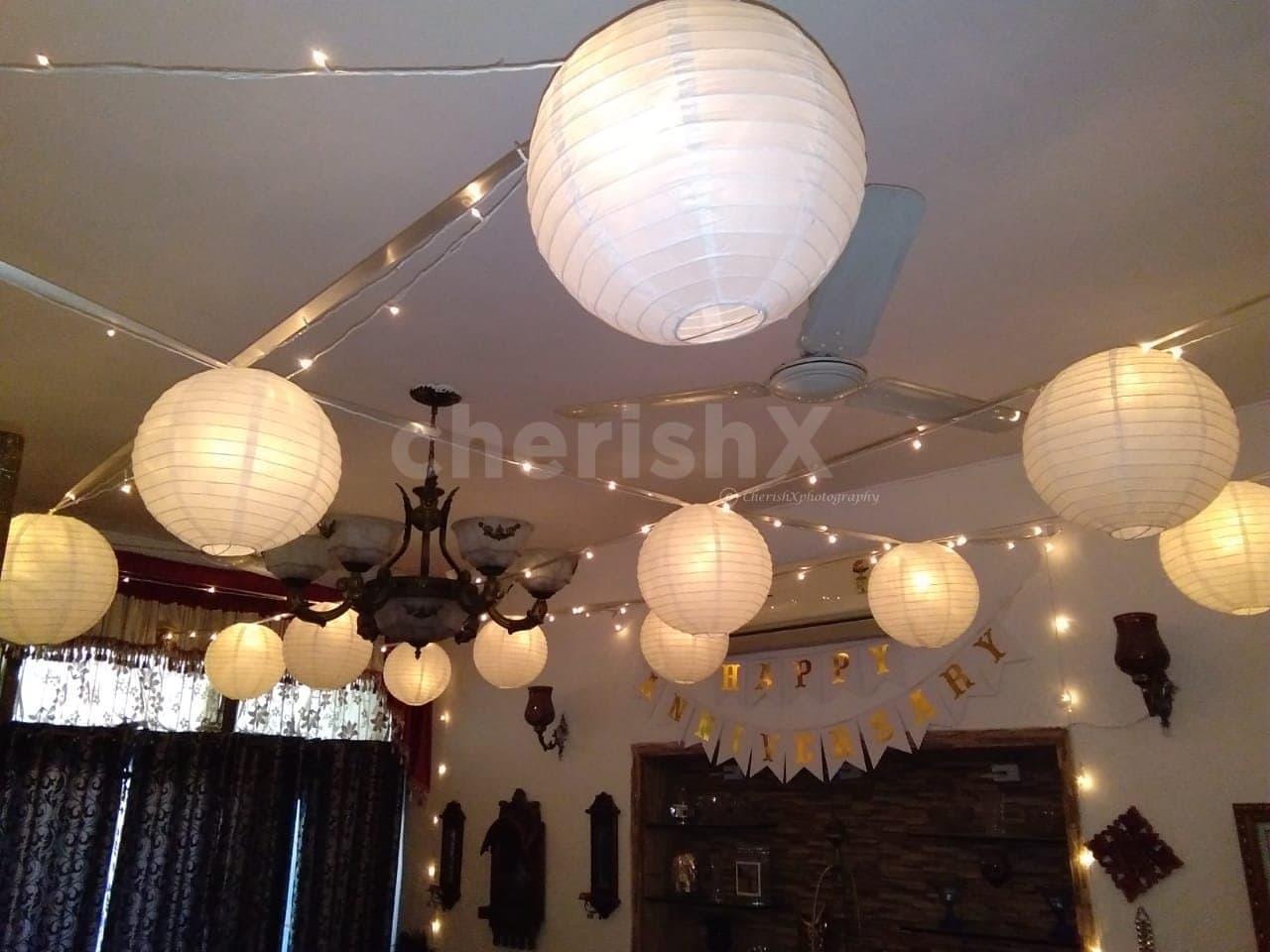 Brighten up your party place with CherishX's Lantern Decoration. Lanterns are different and bring a different look to the place you put them in. Adding them to your party will definitely bring a different aura to your place. This gorgeous set up is perfect for new year home decoration as well as for office.
Let your guests acknowledge the eye-appealing Lanterns and the decoration all-around your home or office. The decoration will not only lighten up your mood but also your guests. You can make the party awesome by adding these decorations.
Silver Sequins Panel Decoration
Do you want to follow the trend? If yes, then go for the exclusive sequins pattern decoration. This Silver Sequins Panel New Year Decoration gives out the perfect party vibes. The Combination of Black and Silver colours looks classy and creates a party feel.
This new year, you can arrange a party with this decoration. It'll not only brighten up your celebration but will also make your photos look awesome. CherishX offers you the gorgeous silver sequins panel decoration for birthdays but you can get it customized to New Year.
Pink Glamorous Sequins Decoration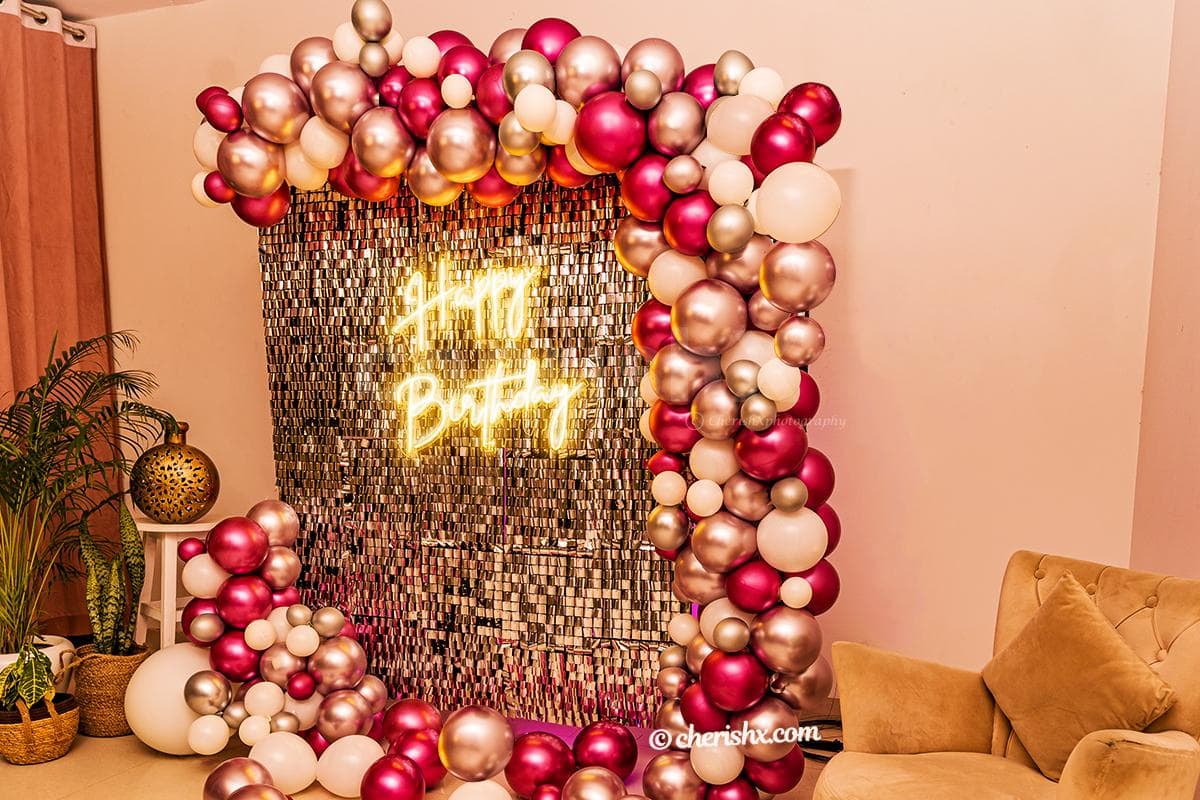 If you are interested in sequins Decoration, try going for this Pink Glamorous Sequins Decoration. This gorgeous wall decoration curated with chrome balloons and neon signage is sure to grab the attention of all!
Get the party vibes with this sequins decoration. Make your snaps insta-worthy and your fun double! Celebrate the new beginnings and the new vibes.
Drinks Themed New Year Decoration
Celebrate the coming year with drinks and the drinks themed decorations. Add this Drinks Themed New Year Decoration to your celebration and make a memorable one.
Enjoy your new year party with this ultimate Drinks themed decoration. Appreciate the moments with your friends and family by taking amazing pictures together with this decoration at the back!
Classy Black and Golden Theme Decor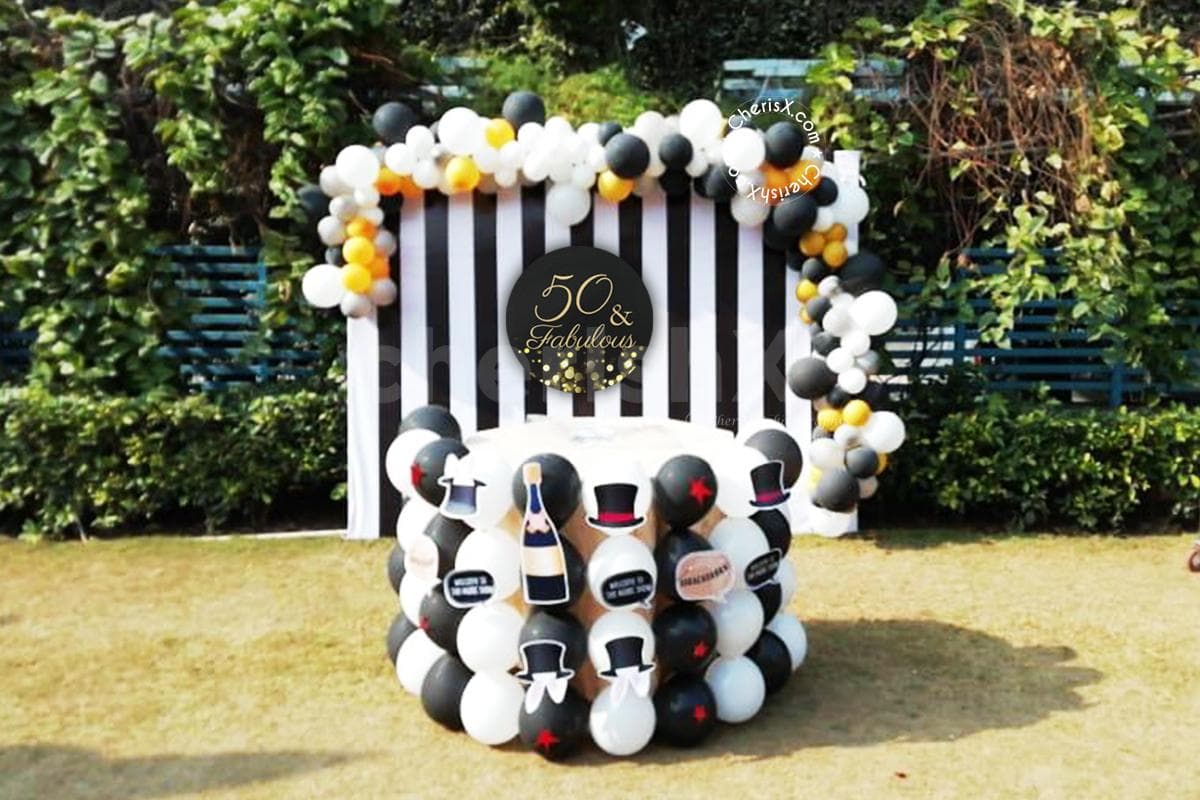 The Black and Golden combination looks classy and elegant. So, if you are throwing a new year party at your office or your home, this decor will surely add beauty to your celebration.
You can celebrate the joy of the upcoming year with this classy decor. Bring on the festive vibes with this breathtaking Black and Golden Theme Decor. You can check out the website for it.
You may find it for a birthday or anniversary but know that this decor can be customised for the New year 2022.
Sparkling Neon Decor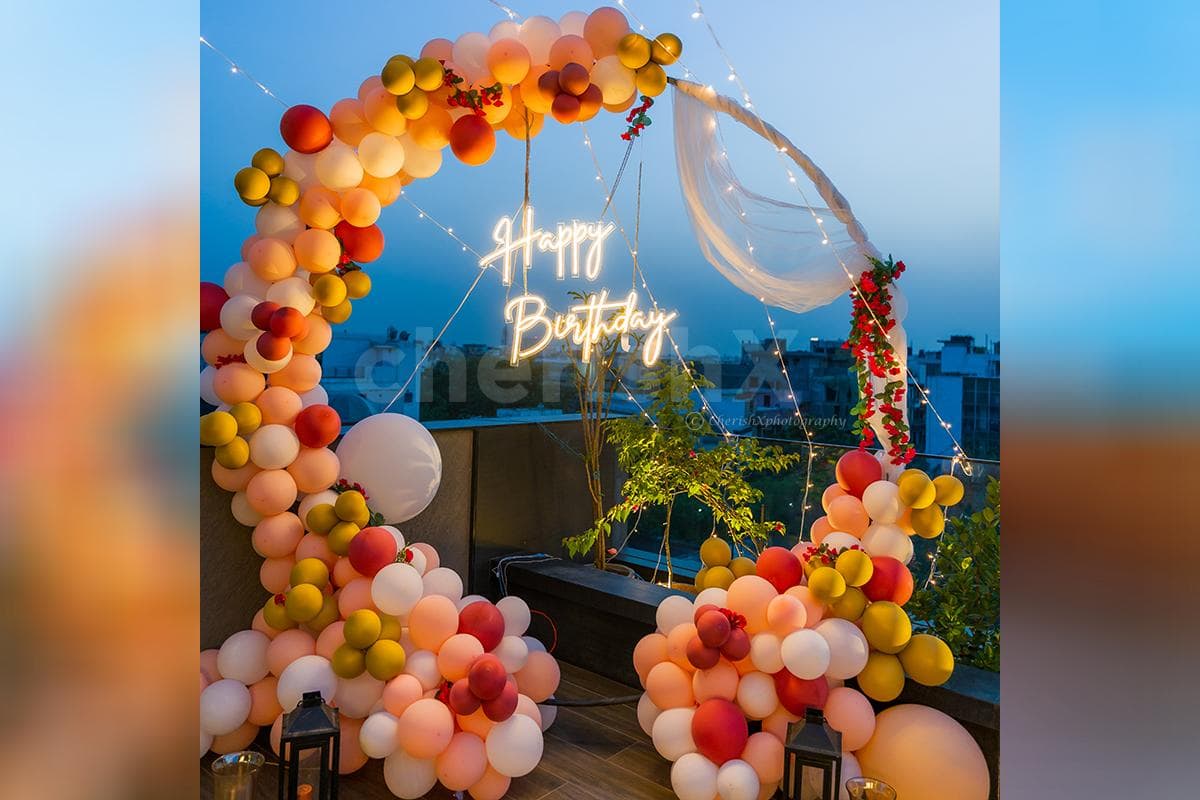 Neon signage lights look attractive and elegant wherever you put them. Adding those to your decoration is just going to make the celebration tasteful. You can enjoy the sophisticated aura at your home, office, or terrace with this Sparkling Neon Decor. This decor is perfect for your outdoor space.
If you want to have a grand party, you can choose this decor in a blink of an eye. It's not only grand, but it's also exquisite. So, it's likely to illuminate and brighten up your space.
All of these above Ideas for New Year Decorations 2023 can be embraced into your celebration. You can easily book these and get the perfect party vibes. You can witness the trending decorations including Neon lighting, Sequins and more. CherishX offers you all