Are you looking for Rakhi gifts in 2023? Check them out here! Raksha Bandhan is a festival that is special for all the brothers and sisters all across India. It's a day when you get to celebrate the bond with your sibling in the most beautiful way.  
No doubt deciding on the gifts is always difficult. It gets much more strenuous when you have to buy a gift at the last minute. But no need to worry, here are some of the best raksha bandhan gifts that are perfect for both the sister and the brother. These are quick and you can easily get them online.
Top Rakhi Gifts in 2023
Balloon Bouquets are amazing rakhi gifts to give to your brother or sister. CherishX offers you customized balloon bouquets to make the Raksha Bandhan Celebration special. Let your close ones enjoy the feel of Balloon Bouquets. 
You can find some of the best ones here– 
To celebrate this eternal bond, we have a special festival named Raksha Bandhan which speaks volumes about the brother-sister relationship. Order online and send this beautiful best sis ever balloon bouquet which also consists of flowers and a customized message. 
Gift your sister a loving Raksha Bandhan Special Balloon Bouquet and make her feel at the top of the world. With silver and Rose Gold balloons, this pretty Gift is likely to take a place in the recipient's heart.
This balloon bouquet stand is beautiful and appeals directly to your heart. It includes a ""sis"" silver letter foil balloon ( 16 inches), a Bunch of rose gold chrome and white balloons, a Raksha Bandhan message, Silver chrome and a white flower created with BT balloons and pink grass. The overall bouquet gives out a positive vibe as it holds attractive colors to make the recipient feel special. It's a perfect raksha bandhan gift for sister.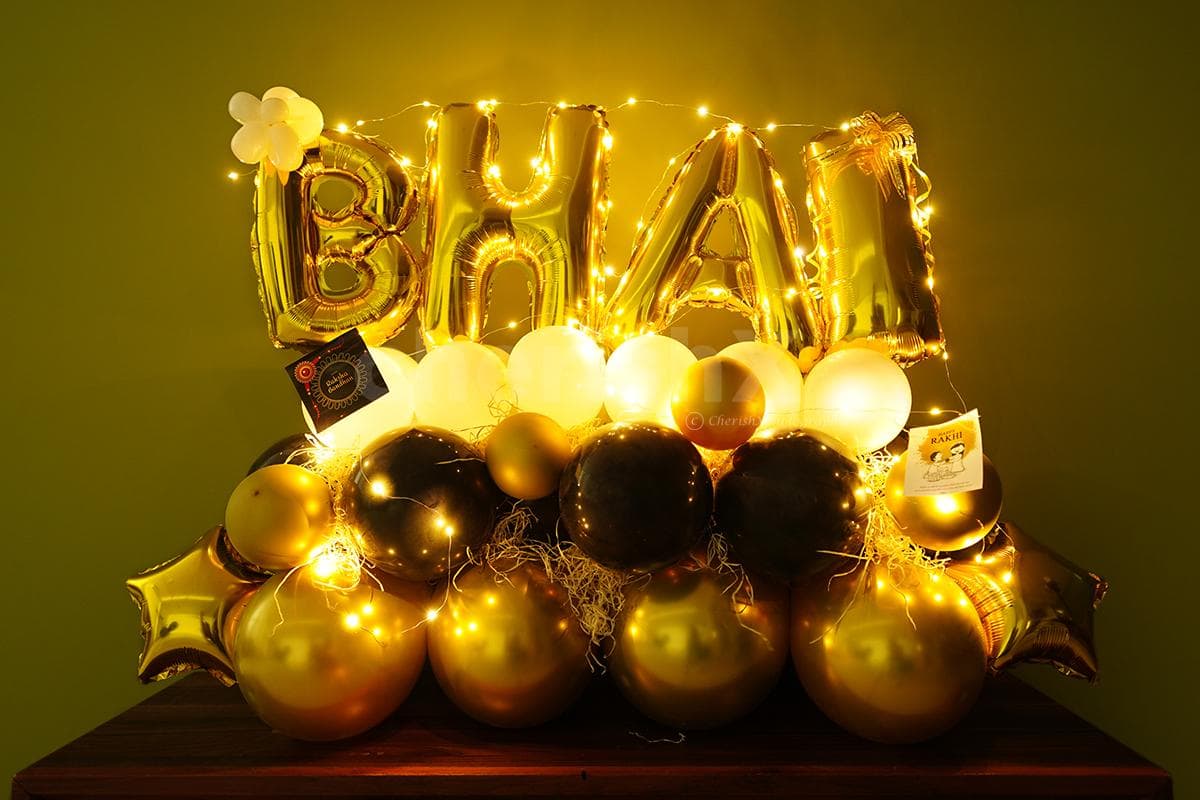 We bring you a beautiful Black & Golden Bhai Balloon Bouquet to make your Raksha Bandhan celebrations are memorable. A surprise that is full of illumination and extravagance will sure make him feel special and loved. These are one of our perfect rakhi gifts for siblings. 
This balloon bouquet uses specific colors to wish the recipient wisdom, power, courage, success and prosperity. We curate this with a BHAI silver letter foil balloon ( 16 inches), a Bunch of 12 Golden chrome balloons, black and white latex balloons, Raksha Bandhan messages, a White flower created with BT balloons, 2 small star foil balloons, white grass and one battery-operated light. Isn't this one of the sweetest rakhi gifts?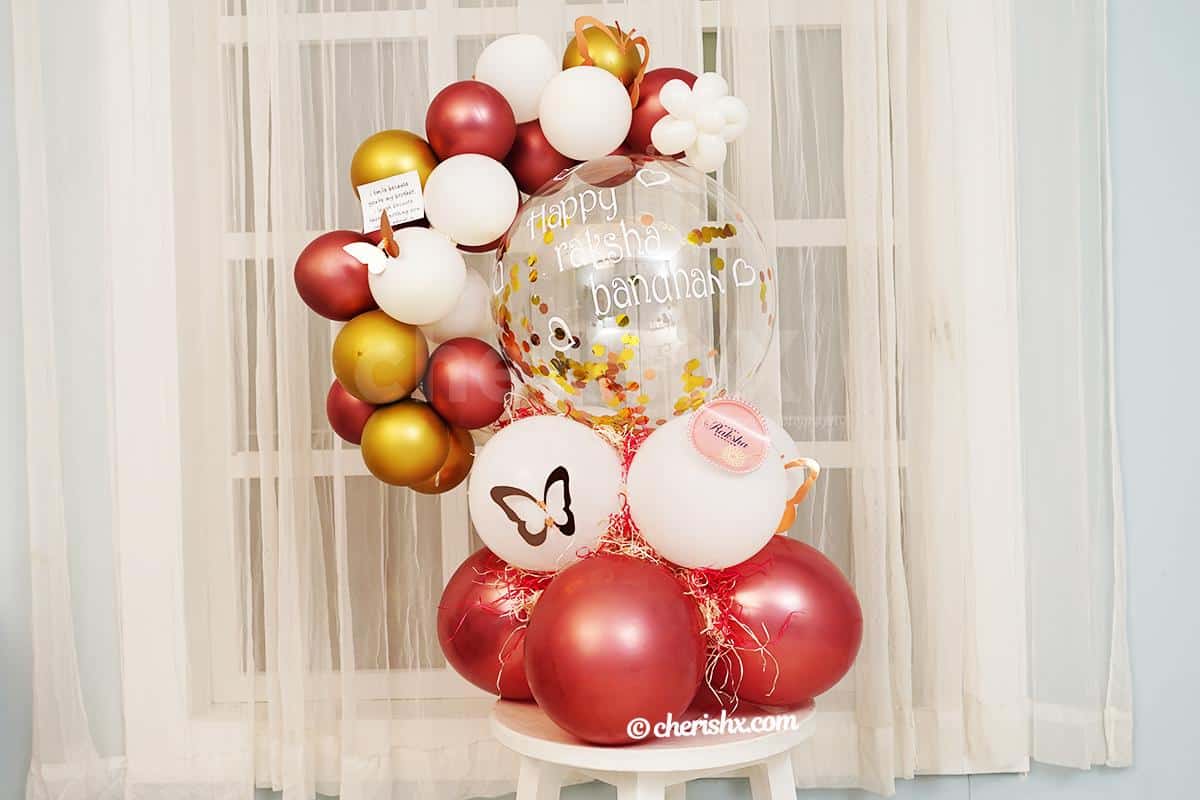 The special occasion of Raksha Bandhan asks for a gathering of your close ones and we all know that everybody wants to celebrate this beautiful occasion with their families and relatives. Same way, we all want to give them rakhi gifts and make them feel special on this beautiful day.  This glorious Balloon bouquet is likely to leave a long-lasting impression on the recipient.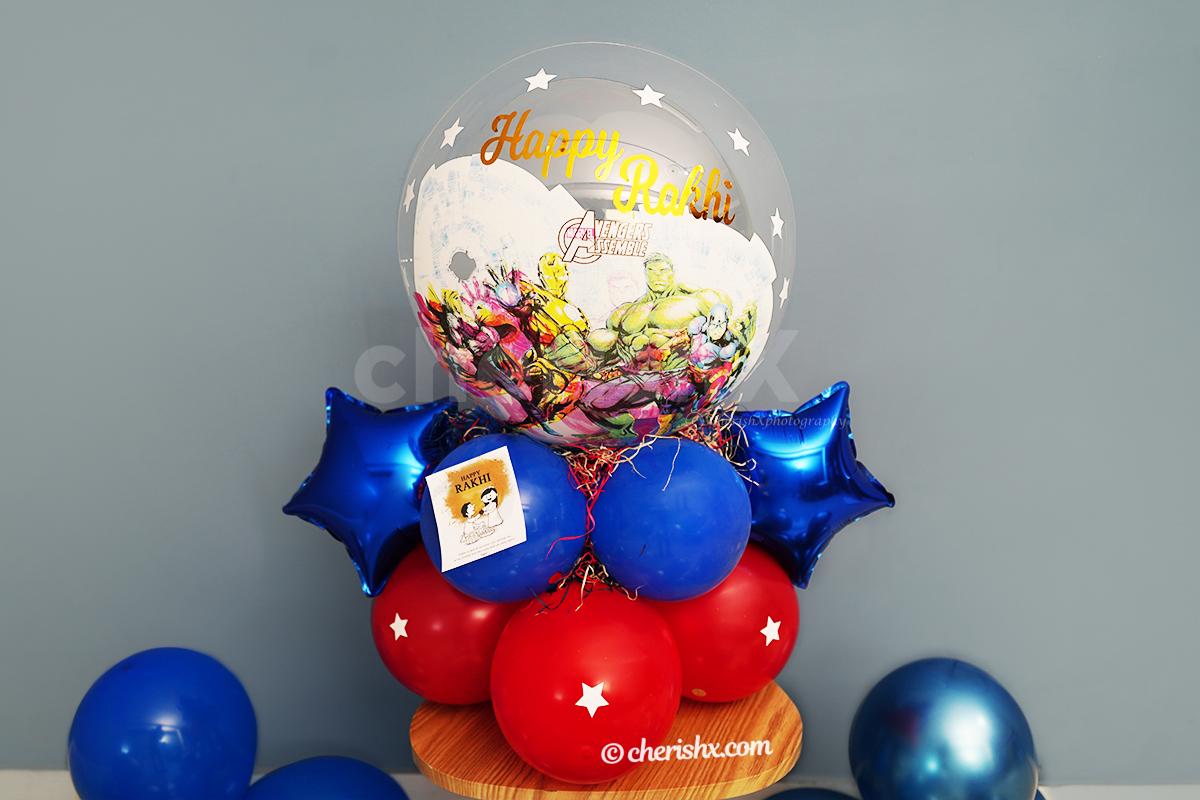 Surprise your kids in the best way possible by giving them an adorable superhero balloon bouquet on Raksha Bandhan. It's a fascinating Raksha Bandhan Gift that you can give your little sister or brother to make their day special. It's one of the unconventional rakhi gifts that your little brother will love getting it. 
The theme of the balloon bouquet is of avengers that kids nowadays like a lot. The Raksha Bandhan balloon bunch includes Avenger theme Bubble balloon, Raksha Bandhan customisable message (up to 25 characters in golden vinyl e.g. Happy Rakhi) with white stars stickers vinyl, Bunch of blue & Red latex balloons, 1 Raksha Bandhan message, and blue small star-shaped foil balloon. All of this together creates a beautiful balloon bunch.
2. Personalized Photo Frames
Make it special for your brother or sister with Personalized Photo Frames. Get one for your brother or sister and surprise them with photos to light up the celebration. These also call for perfect gift for raksha bandhan in 2023.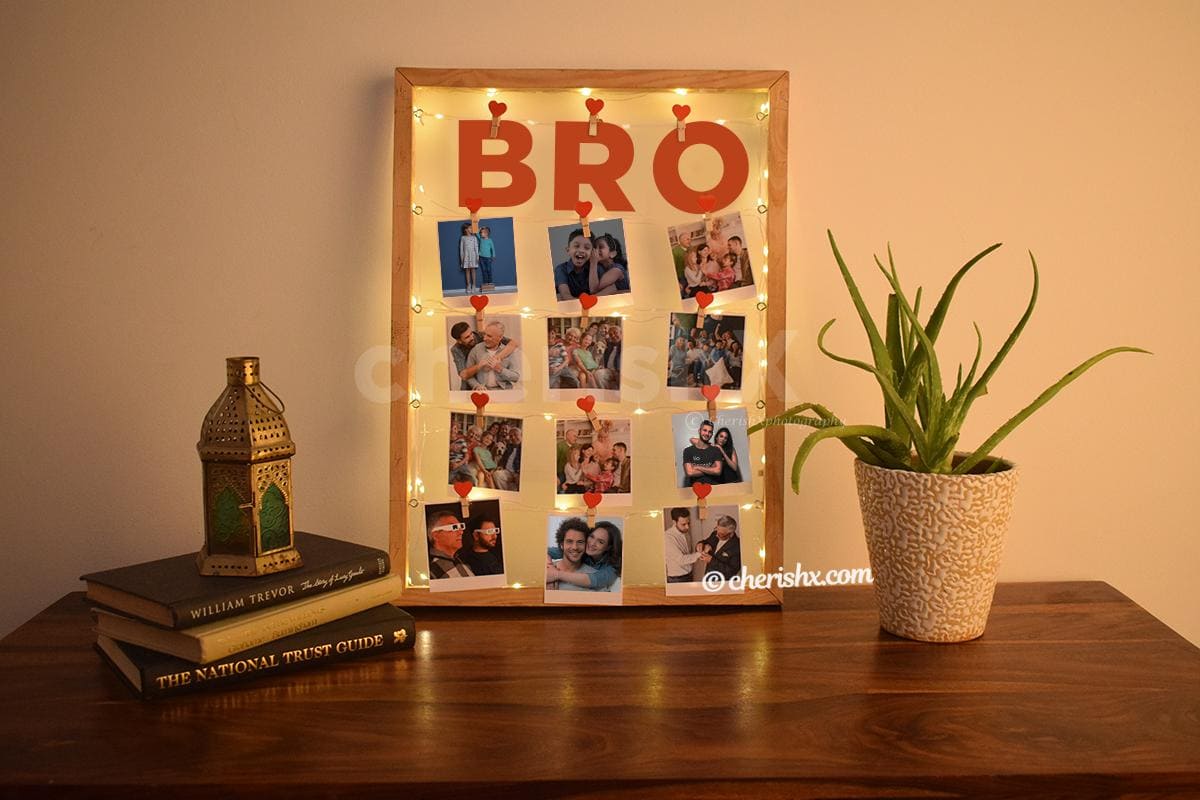 The festival of Raksha Bandhan is getting closer, are you ready to celebrate it your way? We have something pretty awesome that is trendy and gives you the perfect feel of Raksha Bandhan. You and your brother may have fought a lot over the years but when it comes to the festive day of Raksha Bandhan, every brother and sister tries their best to make each other feel special. This is why we present to you a BRO Memory String so that you can make your brother feel special on this auspicious day. If you're looking to gift special rakhi gifts, then this is the perfect raksha bandhan gift for brother. 
This memory string photo frame holds personalized 12 pictures of you and your brother. Our designer collects the pictures and enhances them for a better view. They are printed in polaroid style to give a classy look to the frame. Moreover, it is decorated with a battery operated light to give an illuminating effect. 
Celebrating Raksha Bandhan always feels special. Even if you live far away you always feel like going back to tie the rakhi on the wrist of your brother because that gives a whole lot of different feelings. The bond that a brother and sister share is incomparable. We all know how every sister wants to appreciate her brother in the most loving way. Keeping that in mind, we curated one of the exclusive rakhi gifts.
This appreciative gift is an A4 Size Frame (approx 8.27 × 11.69 inches) made up of Synthetic wood. The frame displays 15 pictures of your Brother in letters, BRO. It's a frame professionally designed for your brother.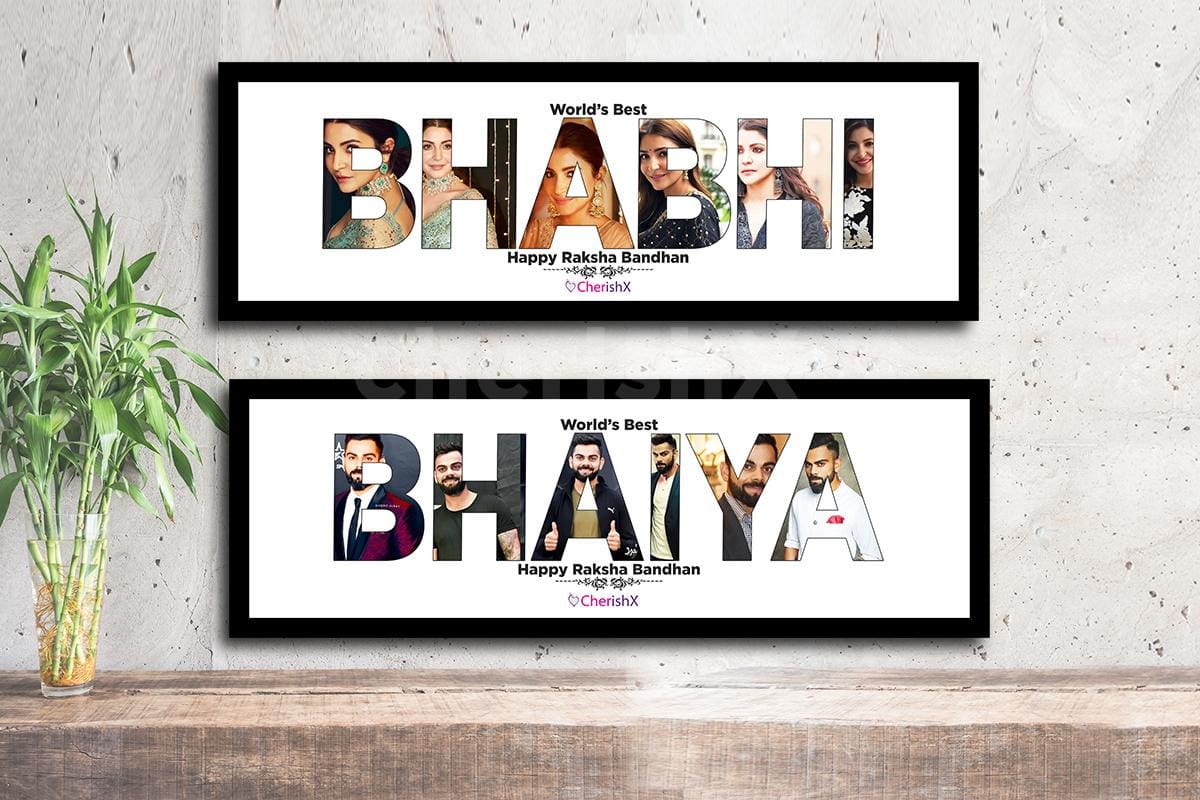 Celebrate the festival of Raksha Bandhan with your bhaiya and bhabhi by gifting them our exclusive World's Best Bhai Bhabhi Combo Frame. The pretty combo includes two frames, each for bhaiya and bhabhi. Wish them Raksha Bandhan beautifully with exclusive frames. The time is here to become a bit nostalgic and talk about the times you and your brother have enjoyed and played together. This is one of the sweetest rakhi gifts to gift to your bhaiya and bhabhi. 
With the same zeal and excitement, surprise your bhaiya bhabhi with an exciting gift! The Rakhi Gift Combo includes 2 Bhaiya and Bhabhi Frames created with their Pictures. The frame is made up of synthetic wood that gives an elegant look to the overall gift.
Raksha Bandhan celebrates the beautiful bond of brothers and sisters. No doubt, you would want to surprise your sister on this special day. This is why we thought of something beautiful that you can gift her at this festival, that is, the Best SIS Lavender Balloon Bouquet. It's a sweet raksha bandhan gift for sister. So, go get this one for your sister. 
This pretty balloon bouquet is curated to make sisters feel special and beautiful. The lavender color symbolizes purity, love and devotion, so giving this to your sister will make her happy. The bouquet is made up of a Silver heart-shaped foil balloon with a purple bow, a bunch of silver, purple chrome & pastel purple balloons, a customisable black vinyl message (up to 25 characters for e.g Best Sis Ever), black heart vinyl sticker, Raksha Bandhan messages with purple grass, silver heart-shaped foil balloons, and a battery-operated light.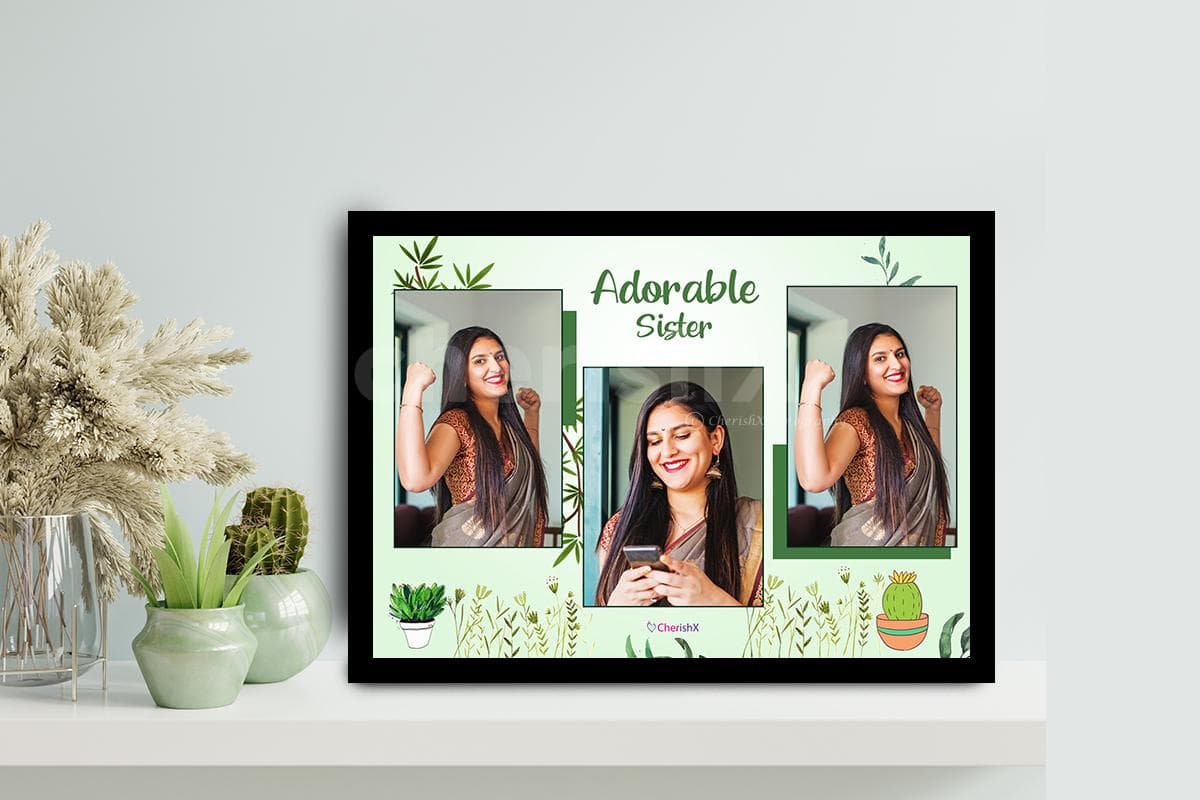 If you are looking for a Raksha Bandhan Gift for sister, this pretty frame is a good catch! We have curated this attractive gift to make your Raksha Bandhan Celebration memorable. Adding this to your gift list is likely to make the recipient feel loved.
Every brother and sister fight but when Raksha Bandhan is near, you tend to do loads of things for each other just to make each other happy. This Raksha Bandhan Gift is a perfect way to bring that happiness onto your sister's face. The Adorable Sister A4 Frame has space for three photographs of your sister in a synthetic wood frame where you can stick her favorite photos. 
3. Raksha Bandhan Hampers 
Hampers are one of the most wonderful Rakhi Gifts to give to your bhai or behan. Surprising them with one of these amazing gifts will only make it special! Here are some of the best raksha bandhan hampers to give-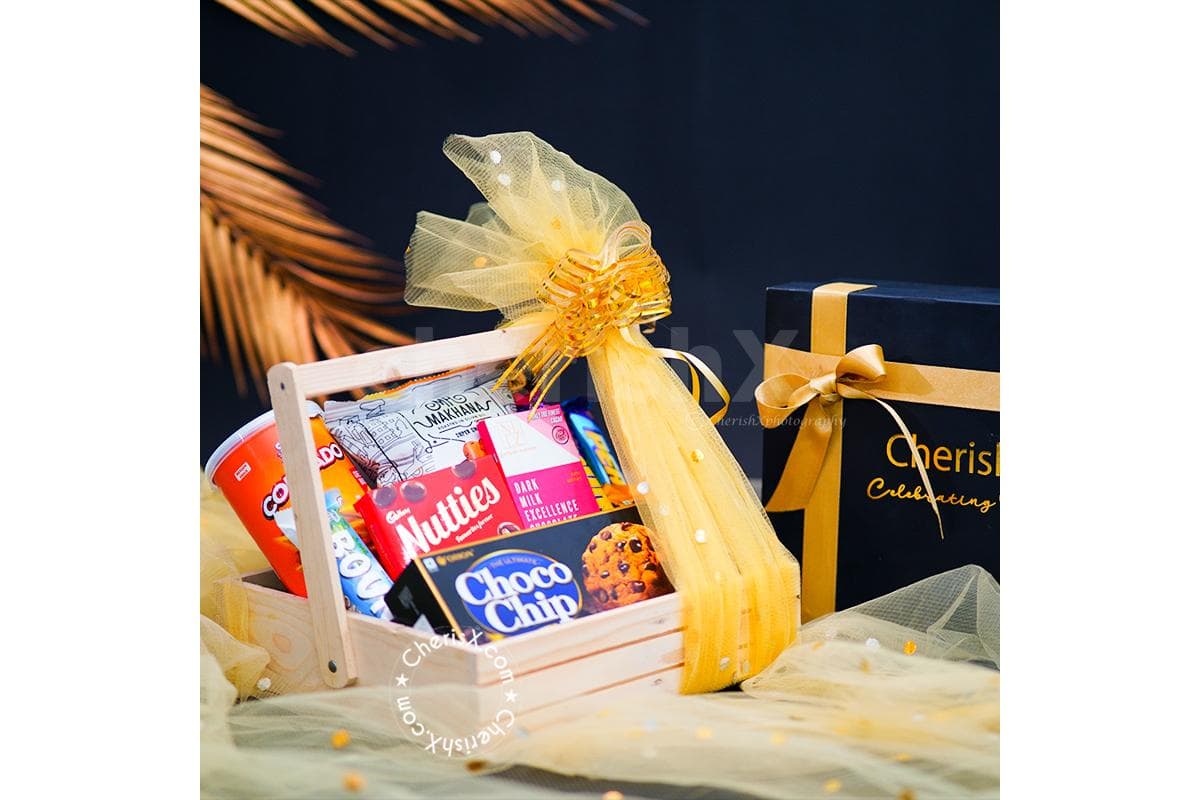 Surprise your close ones with a snacky Gift on birthdays, anniversaries, mother's day and more. Curated with delectable items, this hamper is perfect for all snack lovers! These are one of the best rakhi gifts for sister or brother. 
This Fulfilling hamper is curated with lip-smacking food items-a Cornado, a Gone Mad Wafer Rolls, Coffee Wafers Rolls, a Choco Chip Cookies Box, a Nutties Chocolate, a Five Star Chocolate, a Bounty Bar Chocolate, a Munch Chocolate, a Perk Chocolate, a Nidz Chocolate, and one pack of Makhana. All these snacks are packed in a Wooden Basket draped in Golden Net and decorated with a Golden Bow. It's a perfect gift for all the Gourmets.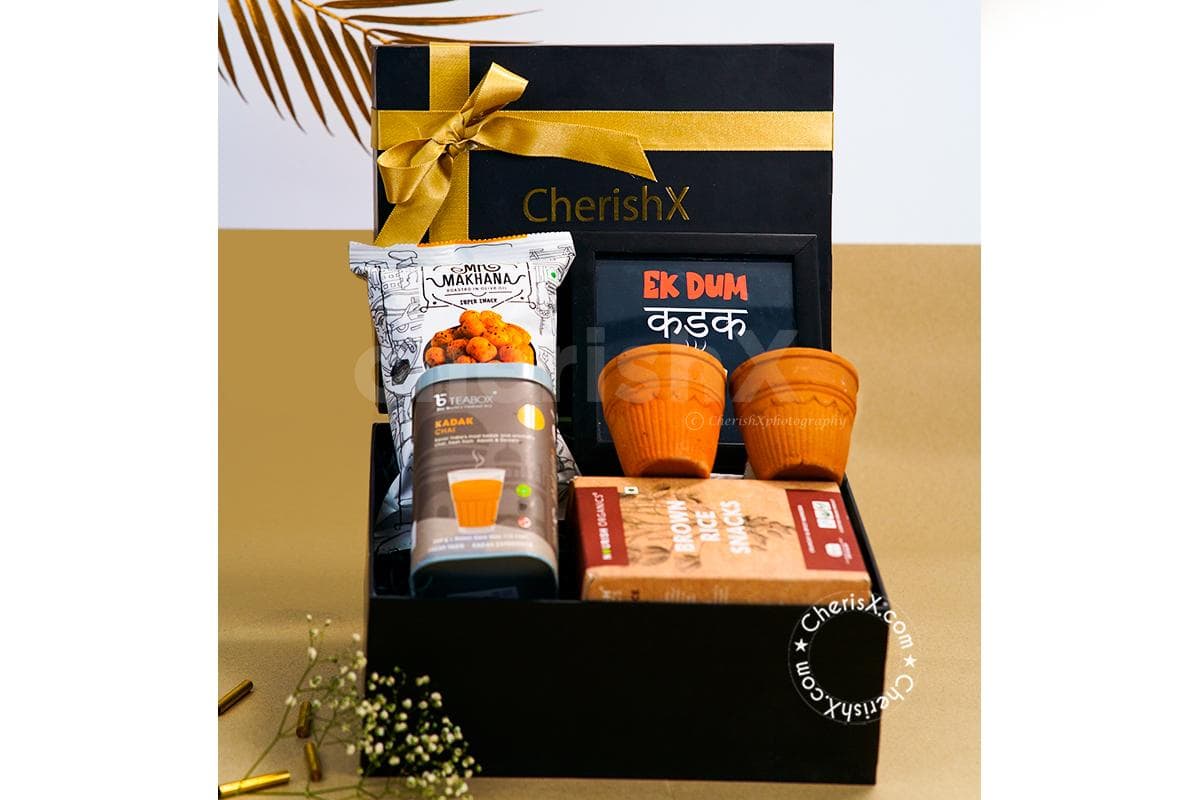 A fulfilling hamper that you can give to your bhaiya and bhabhi. It's one of the great rakhi gift for bhaiya and bhabhi or you can also gift it your brother if he is a chai addict. Chai lovers will surely love this hamper that offers amazing little gifts! The Hamper will excite them and it could be the best gift to give on more.
The Wonderfully curated hamper includes a Black Box, a Kadak Chai Teabox, Kullad, Makhana, Nourish Organics Brown Rice Snack, a Frame and a Customized Message. All of this together gives you a captivating hamper!
Get this fascinating Coffee Gift Hamper for your brother or sister. It's a perfect rakhi gift for when you wake up and want that fresh cup of coffee! It's a fulfilling gift with amazing coffee hamper items.
Coffee Lovers are sure to be surprised with this classy Coffee Before Talkie Hamper. The Hamper will excite them and it could be the best gift to give on Mother's Day, Women's day, Raksha Bandhan, Father's Day and more.
The Wonderfully curated hamper includes a Black Box, a Coffee, Black Mugs, White Resin Coasters, a Dark Fantasy Cookie Box, a Frame and a Customized Message. All of this together gives you a captivating hamper!
These are some of the quick Rakhi Gifts that you can go for on Rakhi Bandhan to make it special for your brother and sister.