Rakhi 2023 falls on Wednesday, Aug 30. If you're excited to celebrate your special day with raksha bandhan gifts, then you're in the right place. So, let's celebrate Raksha Bandhan 2023 with heartfelt decorations and celebrations.
If you haven't planned for the Celebrations already, it's time that you do that. With Raksha Bandhan 2023 Edition, decide on the perfect Rakhi Gifts to make your celebrations awesome! Plan your celebrations with easy decorations, personalized balloon bouquets and photo frames and make your celebration a lasting memory this year!
Here are some of the best ways to step up your Raksha Bandhan Gifts
Light it Up with Special Raksha Bandhan 2023 Decorations
Make the celebrations extra special with Raksha Bandhan gifts and Decorations this year in 2023. The decorations will light up your occasion beautifully. Here are some of the best Rakhi gifts and decoration ideas to choose from-
This Raksha Bandhan 2023, celebrate the bond between you and your brother by throwing a grand party for him. Let him know how much you adore and support him. With Golden and black balloons, your party is likely to become alive. It's a perfect Raksha Bandhan gift for brother.

This exquisite balloon decorations includes an arc made up of 200 balloons (silver metallic, gold metallic, black latex balloons), black star foil balloons, a black mustache foil balloon, and Best Bro Golden letter foil balloons (16 inches). All of these things together bring out the gorgeous decor that covers your wall. The balloons form an arc with the Best Bro Golden letter foil balloons in the center of it. It will light up your venue and make your party much more lively. You can use this rakhi decoration while celebrating rakhi at home with your brother. Let's make this day special and extraordinary for your brother. Moreover, you can also buy Rakh gifts for brother to make his day memorable.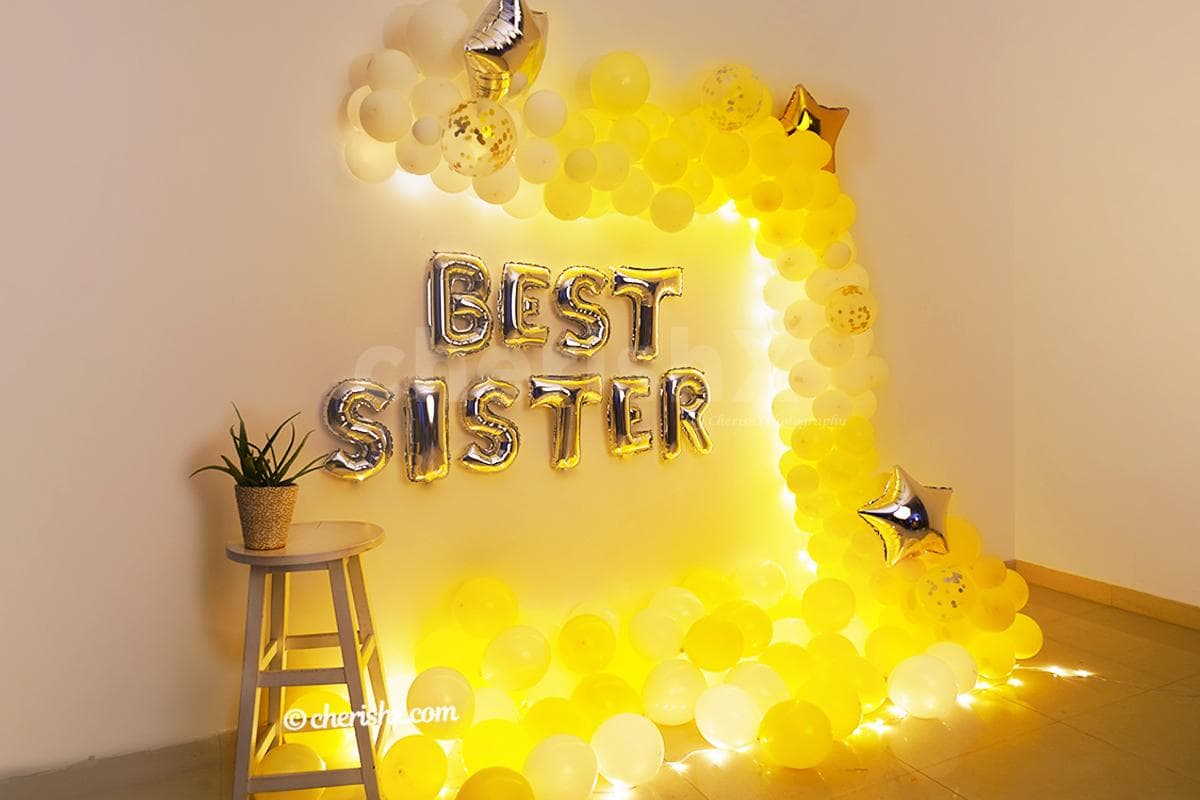 Throw a party for your loving sister on the occasion of Raksha Bandhan 2023 and let her know she is special to you. Celebrate the grand occasion with our exclusive Raksha Bandhan decoration curated to surprise your sister. Along with this decoration at home, you can also explore some more rakhi gift for sister and make her feel special. 
This exquisite balloon decor for room or hall includes an arch of 150 balloons (50 white, 50 pastel yellow, 50 yellow latex), Silver confetti, golden confetti, silver & Golden star shaped foil balloon, Best Sis silver letter foil balloons (16 inches), 30 free-floating balloons, and fairy light. All of these things together bring out the gorgeous decor that covers your wall. It will light up your venue and make your party much more lively.
Surprise Your Siblings with Personalized Raksha Bandhan Gifts 
Surprise your bhai or behan with some beautiful personalized balloon bouquets this Raksha Bandhan 2023. It's one of the sweetest rakhi gifts for brother or your sister. The colorful balloons not only light up the recipient's face but also spreads a positive energy all around. So, choose among the top most wonderful Rakhi Balloon Bouquets to surprise your bro or sis-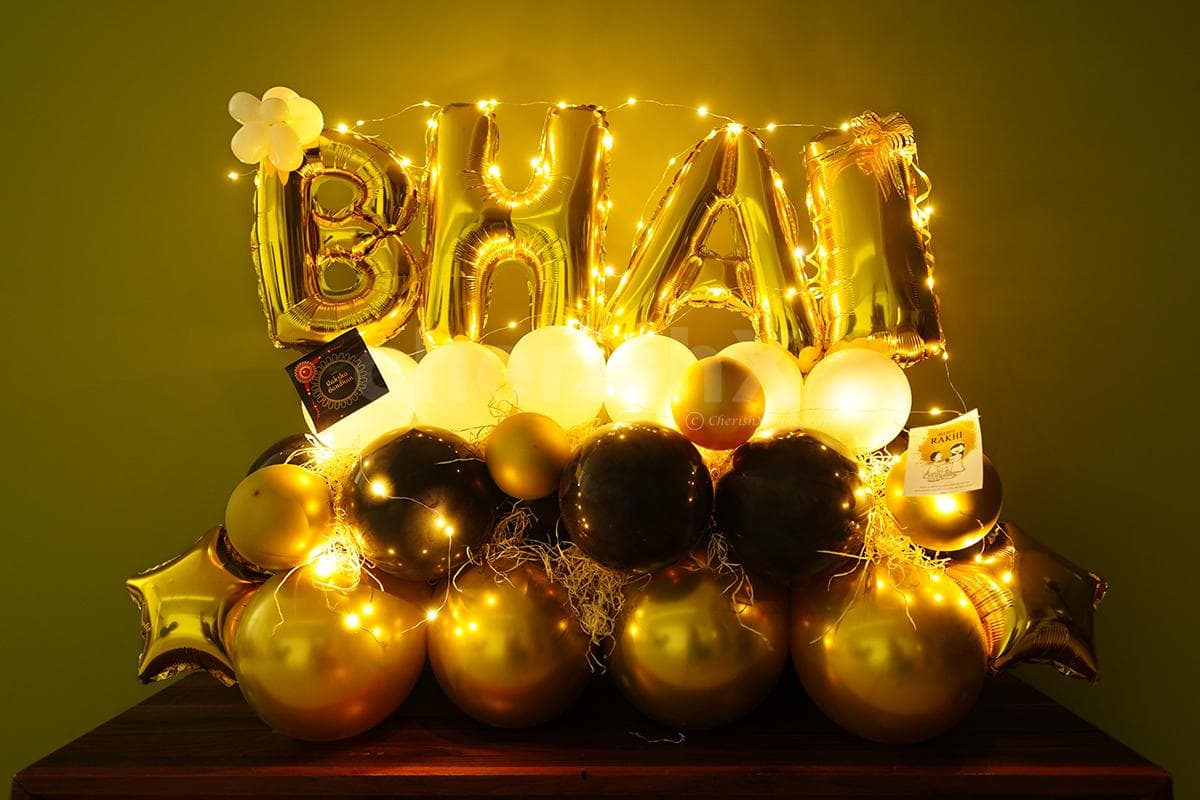 We bring you a beautiful Black & Golden Bhai Balloon Bouquet to make your Raksha Bandhan celebrations are memorable. A surprise that is full of illumination and extravagance will sure make him feel special and loved. Make your sibling happy with one of the cutest raksha bandhan gift for brother.

This balloon bouquet uses specific colors to wish the recipient wisdom, power, courage, success and prosperity. We curate this with a BHAI silver letter foil balloon ( 16 inches), a Bunch of 12 Golden chrome balloons, black and white latex balloons, Raksha Bandhan messages, a White flower created with BT balloons, 2 small star foil balloons, white grass and one battery-operated light.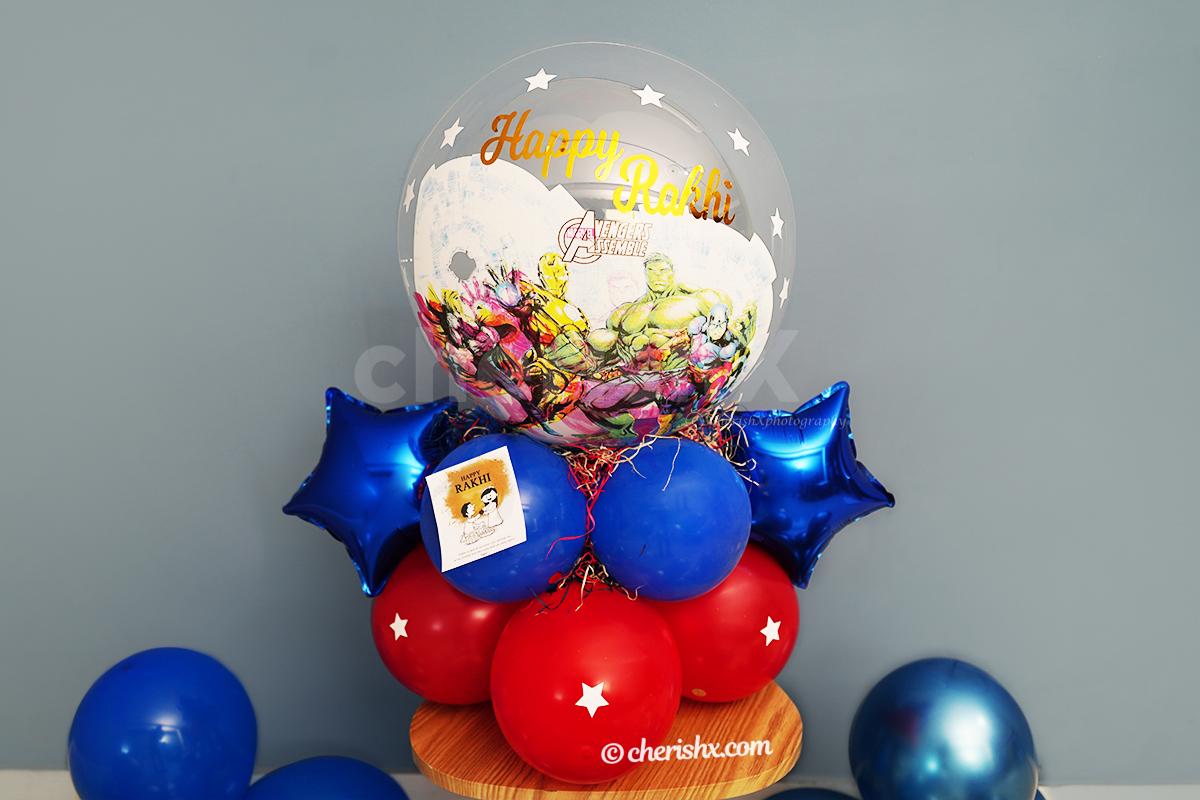 Surprise your kids in the best way possible by giving them an adorable superhero balloon bouquet on Raksha Bandhan. It's a fascinating Raksha Bandhan Gift for brother that you can give your little sister or brother to make their day special.
The theme of the balloon bouquet is of avengers that kids nowadays like a lot. The Raksha Bandhan balloon bunch includes Avenger theme Bubble balloon, Raksha Bandhan customisable message (up to 25 characters in golden vinyl e.g. Happy Rakhi) with white stars stickers vinyl, Bunch of blue & Red latex balloons, 1 Raksha Bandhan message, and blue small star-shaped foil balloon. All of this together creates a beautiful balloon bunch.
Gift your sister a loving Raksha Bandhan Special Balloon Bouquet and make her feel at the top of the world. With silver and Rose Gold balloons, this pretty Gift is likely to take a place in the recipient's heart.
This balloon bouquet stand is beautiful and appeals directly to your heart. It includes a ""sis"" silver letter foil balloon ( 16 inches), a Bunch of rose gold chrome and white balloons, a Raksha Bandhan message, Silver chrome and a white flower created with BT balloons and pink grass. The overall bouquet gives out a positive vibe as it holds attractive colors to make the recipient feel special. Isn't this a best gift for Raksha Bandhan for sister?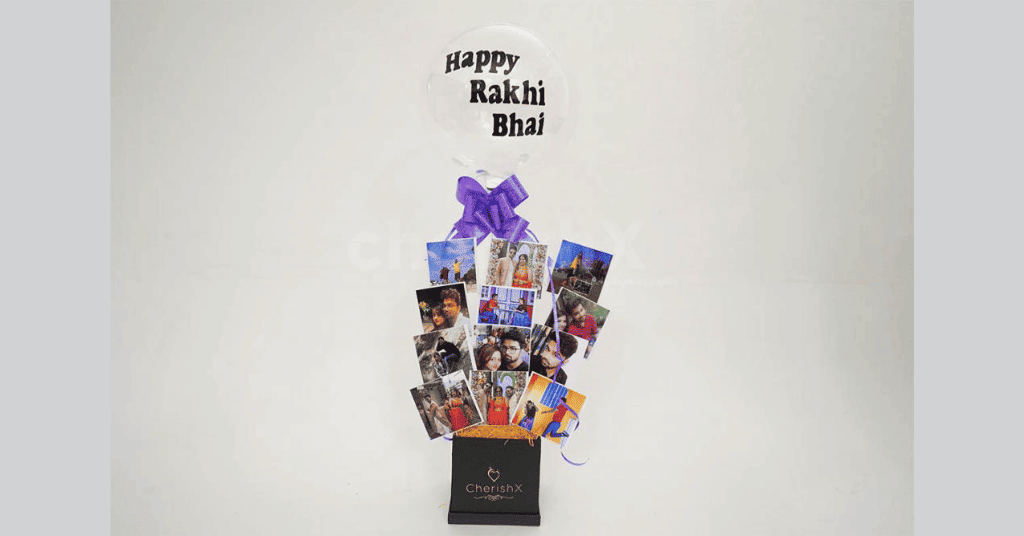 Order online and send this beautiful bucket of memories consisting pictures of you and your brother with a transparent balloon on the top. This is also a cutest Rakhi gift for brother. 
You can find thousands of more options at CherishX.
Personalised Rakhi Photo Frames 
Take your brother or sister down the memory lane by giving them personalized photo frames. Choose your best photos and combine them with the most suitable Raksha Bandhan Photo Frame. 
Here find the most wonderful customizable photo frames for your brother or sister-
Make the festival of Raksha Bandhan filled with happiness and love by gifting your sister a wonderful 'All About Sister' Photo Frame. The day is special for both you and your sister, with that in mind we have curated this beautiful frame so that you can pull her leg however much you want! It's a perfect Rakshabandhan gift for sister. 
Raksha Bandhan reminds every brother and sister how much the other means to them. Whether it's about giving gifts or taking money, both have their parts to play. The day becomes more affectionate with little teasing and laughter, and to put the icing on the cake, we bring you this unique photo frame that tends to do the same.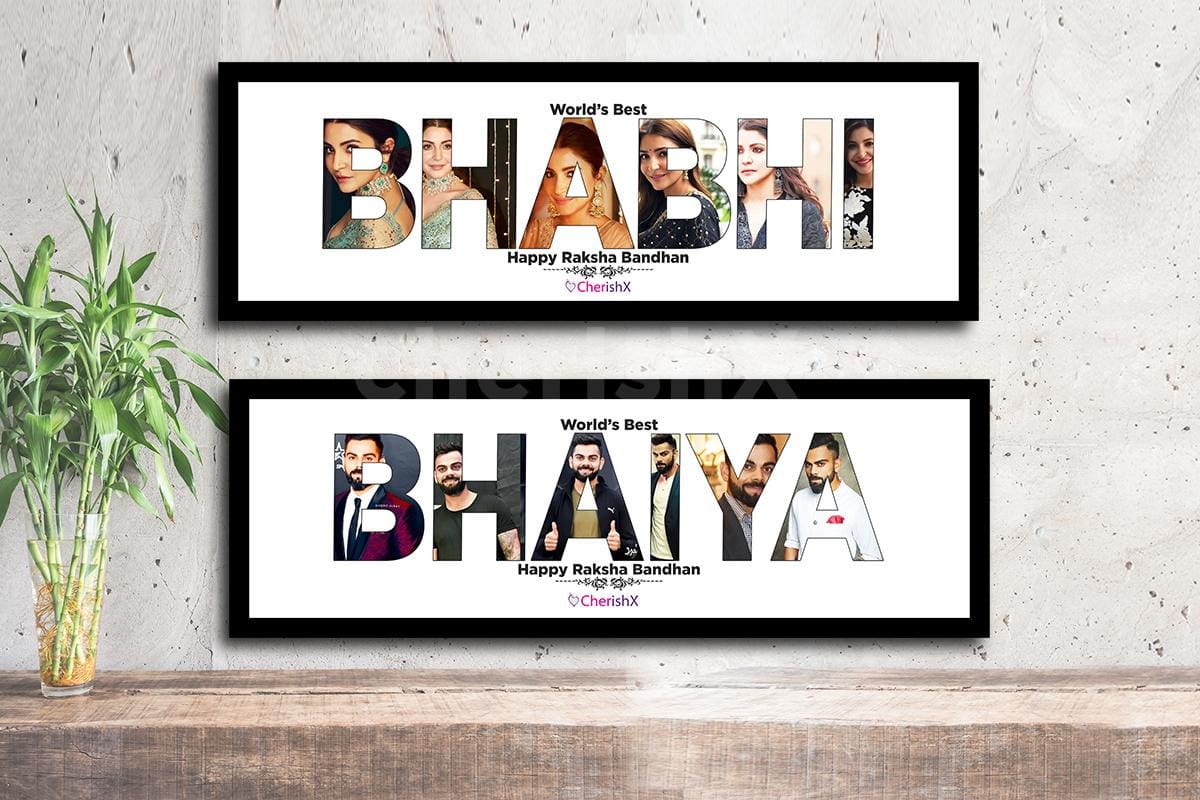 Celebrate the festival of Raksha Bandhan with your bhaiya and bhabhi by gifting them our exclusive World's Best Bhai Bhabhi Combo Frame. The pretty combo includes two frames, each for bhaiya and bhabhi. Wish them Raksha Bandhan beautifully with exclusive frames. The time is here to become a bit nostalgic and talk about the times you and your brother have enjoyed and played together. 
With the same zeal and excitement, surprise your bhaiya bhabhi with an exciting gift! The Rakhi Gift Combo includes 2 Bhaiya and Bhabhi Frames created with their Pictures. The frame is made up of synthetic wood that gives an elegant look to the overall gift.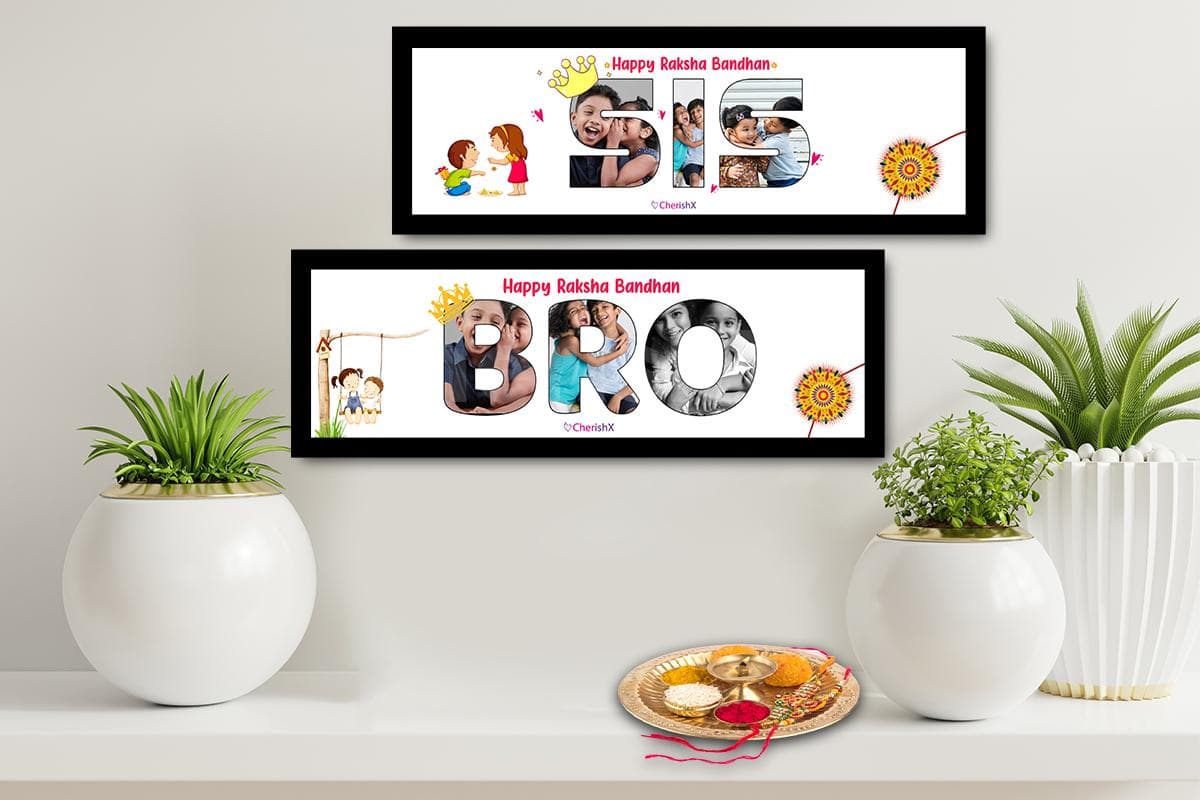 Looking to surprise your little brother or sister on Raksha Bandhan? Well, here's something pretty cool for you, an adorable Bro Sis Special Frame Kids Combo. Astonish your little siblings or your kids with this cute Raksha Bandhan Combo and make the day special for him. This is the best rakhi gift for sister or brother. 
The pretty combo is also perfect for birthdays. It includes 2 Frames, one for Bro and one for Sis created with their Pictures. The beautiful frames are sure to make your kids happy.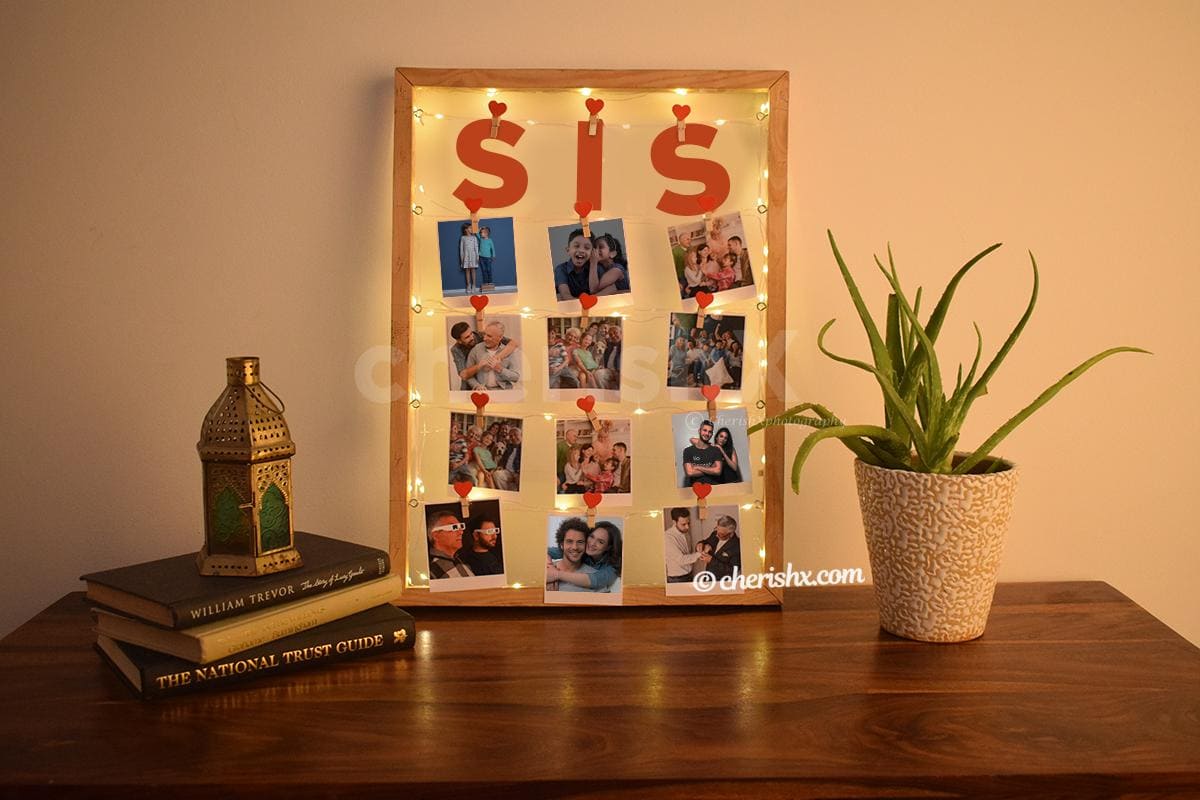 Celebrate the festival of Raksha Bandhan with utmost love and excitement. We launched this beautiful SIS Memory String to remind your sister of the days when; you fought and made up, laughed and cried. Take her on this beautiful journey making her realize how far you have come together and still look out for each other. It's surely one of the most beautiful Raksha Bandhan gifts for sister to make her feel special. 
The relationship between a brother and sister is the most beautiful thing to experience and witness. You learn a lot from your siblings and no doubt, spending time with them makes every trouble go away. This is why we have brought to you this Memory String Photo Frame to let you remind your sister of those beautiful times spent together. For this Frame, our designer collects (up to 12) pictures & enhances them. 
You can check out more personalized Rakhi Photo Frames at CherishX.
So, step up your Raksha Bandhan Celebrations this year 2023 by planning it with amazing surprises and raksha bandhan gifts for brother or sister. Embrace the decoration ideas to light up the occasion for your sibling and with that choose attractive and personalized Rakhi Gifts Ideas.
You can also Follow CherishX @cherishexperiences for latest decoration ideas.