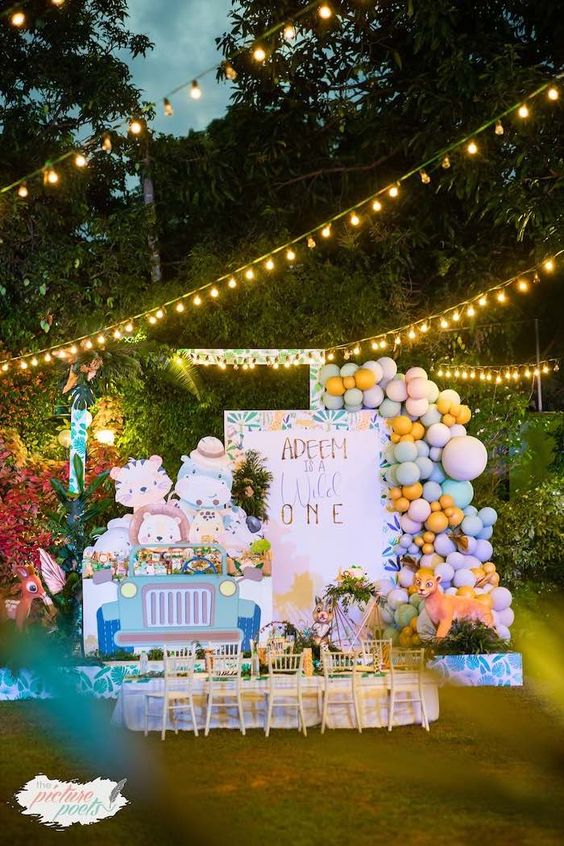 Birthday parties always keep your child lively while adding to the memories. So, if you wish to plan your child's birthday in a unique way, there is nothing better than organizing a theme birthday party for your child, particularly, a jungle theme birthday decoration celebration. For that, you must have a lot on your mind because there is plenty of stuff to think about before hosting a party!
Although party planning comes naturally to some people, others experience many more challenges. Hence, today on this blog, we are going to share some awesome party planning tips that can help you bring a jungle feel to your kid's birthday celebration. No matter what you consider to be a great host, these below-mentioned decoration ideas should help you to throw your child's birthday party with ease. Create special memories for both your child and guests with these remarkable jungle theme decoration ideas. 
Decoration
Whether you have planned many birthday parties before or not, hosting a kid's birthday party is a new daunting task especially, when you have planned for a themed birthday. The decoration is the fundamental element that needs to be kept in mind while beginning the process of a theme birthday party and making the endeavor very overwhelming.
Let's begin with some momentous jungle theme birthday decoration ideas.
Shimmer Golden Sequin Jungle Decor  
Are you looking for an elegant yet fun-filled jungle theme for your child's next birthday celebration? Then opt for this Shimmer Golden Sequin Jungle Decor that gives perfect jungle vibes to your kid and guests. This includes a rectangle stand, golden sequin panel, happy birthday neon signage, digital LED decorated with balloons, animal face foil balloons, floating balloons, and an arch of balloons in shades of green, yellow and golden. Besides, golden leaf sticks and money plant bells are added to this theme to give a memorable experience.
Tropical Beach Birthday Party Decor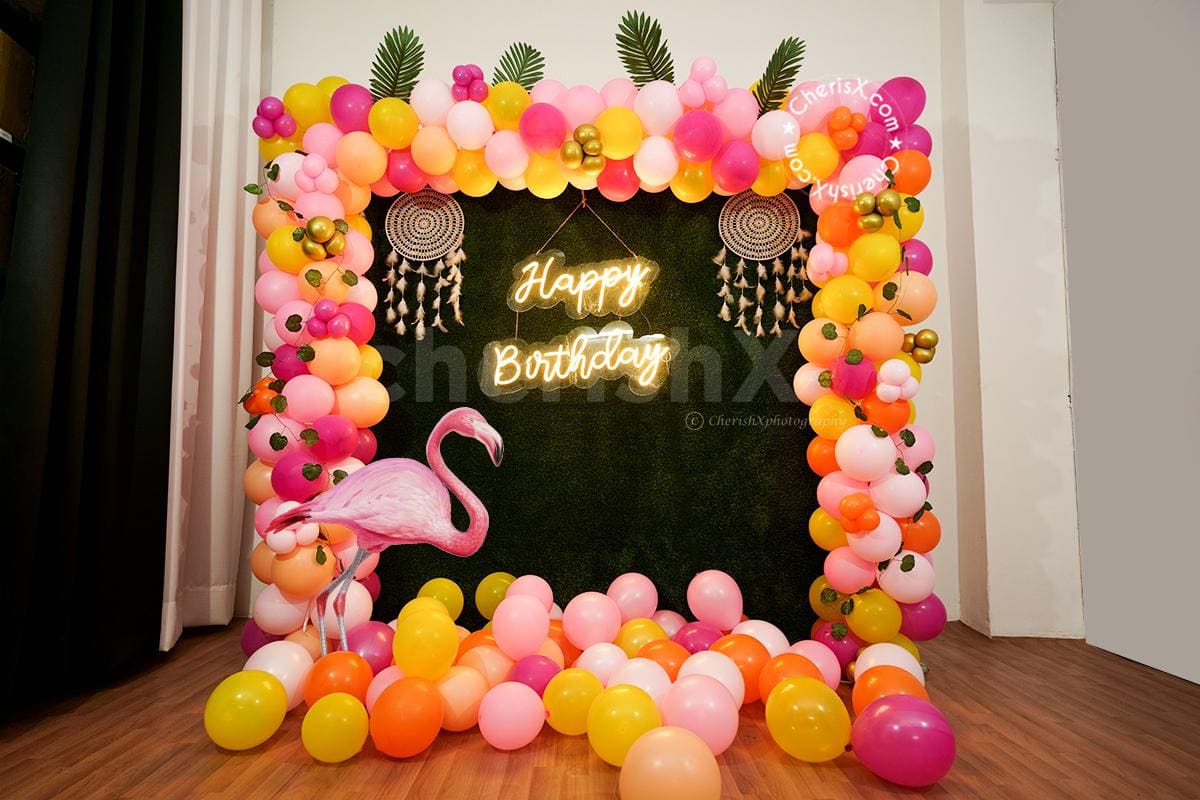 Want to add a summer beach feel to your kid's birthday party, then this Tropical Beach Birthday Party Decor is the right choice for you. For a perfect tropical atmosphere, this theme is curated with a rectangle stand, grass backdrop, a happy birthday neon signage, white dream catchers, a flamingo cutout, and floating balloons. Also, a tropical theme arch of balloons like pastel orange, pink, yellow, golden, white, artificial green leaf, and money plant bells are added.
Premium Customizable Jungle Theme Decor 
For the love of fictional characters and cartoons, we have come up with a Premium Customizable Jungle Theme Decor. To make your child's birthday more special, this jungle theme is customizable decor that includes a personalized jungle theme backdrop, three animals and one giraffe sunboard cutouts, cake table decor, a theme-based welcome board with an easel stand, and animal-faced foil balloons. Besides, get around 200 balloons of various colors designer arch, a ladder decorated with alphabets, money plants, LED lights, floating balloons, and a warm white flood light to enhance the beauty of the party.
Jungle Theme Decor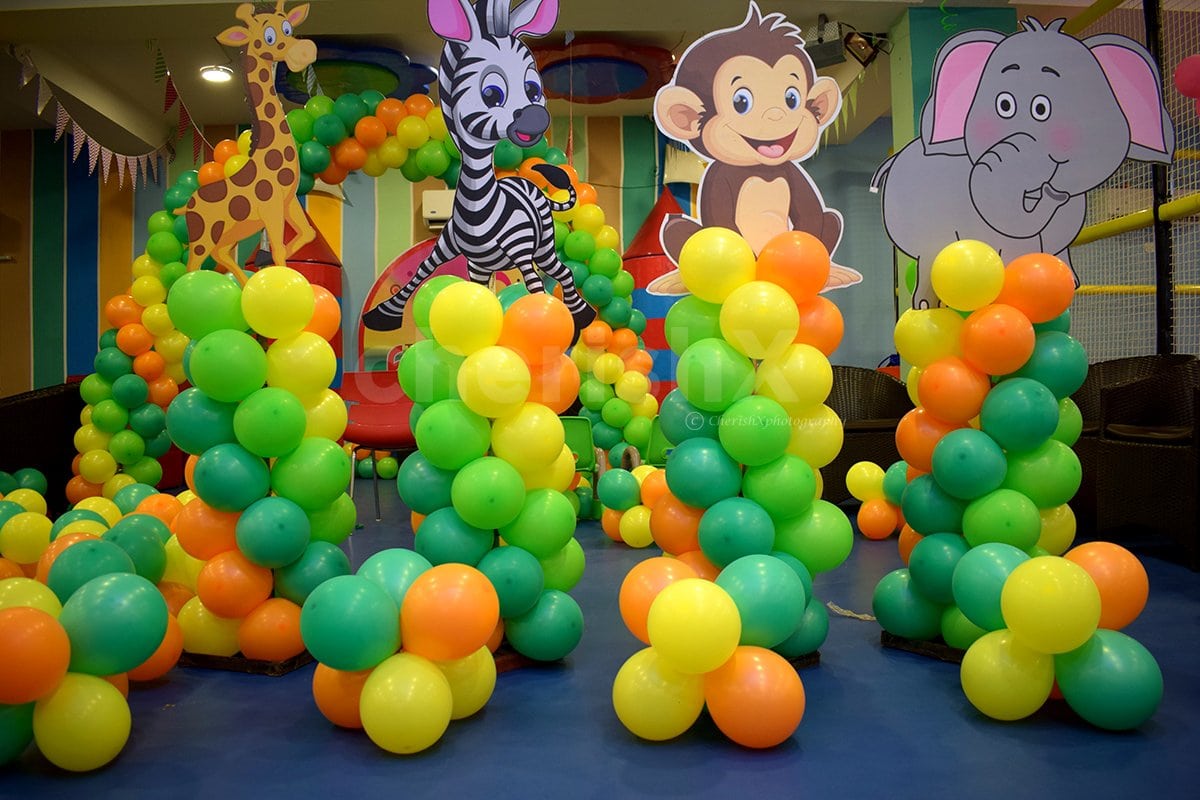 We all love animals, particularly kids who share a unique bond with animals. Thus, gifting them with a Jungle Theme Decor on their birthday is a brilliant idea. This exquisite decor entails 200 balloons( dark green, light green, yellow, and orange) forming a backdrop and four pillars. Besides, Giraffe, lion, monkey, and zebra cutouts, cake table decoration, and multicolor triangle buntings bring a large smile to your child's face.
Wild Jungle Safari Theme Decor
The jungle theme is always special and to take your guests on this jungle safari, we bring to you the best Wild Jungle Safari Theme Decor. This wild decor includes a rectangle stand, a grass backdrop, a golden sequin panel, a happy birthday neon signage, a digit LED decorated with balloons, and animal face foil balloons. Also, a jute mat, golden confetti, and bubble balloon along with a jungle theme balloon arch of numerous balloons.
Golden Jungle Theme Birthday Decor
Create a fun and entertaining aura around your guests by picking this Golden Jungle Theme Birthday Decor. Under this category, you will get two golden square curtains, an arch of balloons, ten free palm leaves, golden butterflies, a black happy birthday banner, animal face foil balloons, and a pillar of eight mixed-color balloons. All these together make a perfect jungle theme birthday decoration.
Deluxe Lion King Decor
Every child loves the "Lion King" and wants to be in that jungle with a lion. Thus, to fulfill this very wish of every child, we offer Deluxe Lion King Decor. To elaborate on this theme, you will get hundred green balloons to form a perfect backdrop of a jungle. Also, this includes a square and base arch and grass with green and yellow balloons, brown and green balloons to form trees, and foil balloons of a lion, monkey, tiger, and giraffe.
Forest Theme Birthday Decor
To make your child's birthday extra special, choose this Forest Theme Birthday Decor that will create an aura of a jungle book. This decor includes white, green, and yellow balloons bunches on the wall and as table decor. Also, get ten animal paper cutouts, four animal face foil balloons, happy birthday bunting, green and golden paper rosettes and poms, and mix balloons on the ceiling and floating on the floor.
Wild Forest Theme Birthday Decor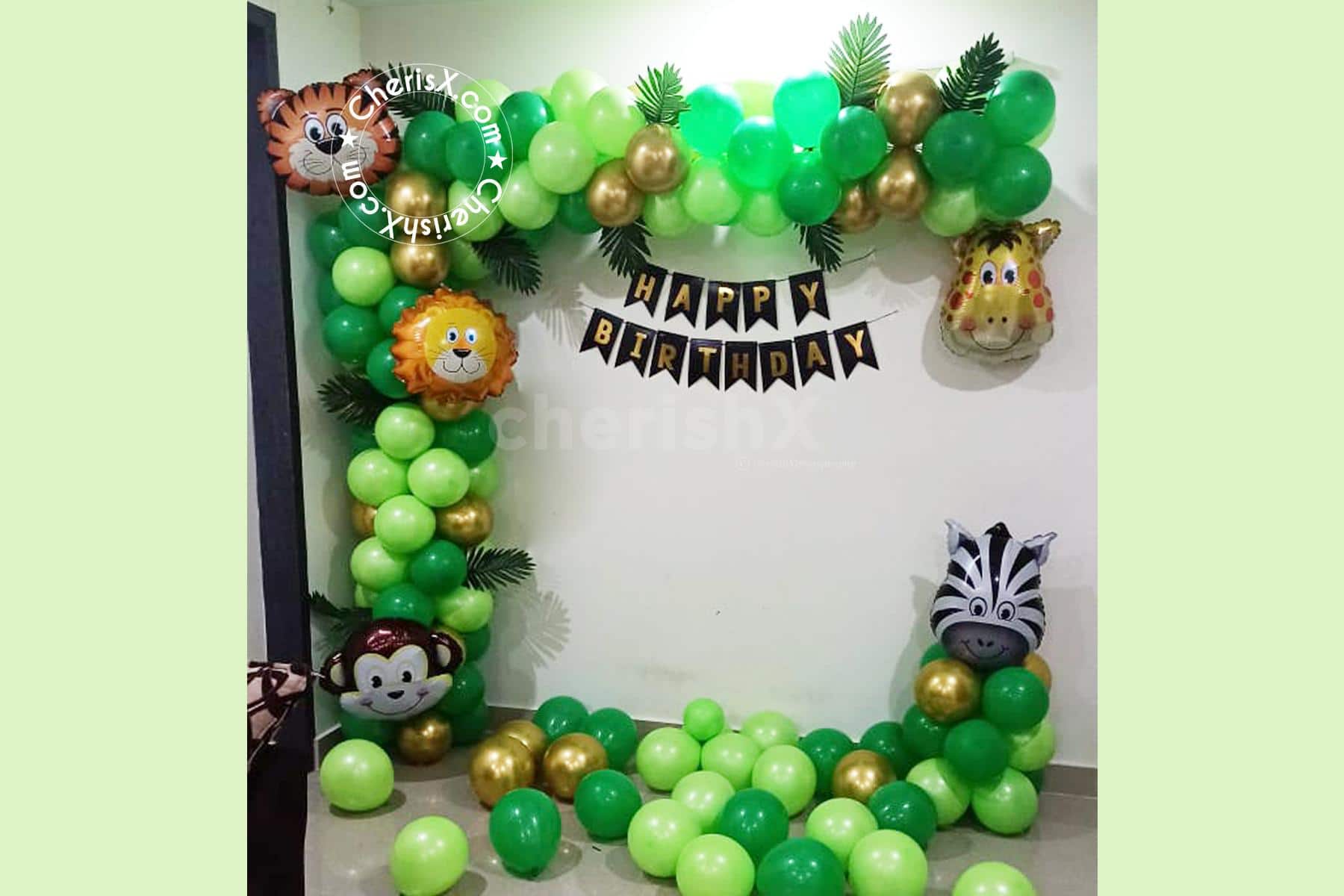 Grab this Wild Forest Theme Birthday Decor to create a wonderful jungle look for your child's birthday party. A simple and elegant theme comprises a black happy birthday banner, five animal face foil balloons, a pillar of eight mixed-color balloons, and an arch of 150 balloons in shades of green, golden along with artificial green leaves. These aforementioned themes can be further customized as per your needs and requirements.
Jungle Theme Birthday Decoration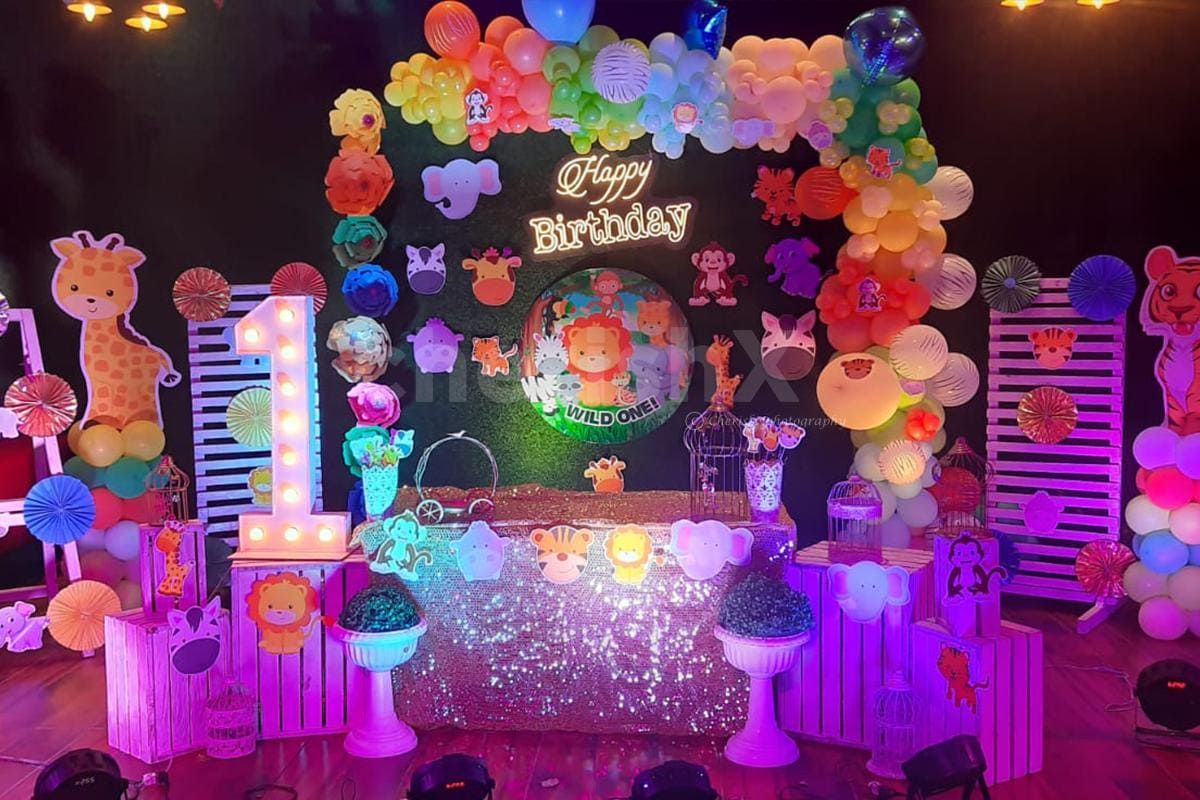 Did your child after watching Mowgli from Jungle book, wish to be in that wonderful paradise? Then give him/her this Jungle Theme Birthday Decoration party that includes a green mat stand backdrop, balloons arch in various shades of green, yellow, pink, blue, red, and purple. Also, foil balloons, various paper cutouts, LED cans lightning, a welcome board, boxes with a cage on them, a ladder decorated with balloons, and happy birthday neon light.
Canopy
Adding a canopy to your child's birthday party makes it more lively and memorable for your guests and child. So, why not give your little guests the experience of Jungle Theme kids canopy? You can add this canopy to your terrace, room, living area, or any spacious place to make your party more glamorous. This 5ft canopy is draped with white net and money plant bells. Further, it has animal face foil balloons, happy birthday bunting, jungle safari sign board, pixel lights, bed sheets, and an arch of various balloons.
Table Decoration
Throw a wild jungle theme decoration party! Transform your home or venue into a safari adventure, or wild forest getaway with jungle theme birthday decorations. This theme is quite popular among young children, so give your child a birthday to remember for a long.
Decorate your center table with their favorite jungle animals: lions, tigers, zebras, giraffes, and elephants, and put a palm tree cascade centerpiece in the middle of the table. Use a jungle theme tablecloth that is easily available in the market or a simple green tablecloth will also look perfect.
Backdrop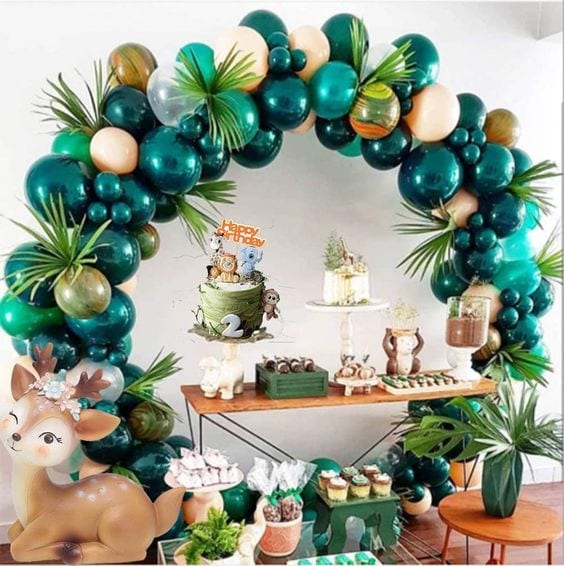 If you want to host a memorable birthday party for your kids, then make it a jungle-themed birthday decoration! Try decorating with safari animal cutouts that will instantly transport you and your guests to a wild jungle. You could even try out a jungle tree backdrop to turn your venue into a real-life jungle! Use green curtains to add more charm to your theme party.
Costumes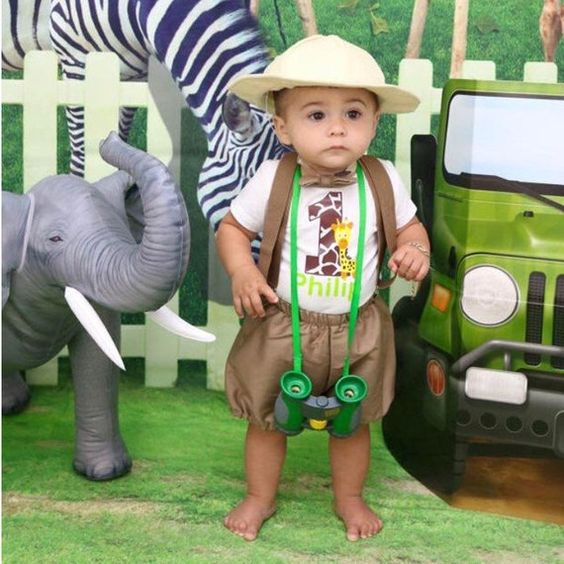 Jungle-themed costumes are easy to make and can be inspired by jungle animals, safari-inspired gear, Tarzan and Jane, etc. You can start by deciding which animal your child loves. The key parts of any animal costume are the tail, makeup, and ears.
And, the most popular costumes are of large cats (jaguar, cougar, leopard, and tiger) and primates (monkey, chimpanzee, and gorilla). Starting with a basic color, leggings and a long-sleeve shirt work best for any animal costume. Also, anything in an animal print can be used for draping, belting, and tying options.
For a tail, use a stuffing knee-high stocking or cotton balls and then tie a knot and attach it to your costume with a belt or a safety pin. And for ears use felt and attach it to a headband.
Invitations
After finalizing the guest list, it is time to send out invitations. Your invitation must include the day and time of the event, including the location, and the child's name. Also, it is a great idea to mention the main activities so that people will know what to expect at the party. For keeping the theme in mind, opt for green color paper and add lots of animal faces as the border.
Returns Gifts & Favours
For return gifts, a little and basic gift will be enough to express your appreciation for your child's guests. Choose a gift that represents your jungle theme birthday decoration. For example, providing a small potted plant, a board book, some stationary and a small flashlight can be a gift that the kids will enjoy and don't harm you much financially.
Invest in a jungle theme birthday wrapping papers and gifts bag or paste a jungle cutout on the gifting bags to boost up your theme.
Activities / Games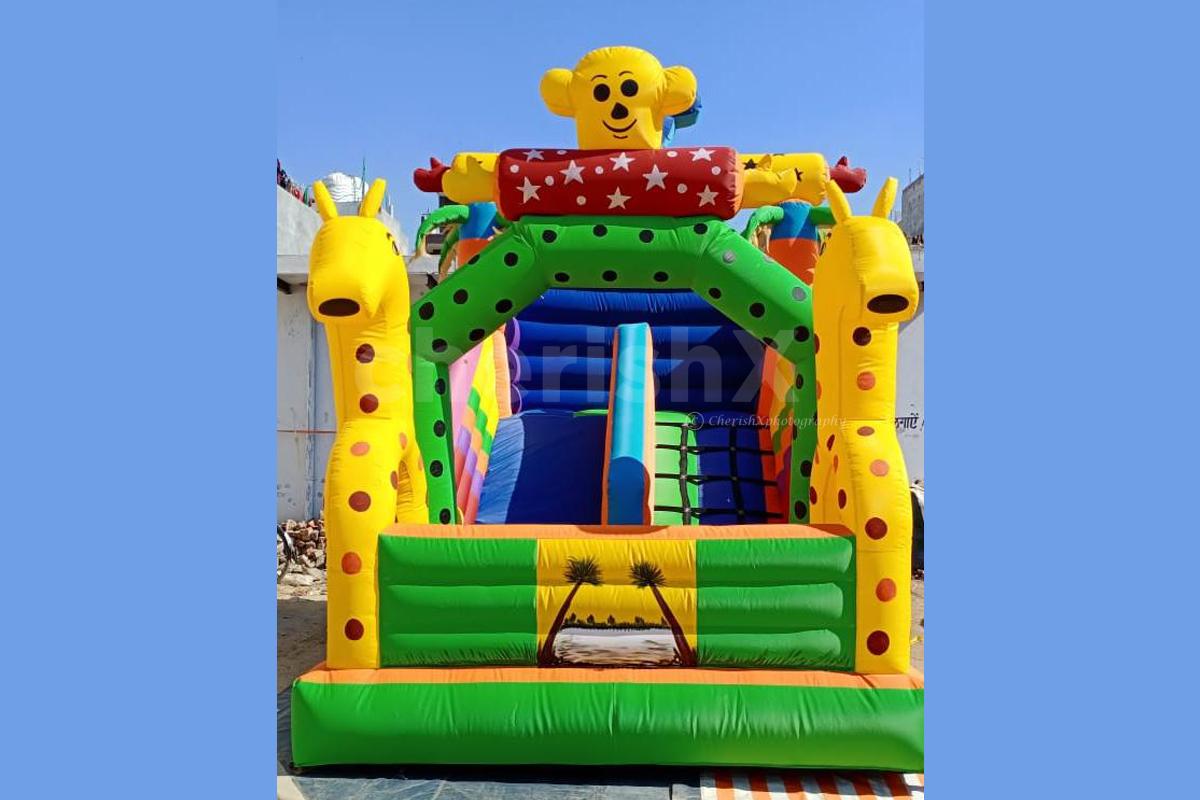 To keep your guests entertained through the party, plan some fun-filled games and activities. Activities like a caricature, tattoo making, and balloon modeling can be added. For more fun and if you have space in your area, you can add Jungle Giraffe bouncy for kids on birthdays, this will not only add a perfect jungle feel but also children will love to play on it.
Food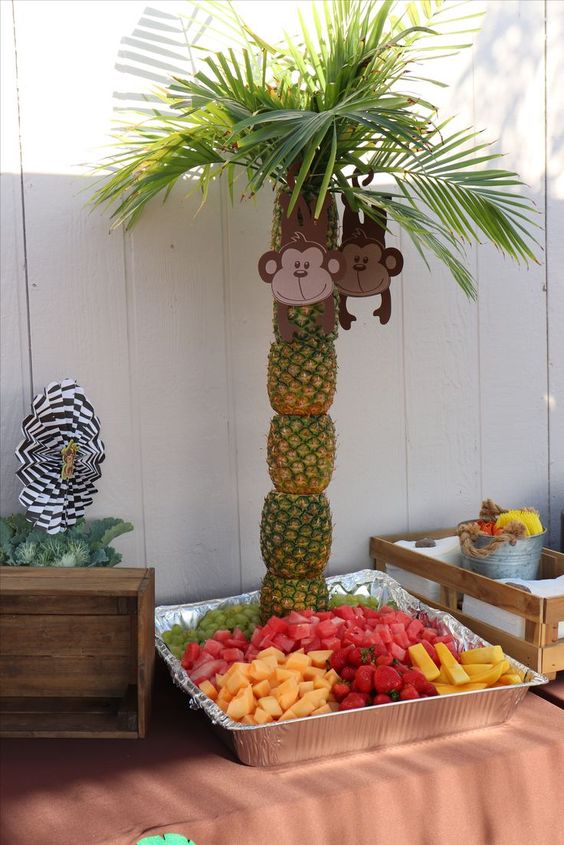 For those quintessential food items matching your theme, try the veggies tray with different fruits and try to decorate that in the face of animals. Also, you can go with a variety of sandwiches, experimenting with different things. For desserts keep cupcakes and decorate that with animal danglers or toppers.
Main Character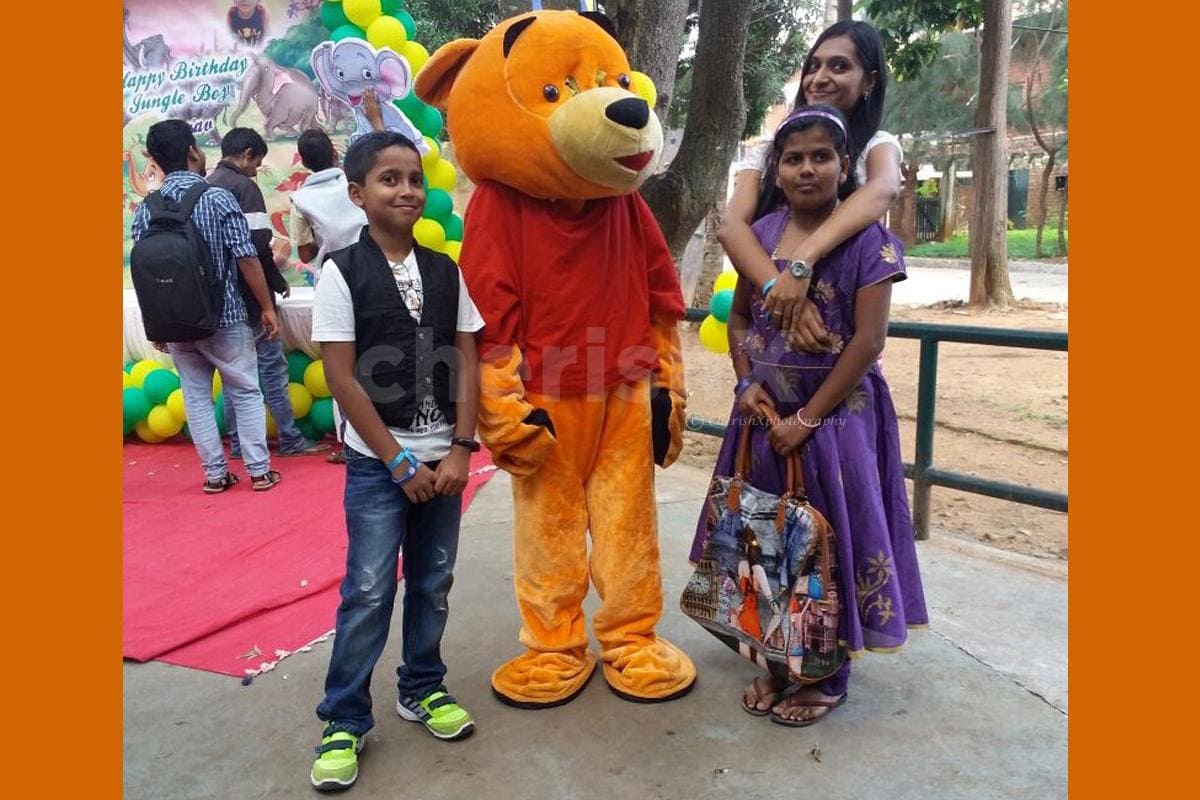 Book a Live Cartoon Character for kids' birthday party to make more fun and memorable party. These live artists will greet, and play with your guests.
Sitting Arrangements & Decoration of Chairs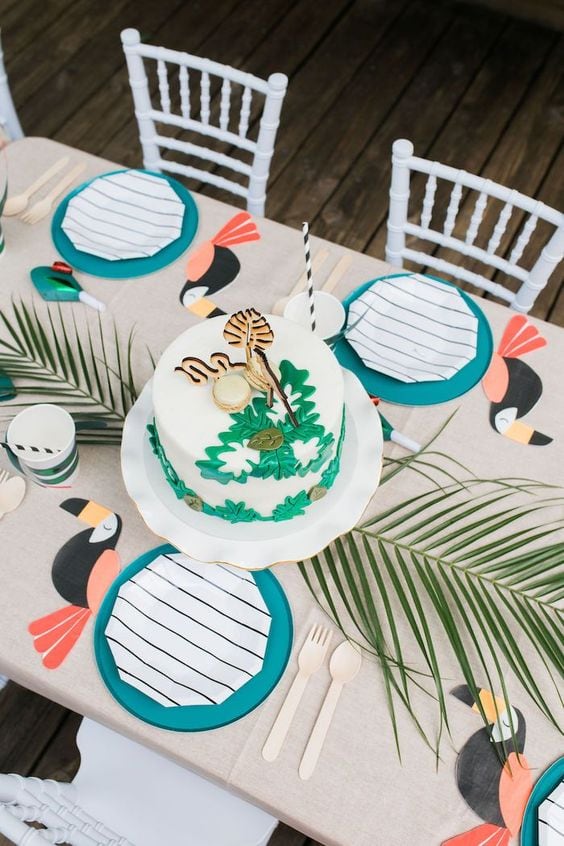 When we talk about a jungle-themed party, an animal print will always reign supreme in the decoration. Opt for colors for decorations that can bring brightness and joy like orange, purple, magenta, green, royal blue, and red. If you want to add flowers to your decoration go with wildflowers such as hibiscus blossoms, sunflowers, and orchids.
For chairs use animal print covers and cushions cover to enhance the wild jungle feel.
Also, to bring the jungle-themed party to another level, arrange for a jungle-style photo booth for the event. Besides the booth, keep- animal-designed masks, cutouts, glasses, and hats for all those selfie lovers.
Welcome Board
If you are arranging a jungle theme birthday decoration for your child, do not forget to add a Jungle Theme personalized Welcome Board. You can customize this board as per your requirement or your's child wish.
Also, you can add stickers that can be printed on the board. For those wild stickers, you can use ideas of wild animals, flowers, scenic views of the jungle, etc. These are all fantastic choices for the party stickers that can be added to the invitations, return gift bags, or any tableware.
Balloon Bouquets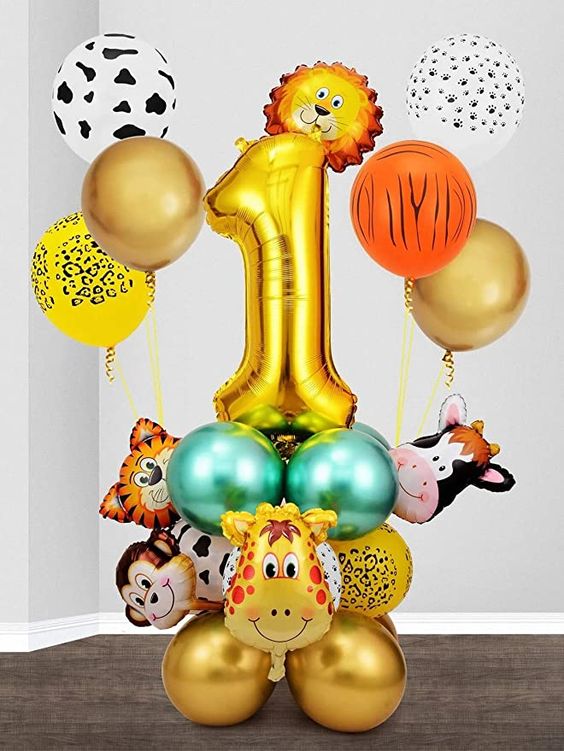 Any jungle theme birthday decoration party will look incomplete without some wild print balloons. You can add foil balloons of animals like Elephants, tigers, monkeys, bears, crocodiles, snakes, giraffes, horses, and others. Make a bunch of balloons that can be hung throughout the event room, with placed around the food table, and guests sitting chairs.
Cake Decoration
A birthday is the most crucial element of any celebration. Ordering a cake with a jungle theme will also look fantastic at your birthday party. You can decorate the cake with jungle animals fostering or shape it like an animal. Moreover, you can add a nice touch to the cake by adding edible food doodles on the top of the jungle theme birthday cake.
Tableware – Cutlery and all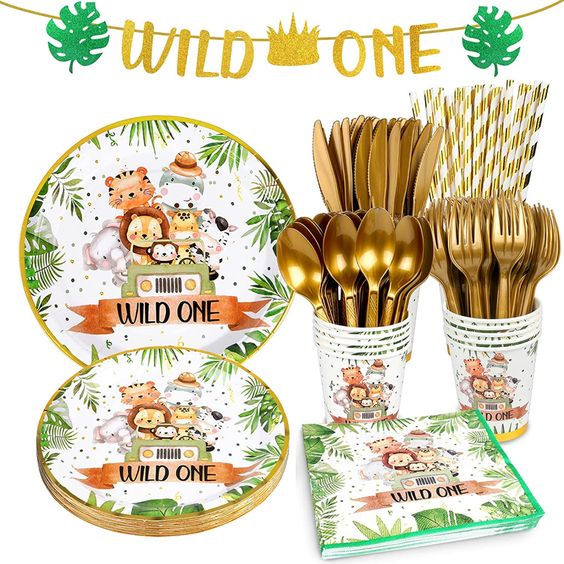 The decorative items for the food arrangements must also have a jungle-theme style. For that, invest in some jungle-themed cutlery like bear-printed napkins, tiger-printed cups, lion-printed tablecloths, and a lot more.
The table arrangements with animal faces will be a hit at your birthday party. The aim of some natural plants, like palm or monstera, will be more appealing to guests and complete the overall jungle book theme.
Why CherishX?
These jungle-theme decoration ideas will be a big hit for any themed event.
We at CherishX cover a wide range of jungle party decorations that are made of durable material. No matter what kind of jungle-themed decorations you are looking for, our comprehensive categories will definitely make you fall in love with our products.
We know how to party and it is our goal to deliver our customers the best possible products and services for the lowest possible prices. And of course, not just serving but also we love taking the feedback from our loyal customers!
If you have any questions about our products or services or want to discuss any idea for a new product or birthday party, just give us a call or leave us a message here!
So come party with us and make more memories with our excellent decorations ideas and products!