Are you searching ideas for Halloween themed decoration at home or outdoor? We have got you covered with the best Halloween decoration ideas for party!
The spooky season is fast approaching and Halloween is right around the corner. 
Celebrated every year on October 31st, Halloween is a time for having unlimited fun. On this day kids dress up in spooky costumes, go trick-or-treating, and play cool Halloween games. And grown-ups visit scary places, watch horror movies and have fun at Halloween costume parties.
As parents, it's actually a day when you can be a little indulgent and let your kids eat lots of chocolates and candies. 
However, surprising your kids, friends, and family on Halloween and giving them a fun filled Halloween can be an overwhelming task. Especially if you have little to no knowledge about how it is celebrated. Yes, we are not counting the innumerable Hollywood movies you've watched. So, let uncover your only guide to Halloween decoration at home. 
But before we go into how Halloween is celebrated, let's take a brief look at its origins and find out how it became one of the most popular holidays in the world. 
Origins Of Halloween 
Halloween, All Hallows' Eve or All saints' Eve is a day dedicated to remembering the dead or the ones who have left us.
Historically, Halloween was extremely religious in nature and held great importance for people who celebrated it. 
Its origins can be traced back to the ancient Celtic festival "Samhain" which was celebrated to honor the harvest and mark the beginning of the "darker half" of the year. The Celts believed that on this day, the boundary between this world and the spirit world blurred. Meaning all the scary ghosts, elves, fairies, and monsters could easily come into this world and haunt innocent humans. 
To protect themselves from the monsters, people performed special rites, made offerings, lit up huge bonfires. They disguised themselves as scary ghosts to keep all the unholy spirits away. 
So basically the ancient Halloween was all about warding off the evil. Much opposite to today—where people are using ouija boards, visiting haunted places in hopes of meeting a friendly ghost. But with time, people started looking for Halloween decoration ideas for party and started celebrating it as a festival. 
The Evolution of Halloween
Many of the Halloween activities, traditions and games that we see today are not new. They were actually invented by the ancients. 
To ward off evil, they would perform rituals that included modern-day games like Apple bobbing, nut roasting, mirror-gazing, dream interpretation and foretelling one's future. It is said that young girls would consult fortune-tellers to seek advice for future suitors. So, this was the history of Halloween festival. 
The custom of disguising became mischievous as people started going house-to-house and demanded rewards. They carried hollowed-out turnips carved with grotesque faces (known as Jack-o-lanterns today) with them. If anyone refused to welcome them, they threatened to play naughty pranks on them.
The ritual which started as a way to keep the monsters at bay, transformed into a more amusing tradition called "Trick-or-treating." In which costume wearing kids travel from house to house and ask for treats. 
By the 20th century, Halloween was completely secularized. The old-fashioned rituals were either modernized or got replaced with cool and fun activities. From there it was picked up by Hollywood and became an essential part of pop-culture—which helped in spreading Halloween to other parts of the world. 
How the World Celebrates Halloween? 
The concept of Halloween may still be a little alien to Indians but they are quickly catching up with the world. Indians go to Halloween parties, watch horror movies and eat some devilishly sweet desserts. In fact they have brought their own A-game when it comes to creating creative Halloween party dress ideas. Taking inspiration from some of the most popular and classic Bollywood movies, Indian Halloween costumes are some real eye-catchers.
Americans are obsessed with Halloween. In fact, most of the trends and major Halloween influences we see all come from America, especially Hollywood movies and Tv.
In Ireland, where the festival actually originated, people celebrate it with a special kind of dessert called "Barmbrack." 
England doesn't celebrate Halloween. Instead, they have their own spooky day, which is called the "Guy Fawkes day." 
Mexicans celebrate Day of the Dead(Día de Los Muertos) which is a little different from Halloween. On this day, Mexicans pray and honor friends and family who have departed. They dress up in costumes, paint skulls on their faces and attend parades. 
China has its own equivalent of the Day of the Dead—called the "Hungry Ghost Festival." 
How is Modern Halloween Celebrated? 
There is no particular way to celebrate Halloween. However, people celebrate it with Halloween themed decoration, dresses, and all things spooky. Because everybody has their own way of celebrating it. But still there are some things which are usually followed by most. Like wearing Halloween party dresses, carving faces into pumpkins, going trick-or-treating at night, decorating houses with spooky decorations, attending Halloween parties, visiting haunted places and watching horror movies.
Halloween Celebration Ideas 
Looking for some great fun this Halloween but don't know what to do? Don't worry, here are some awesome Halloween celebration ideas that will make your Halloween Fang-tastic. After all, Halloween is not just about eating candies and watching horror movies. With a little bit of creativity, you can have a lot of fun and make Halloween a fun-filled day for your friends, family and even yourself.
Surprise your friends, family or kids with a Halloween themed decoration party at home. Have the place decorated with spooky decorations like Spider Web, Halloween paper lanterns, spooky ghosts, eerie skull, fairy lights and turn up the ghost-o-meter. Pair it with Halloween themed food and drinks and arrange some cool games for kids.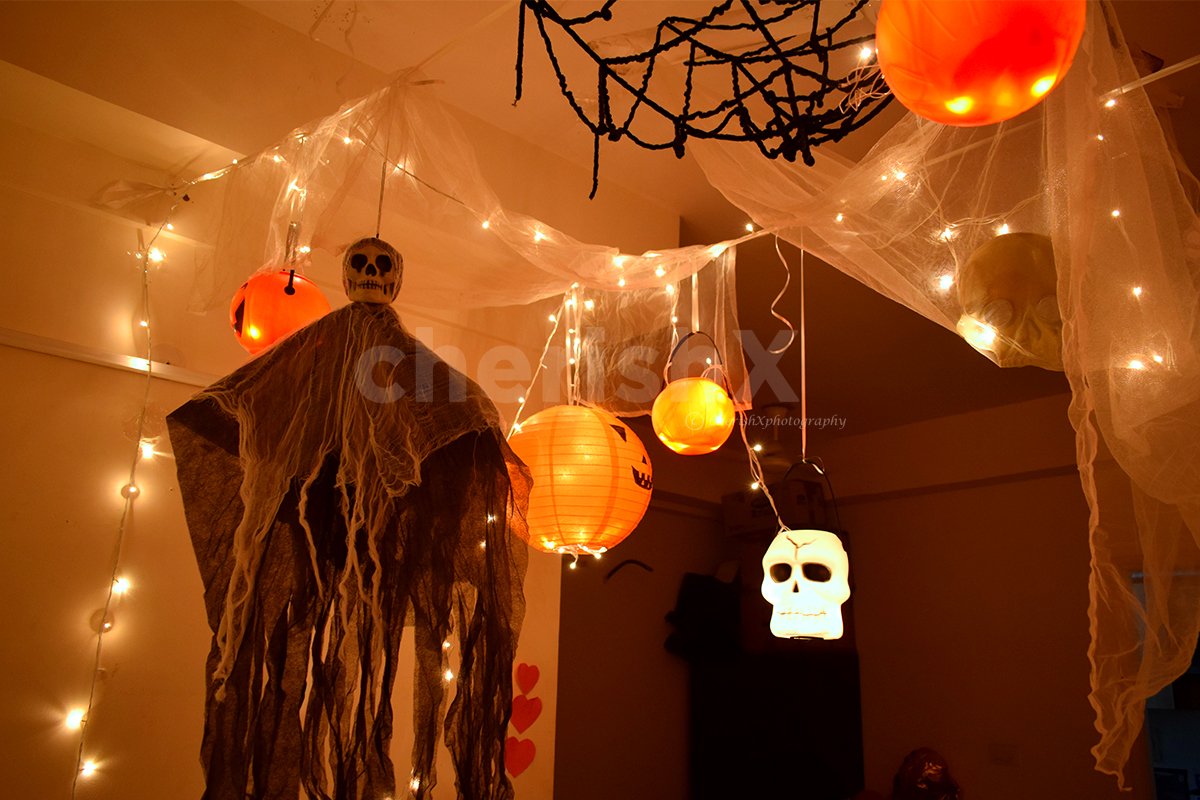 For a perfect Halloween decoration at home, you can create your very own wall of horror at home with an awesome Halloween wall decoration. Impress your guests as they stare at the scary wall swamped with Halloween decorations—Jack-o-lanterns, big spider web with a spider, haunting paper bats,  scary paper ghosts, orange balloons, plastic jack-o-lanterns, fairy lights, a severed hand, and spooky LED lamp lantern. Get this Halloween themed decorations and make your celebration all about the horror and fun.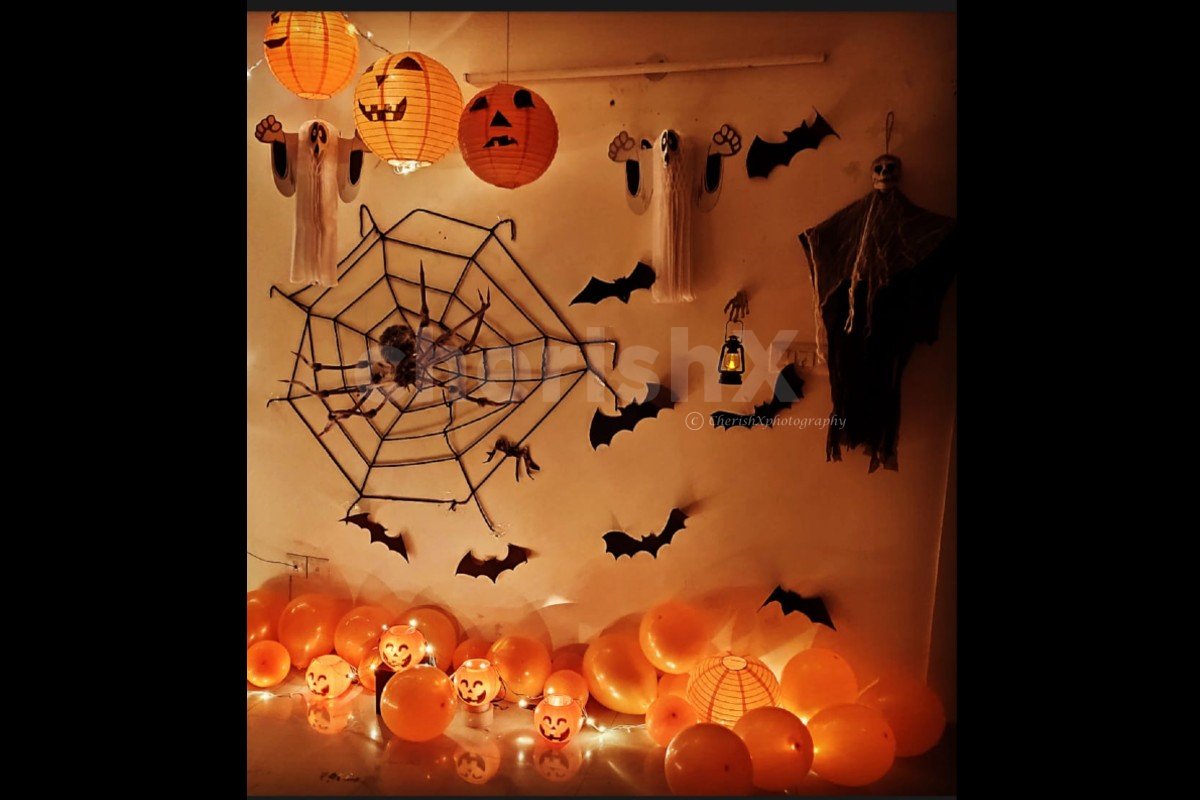 Treat Your Kids to a Spooktacular Halloween Carnival
One of the best Halloween celebration ideas are to take your kids out to a spooktacular Halloween carnival. The carnival includes awesome games and fun activities like Ghostly Glow Jar, Mega Science Show, Spooky Wall of Lights, Magic Mirror Photobooth, Ooey Gooey Monster Slime, Free Face Makeover, Fashion Parade, and cool Halloween Games. You can accompany your kid to the carnival and cheer them up.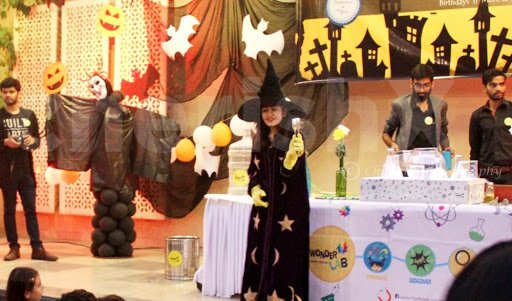 Have Some Grown-Up Fun with a Halloween Disco Party  
Crazy music, sizzling drinks, chilling ambiance and a lot of mad fun. Escape the mundane and have fun at a Halloween party. Wear your creepiest costumes, stun everyone and show some crazy dance moves. A Halloween costume party is not only a great way to celebrate the spooky night, but also a fantastic way to meet like-minded people. The disco fun is one of the most amazing Halloween party ideas adults.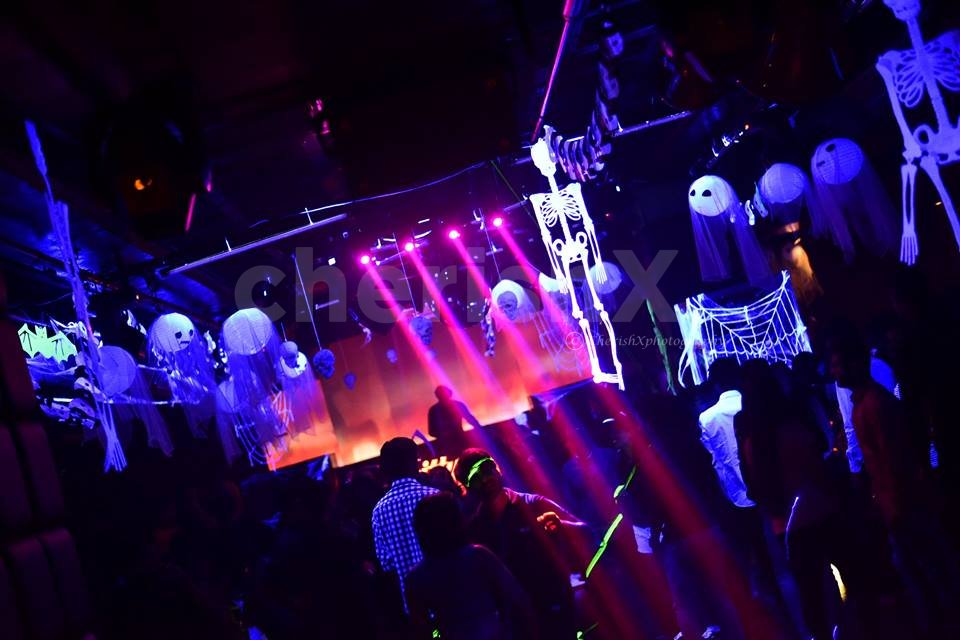 If you are looking for some insane fun this Halloween then head to our website and check out our Halloween themed decoration. Also, Dress up in terrifying costumes, enjoy great drinks, fun activities, dope electronic music, and dance the night away. 
Visit CherishX and book your theme!