As we approach Mother's Day 2023, it's important to note that in India, it falls on the second Sunday of May. This year, the Mother's Day date in India is May 14th, 2023. Are you searching for ways to show your mother how much you care? Check out these mother's day surprises. Consider surprising her with a thoughtful gesture, along with heartfelt Mother's Day wishes or notes. It's sure to bring a smile to her face and make her day extra special.
Do we actually need a special day to make the most important person in our life memorable and loved? However, while each day is a chance to show our love to our dear mothers having one special, devoted day gives us an additional opportunity to praise her. In the form of Mother's Day 2023 Surprises!
On Mother's Day count blessings that begin with the gift of a mother, who gives down and is the most selfless, loving, and caring individual in our lives. They are our first connection to this world even before birth. The bond that increases from the day we are selected to be conceived by this wonderful woman only boosts deeper with each passing day. The older we are, the more we begin realizing the value of our mothers – our emotional superheroes!
And, finding an amazing gift for a mother is quite difficult. Every year we struggle to discover something distinctive and even better than the last year. Thus, our gifting experts are here to assist— with this checklist of fun and innovative ideas for Mother's Day! After all, a woman this impressive deserves something truly outstanding.
Unique Mother's Day 2023 Surprises to Pamper Your Mother
Here to help in your pursuit: CherishX has a curated list of brilliant, unique Mother's Day gifts she will truly get a kick out of. Some are pure lookers, some remarkably practical, but all are outstanding. These are unique Mother's Day surprises you will be pleased to receive and proud to show off.
Check out some of the stunning Mother's Day surprises below:
Premium Pink and White Balloon Bucket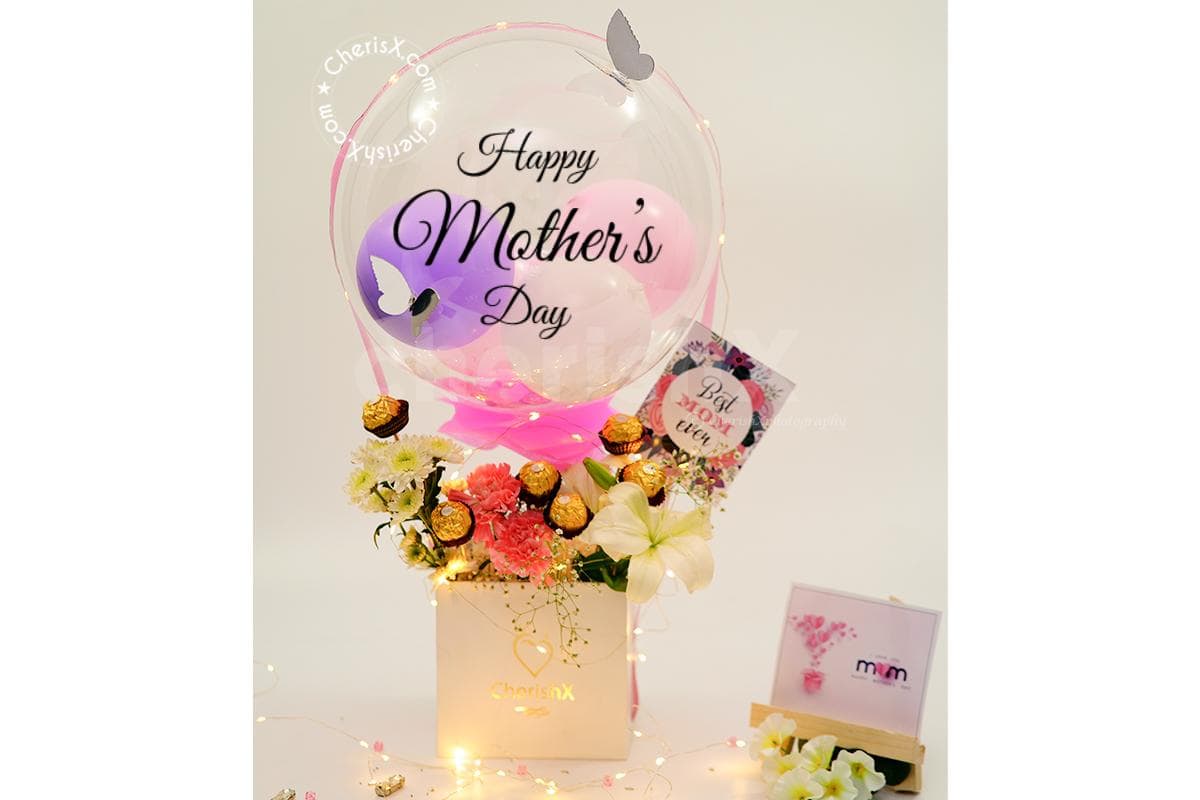 Make your celebration extra beautiful and memorable with this stunning premium pink and white balloon bucket. This beautiful bucket gift includes a customizable vinyl white printing message on the bubble balloon. Also, it has a bubble balloon with pink pastels, white latex, and purple pastel balloons with butterflies and some pastel pink tissues. For flowers- white lilies, white gerbera, and pink carnations. Other than flowers, it has a Ferrero Rocher, a battery-operated light, and a wish card.
See more Mother's Day Balloon Bouquets from CherishX
Tell About Your Mother Frame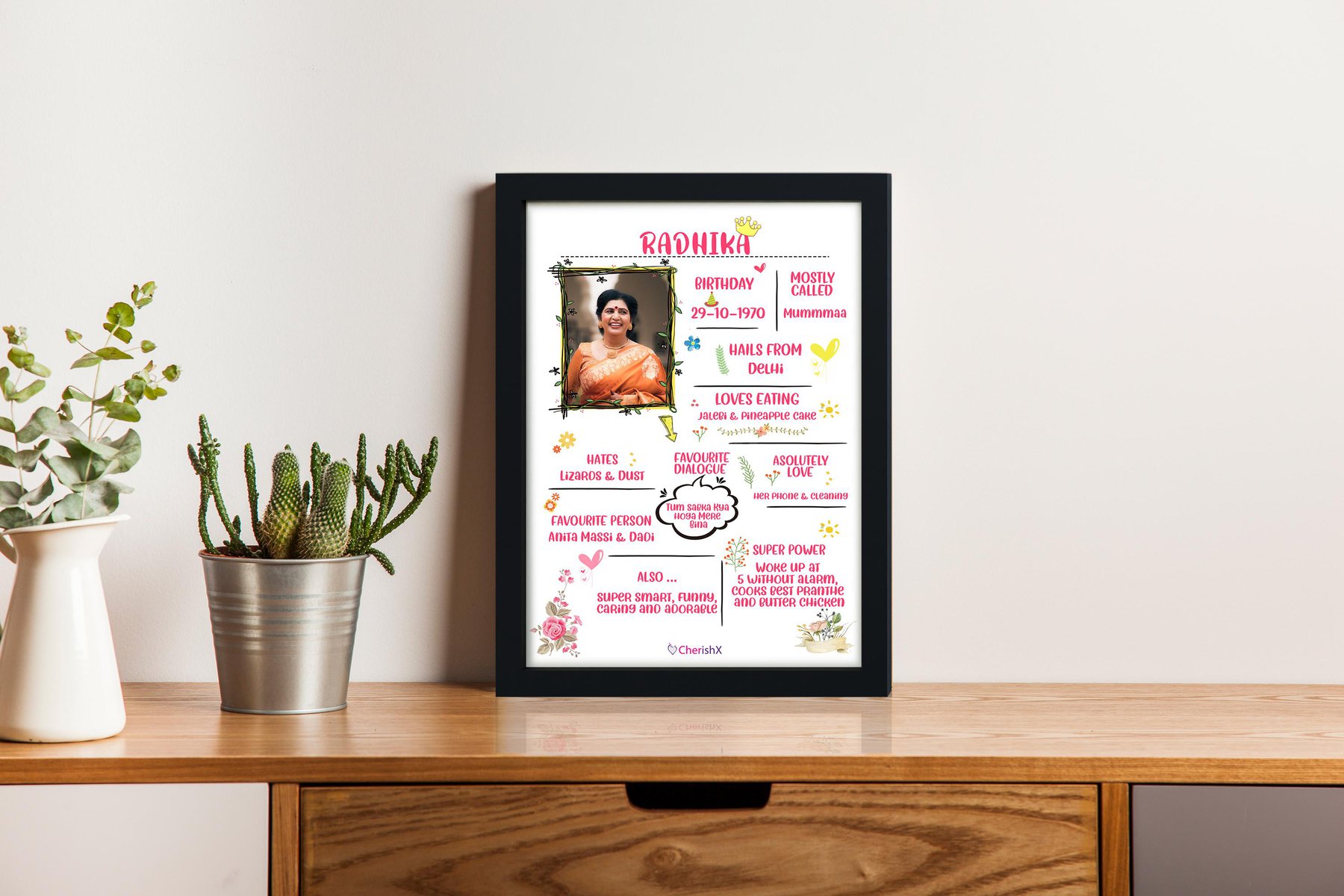 Tell your mom, how much you know her well with this unique tell about your mother frame. This will surely be going to light up your mother's heart. A frame is of A4 size and made up of synthetic wood. Along with your mother's picture, you just need to share some of the details about your mother. The details will include what she hates, what she loves, how she spends her quality time, one superhero power you bible she has, her birthday, her native place, and a lot like that.
You will be surprised to see these amazing Personalised Photo Frames for your Mom.
Chai Addict Hamper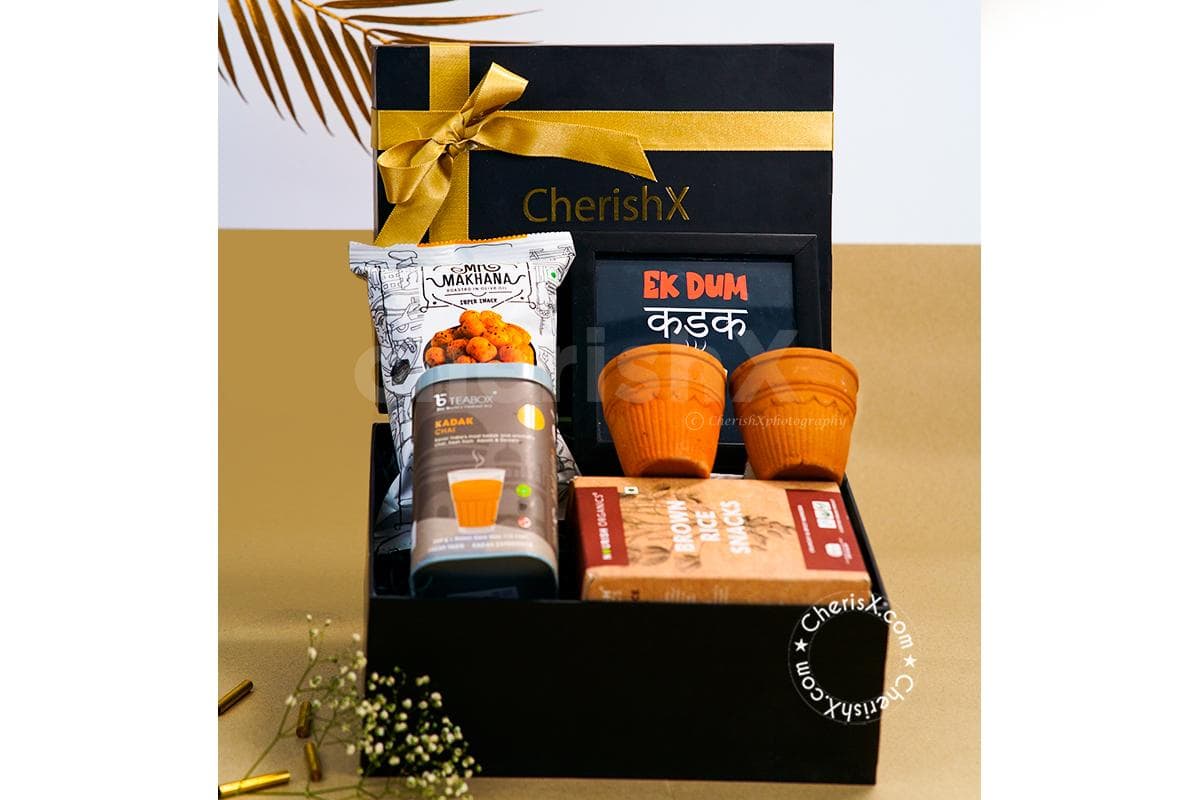 If your mother loves chai too, then gift her this amazing chai addict hamper this mother's day. The hamper will definitely be going to excite your mother as it includes a black box, a kadak chai tea box, kullad, and some makhana. Also, nourish organic brown rice snacks, a frame, and a customized message.
Personal Radio Show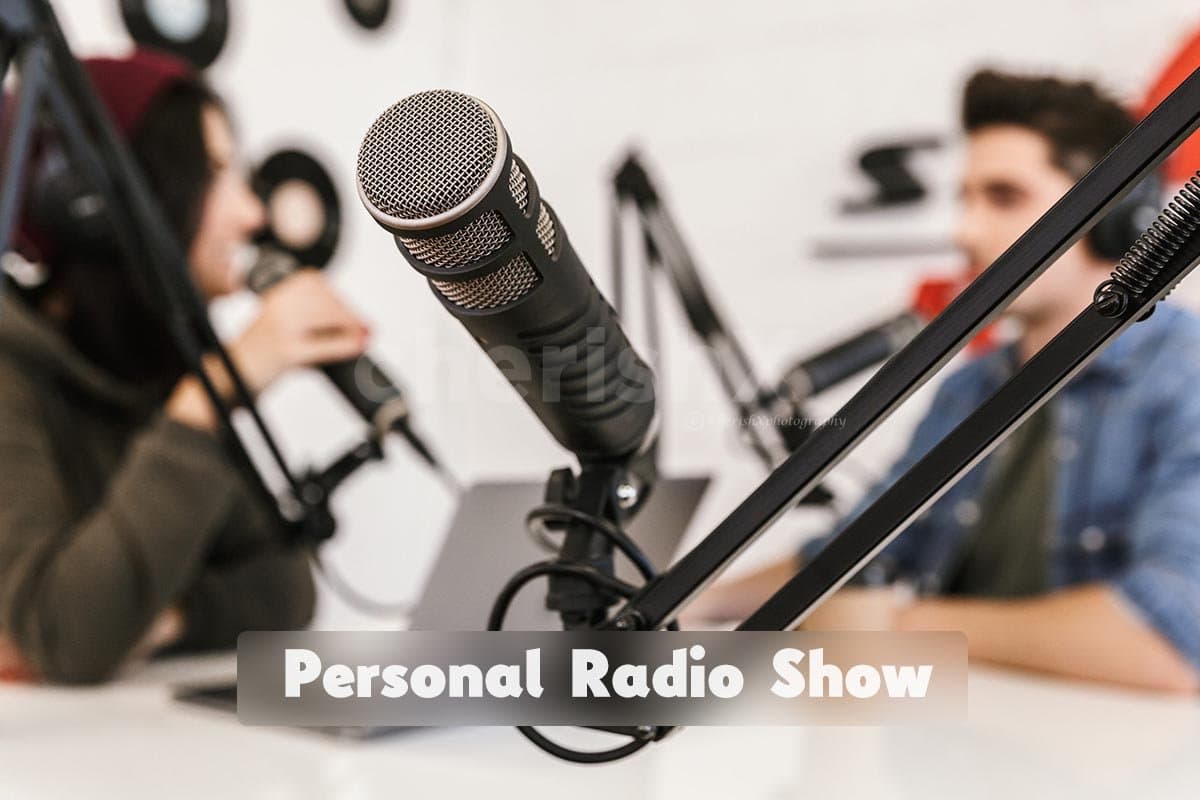 Express your feelings to your mom and make an incredible memory by opting for this personal radio show on mother's day. For this virtual experience, share details of your mother like nature, like, funny memories, and quirks. The professional voice-over artist will create a show and send it to you via mail. The show will be around for 10-15 minutes and will include one song requested by you and all the details shared by you. Just make your mother sit comfortably and play the button and witness the tears flowing from your cheeks.
Want more personalized surprises for Mom? – Tap Here
Pyarri Maa Designer Cake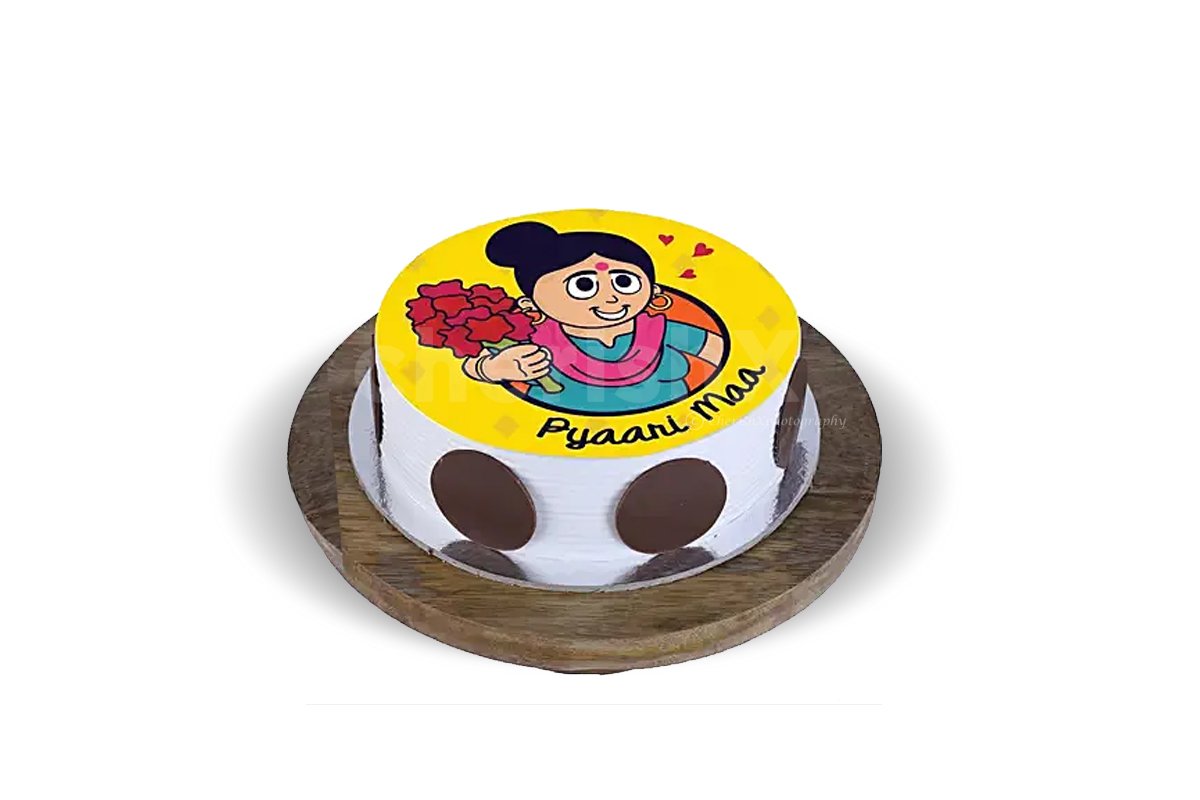 Every special occasion is incomplete without a cake. With this beautiful pyarri maa designer cake show your mom your love and admiration for her. It is a unique, delicious, and adorable mother's day surprise for your mother that will bring a wide smile to her face. You can add some additional surprises like a bouquet or hamper with this cake.
Explore 65+ Cake-Bouquet Combos for Mother's Day curated by CherishX
White and Silver Balloon Surprise
For mother's day 2023, get this magical and unique white and silver balloon surprise decor. This includes white balloons of different sizes, side centerpieces made of white, and grey metallic, transparent sticks, and confetti balloons. Also, floating balloons, a silver moon-shaped foil balloon, confetti balloons on the wall, silver chrome balloons, and MA bunting.
Hello Gorgeous Hamper
Every woman loves makes-up gifts! The wonderful hello gorgeous hamper includes all the fun makeup items that your mom will love. The gift includes a black box filled with a charcoal face mask, a Miniso pink Deo, a swiss beauty hand cream, a makeup blender, and a sequin makeup pouch. Also, get a makeup brush, a wooden comb, a mirror, and a customized message- a fulfilling package to surprise your mom.
Special Balloon Decoration Surprise for MOM
The marvelous special balloon decoration surprise for MOM will surely fill your mom's heart with love and appreciation for you. For mother's day 2023 or it's your mom's birthday or any occasion you want to amaze your mom, this will be the outstanding decoration. This decoration includes an arch made of yellow, white, and silver balloons, silver and golden confetti, and silver star-shaped foil balloons. In the middle of the decor, you will find Best Mom silver foil letter balloons. Along with free-floating balloons, this decoration will give vibes of happiness and will lighten up your mother.
Boho Theme Dinner Setup
Surprise your mother with this astonishing and unique boho-theme dinner setup. Have this setup at your preferable choice of location. Experience bohemian culture with this decor as it comprises a gorgeous low-floor picnic dining table. A rectangular white stand decorated with artificial money plants and bells draped with led lights for that boho touch. Also, it includes a white dream catcher, a white lantern filled with led lights, and hanging artificial white vysteria white flower strings. Customize this decoration as per your needs!
Surposion Box
Let the magic of love flow as the love of the box explodes. A surposion box is the perfect mother's day gift. It's like a trail of memories and includes personalized photos, heart-shaped balloons, and led lights.
Looking for some additional gifts for a mother's day surprise – you can check out our complete range of mother's day gifting options.
Creative Mother's Day Surprises Ideas From CherishX
Make the most of this Mother's Day by going all out with your wishes, love, and gifts from CherishX. Give her a mother's day surprise that would make her wide smile and light up the day.
To order and book our products and services, you can contact us via call or WhatsApp us. And, to check our other products, please visit the official website of CherishX. Tell us your requirement and our team ensures to deliver that!
FAQs
How can I surprise my mother on Mother's day 2023?
There are unique activities that you can plan to surprise your mom
Arrange a movie marathon of her favorite movies.
Order some hampers, combos, or personalized gifts for her
Have a pamper session at home with her.
Organize a personalized trip for her with her friends.
Plan a unique food experience at her preferred location.
How mothers are so special?
For a mother, a child forever remains her baby even if he turns 60 or more, and becomes a tycoon, a leader, or a thinker. Mothers keep this vital aspect of loving their children in any stage of life or situation. This unconditional attachment of mothers is what makes them so special.
How to book mother's day 2023 surprises gifts from CherishX?
To book any product or service from CherishX is simple. You just need to visit the official website, select your gifts, add details of yours and make the payment. The team will deliver a top-notch experience.