A baby shower is the celebration of the expected birth of a child. On this day the mom-to-be is showered with gifts and wishes. It is usually celebrated four to six weeks before the due date. But some people wait until the baby is born. 
Baby showers are not only a great way to welcome your precious little baby into this world, but also amazing for getting rid of those pregnancy blues. After all, baby showers are all about having a fun time, eating cakes, and getting special gifts and wishes from friends and family. 
Traditionally, a baby shower is thrown by a close friend or relative. But it's 2019—which means there are no rules as to how you can celebrate your baby's birth. 
You can plan your own adorable baby shower and invite close-knit friends and family for an intimate baby shower. Or you can throw an epic bash, which totally depends upon your choice.
Once you've chosen your date, time and venue, the next big thing is decorations. Like every celebration, baby shower also needs some fancy decor. 
However, choosing the perfect baby shower decor can be a little overwhelming. Especially if you and your partner live alone and have almost no time to get creative. But hey! Don't give up on your baby shower dreams yet. 
Because we have compiled a list of some cute baby shower decor ideas for you to throw a wonderful welcome party for your little one.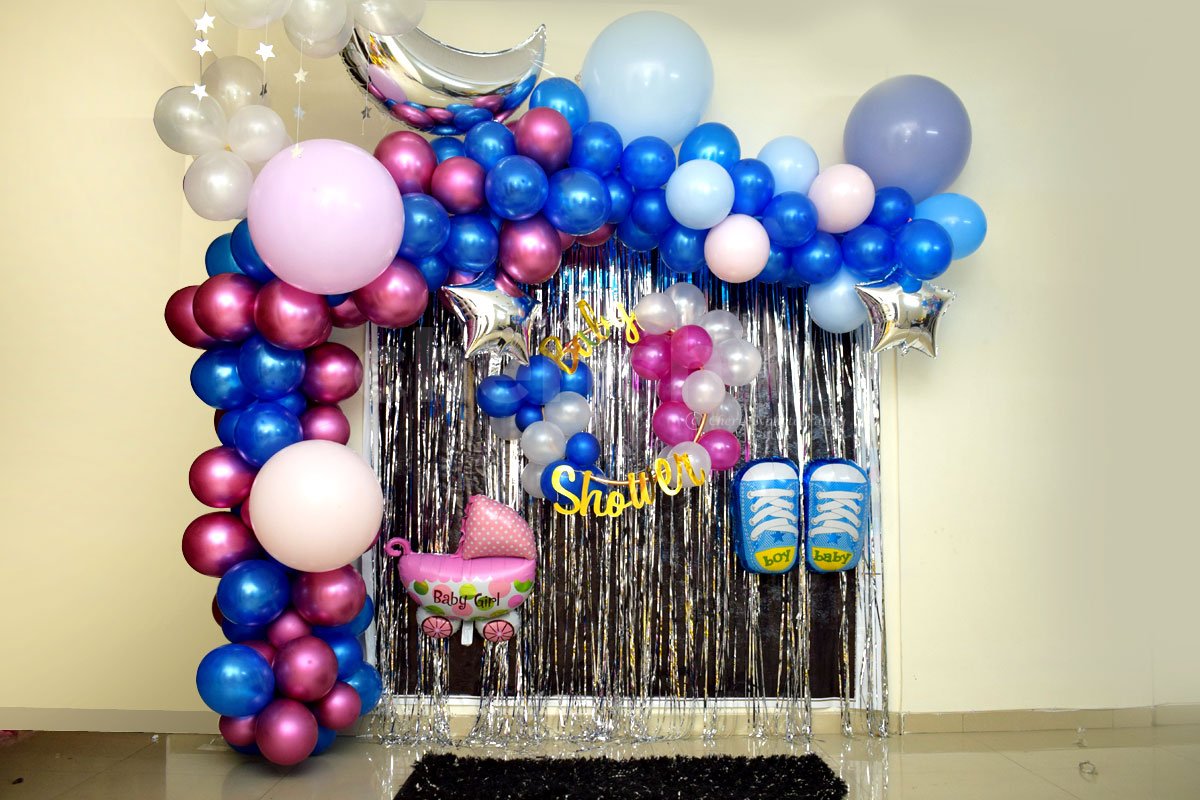 Bringing a new life into this world is nothing short of magic. So, why should the baby shower be anything but magical? Throw a whimsical baby bash with this wonderful decor. Ideal for big rooms or halls, it consists of a colorful backdrop, which is made with frilly silver curtains, a huge balloon arch of pastel, latex, chrome, metallic and foil balloons of different shapes. Adding to the cuteness is a hula hoop, loaded with some more glossy balloons and baby shower bunting.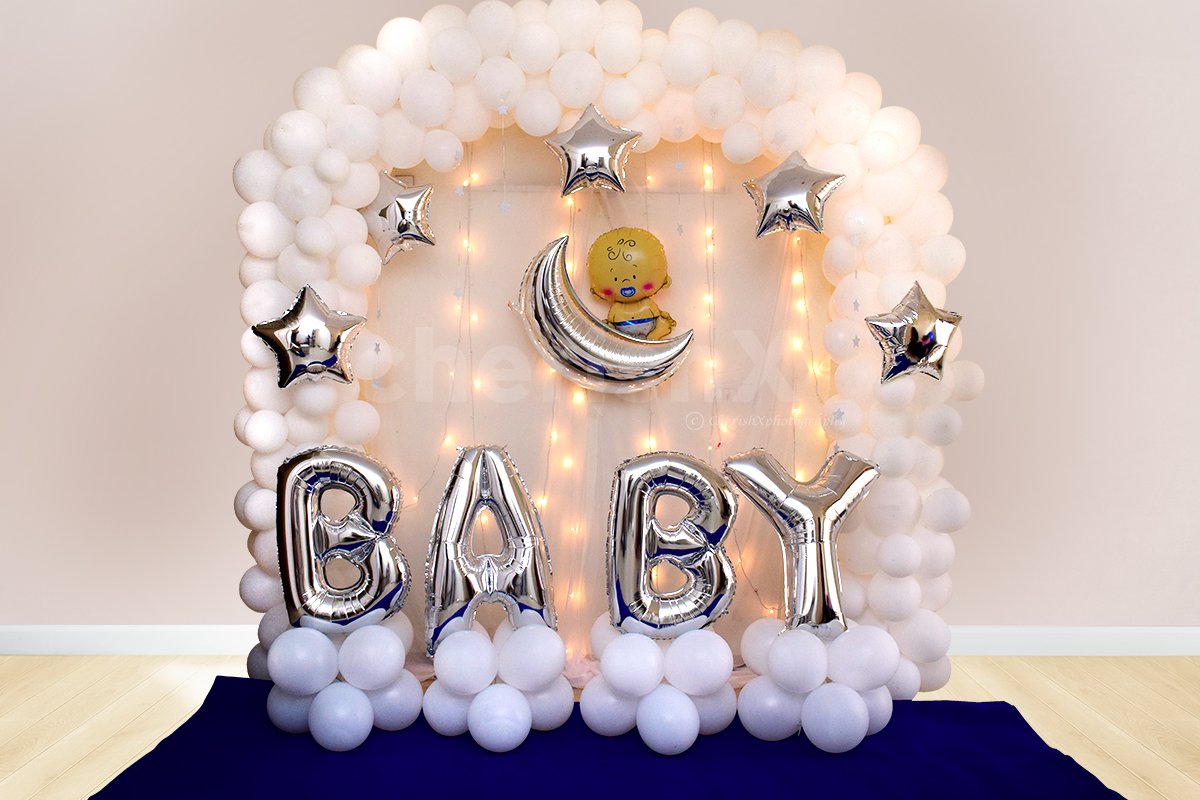 Throw a dreamy baby shower with this heavenly baby shower decor. Recreate the cosmic glory at your home with pearly white balloons, the glossy star, moon, baby-shaped foil balloons, and sparkly fairy lights. Choose a comfy spot for the decor.  Preferably against a white wall that would accentuate the decor. Wear matching clothes to complete the elegant theme.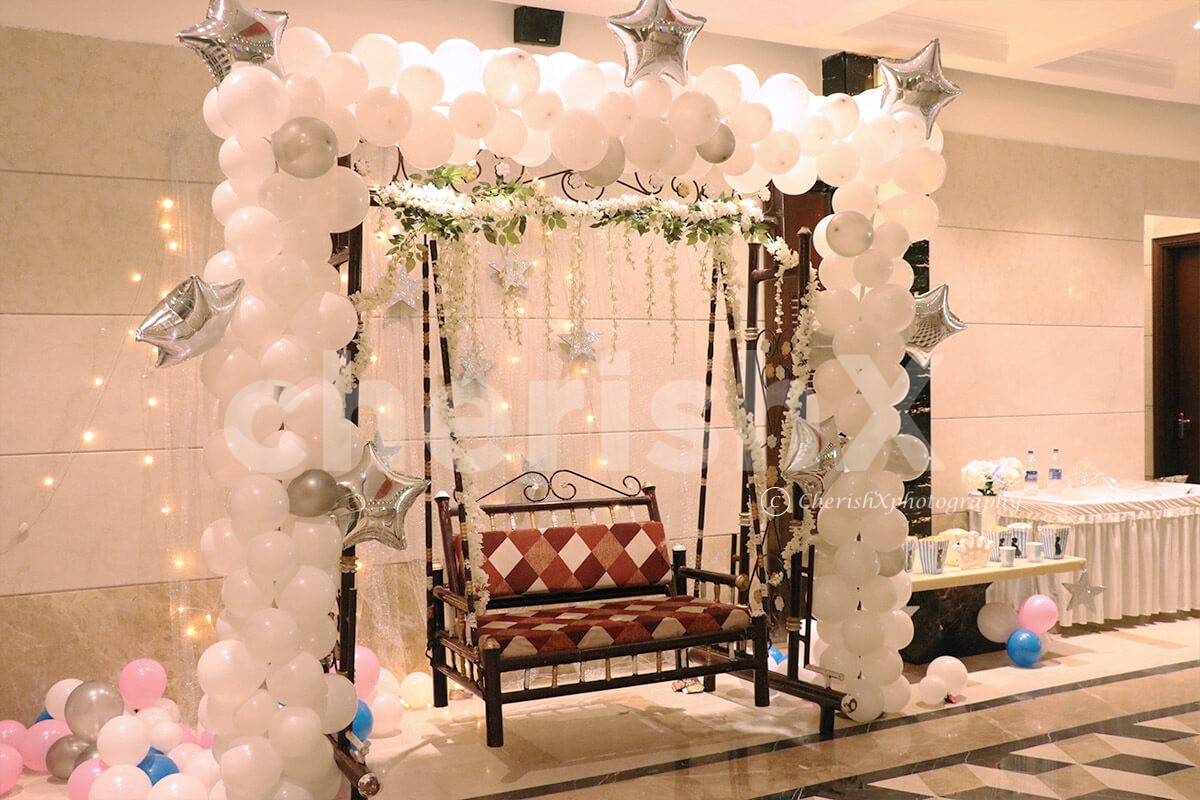 If you are a person who likes everything bigger and lavish then this Grand baby shower decor is the one for you. Your friends and family will be mesmerized when they see the gorgeous decor done with vibrant balloons, dazzling fairy lights and star-shaped foil balloons. To feel like a queen, you can place a swing or sofa under the balloon arch to get that royal feeling. Make the occasion more fun, play cool baby shower games like Alphabet game or guess the size of the belly. 
A baby shower is all about celebrating your motherhood and welcoming the baby. Take inspiration from these amazing decor ideas as you throw a spectacular baby shower that'll have your guests begging you to plan their baby showers as well!