As Christmas is approaching soon, you must have all looked for ways to upgrade your Christmas tree this year. With this, don't forget to plan your office Christmas decorations in advance. 
Christmas Decorations Ideas for Office
Discover the best and premium Christmas decorations ideas for office below and plan a great Christmas day at office.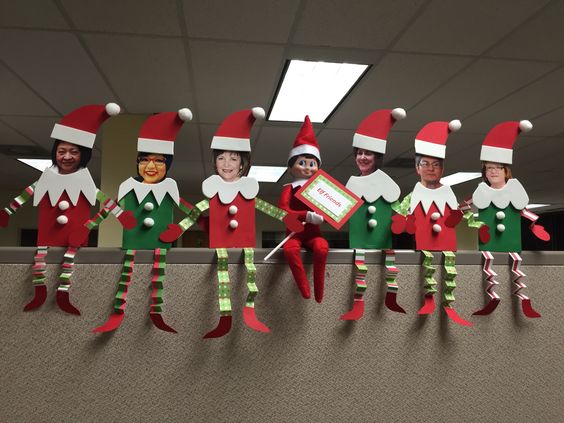 As the office is considered a second home, try everything from Christmas party games to implementing Christmas theme decorations. And along with pampering in the events that come along with Frosty the Snowman's favorite time of year. Don't miss the opportunity to host an office-themed Christmas gathering. This roundup of unique Christmas party-theme decorations for Office will keep the Christmas spirit alive.
If you are searching to host an epic event at the office, use these merry Christmas party themes decoration for inspiration. It's one of the beautiful Christmas decorations for the office cubicle.
Christmas Office Theme Decoration Ideas
Are you looking for Christmas tree for Christmas? With this beautiful Christmas Office Decoration, leave the job of giving a great makeover to your office to the CherishX team. Make your mood happy with this decoration as it includes a 6ft pine Christmas tree with all premium ornaments. Along with this, get Led lights, gift boxes placed near the tree, a Christmas backdrop, balloons, ceiling hangings, buntings, and mosses. 
From the cabin to the meeting room, this decoration covers each part of your office to give a grand, celebratory, and gorgeous look to your working space. You can even customize this decoration as per your requirements.
Merry Christmas Holiday Balloon Decoration
Looking for office Christmas decorations online? Now no more as CHerishX provides the conventional Merry Christmas Holiday Balloon Decoration for you.  Balloons surely add fun to any event and Christmas is the time to enjoy them to the fullest. So, this decor pledges to bring the perfect celebration vibe as it's an elegant Christmas office decor.
This awesome decor comprises a designer arch of a dark green latex balloon, a set of different shades of balloons, a golden Merry Christmas foil balloon, and a snowman-shaped balloon. Besides, you will get a balloon pillar to form a Christmas tree, a floating balloon, deer, candy, cane, and Christmas tree foil balloons. Customized this bright and adorable pleasing decor in your office.
Christmas Santa Balloon Decoration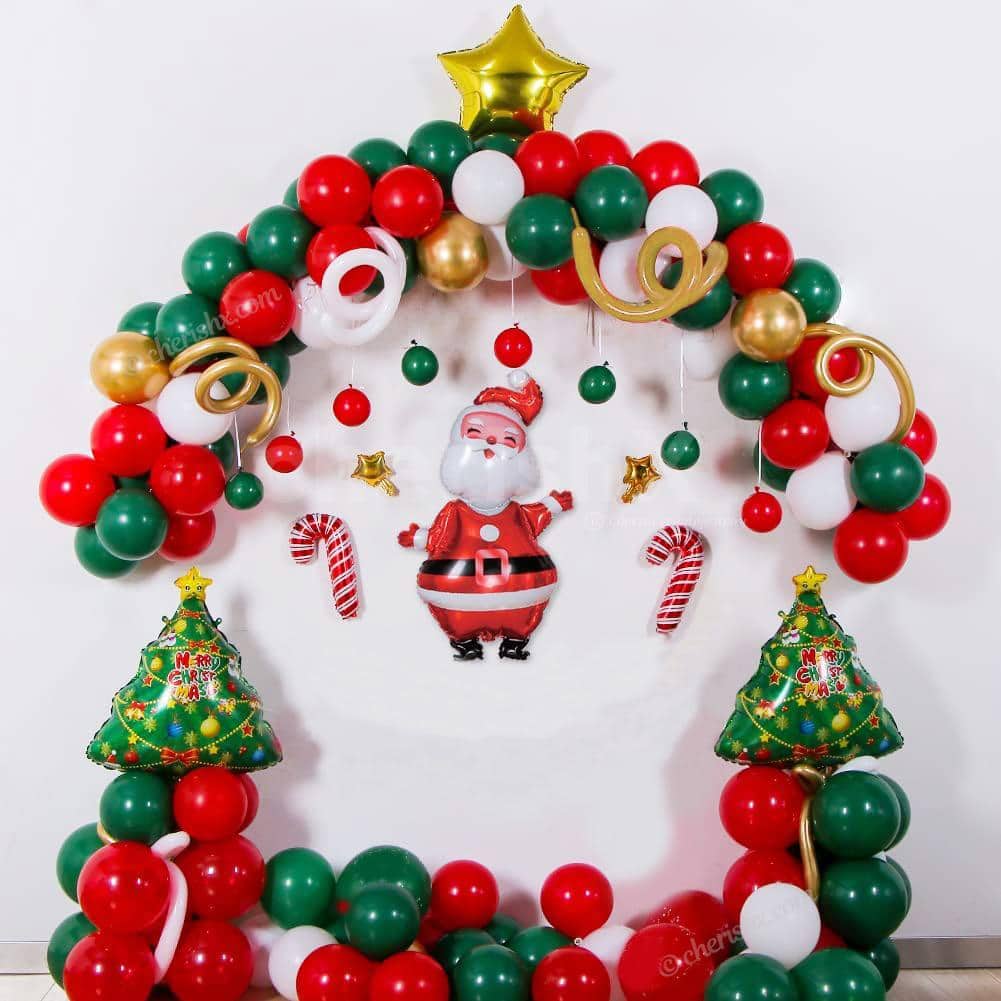 Planning for office Christmas decorations, look no further, as the team of CherishX offers you the best Christmas Santa Balloon Decoration. That contains a designer arch of balloons, a golden-shaped merry Christmas foil balloon, Santa shaped foil balloon, and a Christmas tree-shaped foil balloon. Along with this, get distinct white, red, and green color balloons and make your office Christmas theme party immaculate. It's an another elegant Chrismas office decor.
Christmas is the right time to celebrate in the office as this is the synonym for enjoyment and togetherness. In this Premium Christmas Decor, we bring you a 6ft Christmas tree along with an overload of beautiful ornaments. Besides, get snowflake light strings to put on the strings, and add Christmas theme cutouts on the walls, colorful balloons, stunning wreaths, and cute Santa with this decor. To make it more appealing, add white and red paper lanterns.
Snowy Christmas Tree Decoration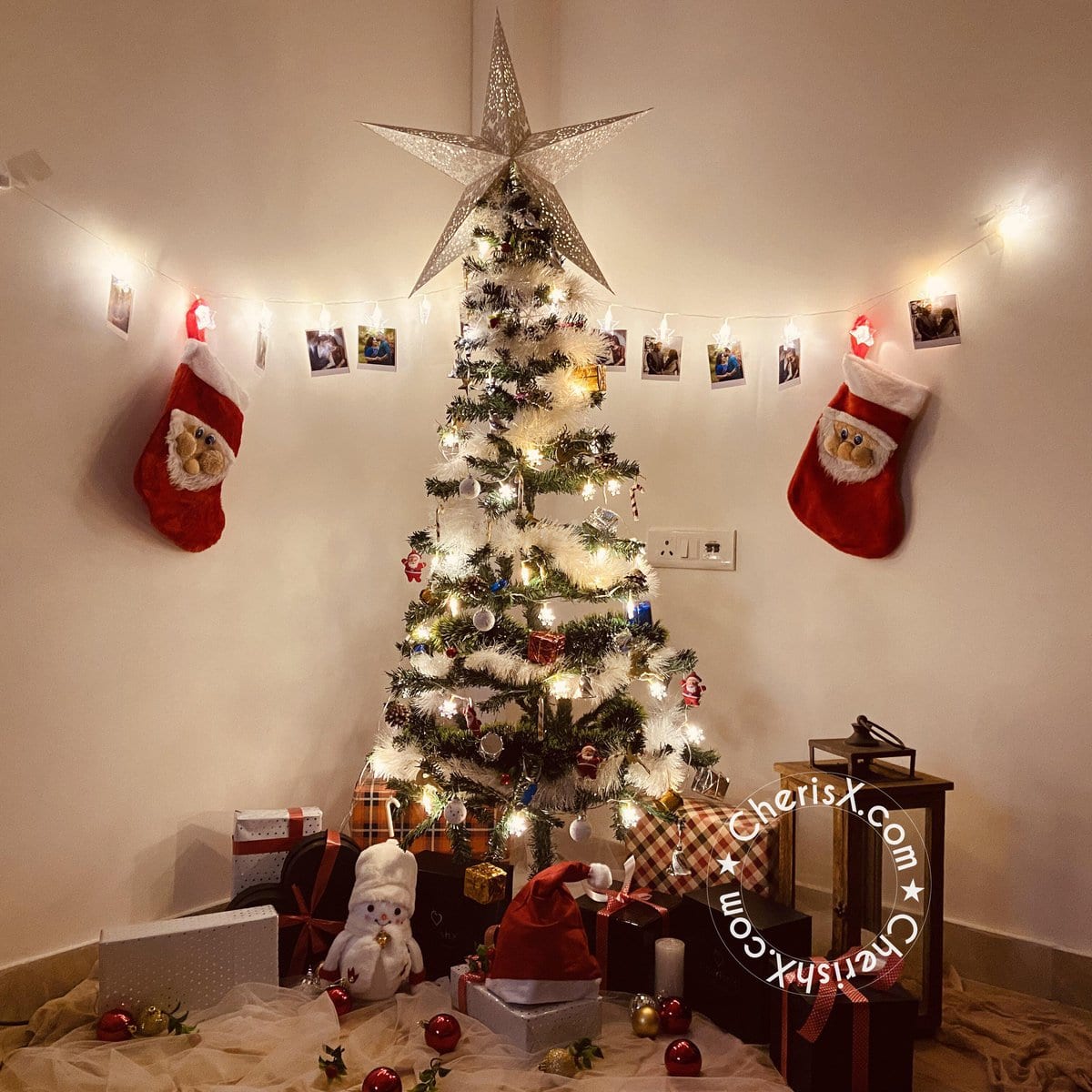 For a never-ending excitement for office Christmas, order this Snowy Christmas Tree Decoration from CherishX. Get a decorated tree with breathtaking ornaments and accessories. This decor entails a 6ft non-pine Christmas tree snowflakes Led lights, snow, green moss, a silver star, socks, a cap, and a Led star clip light. Amaze your office colleagues with this charming decoration and add cheerful festive vibes to your office Christmas party. Get High-Quality Christmas Trees for your Home
Magnificient Christmas Tree Decoration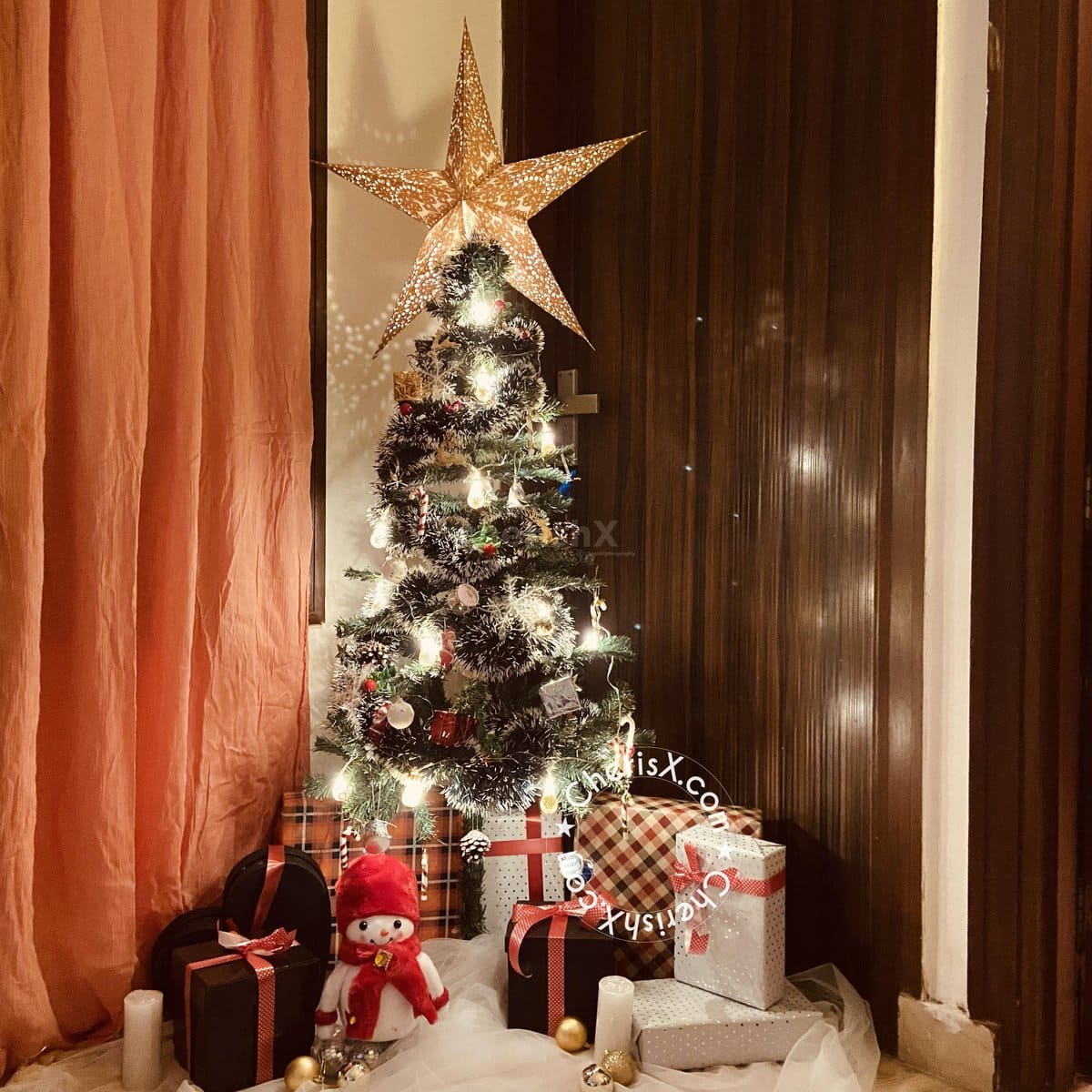 Get to enjoy the Christmas spirit with our Magnificient Christmas Tree Decoration idea that contains a 5ft Christmas tree along with ornaments and accessories. Besides, in this get a metal drop Led light, assortment packet, snow green moss, and a golden star. This decoration is sure to enhance the aura and make your office charming. Customize as per your requirements and book the slot!
Red and Green Christmas Balloon Decoration
Let's make some fun with this unique and gorgeous Red and Green Christmas Balloon Decoration theme. This grand Christmas decor encloses an arch of balloons, a golden frill curtain, and a foil balloons set. Along with this, get Santa, candy, deer, and a Christmas tree-shaped foil balloon for a fascinating decor. This decor is perfect for an office Christmas party decoration.
Premium X Mas Theme Decor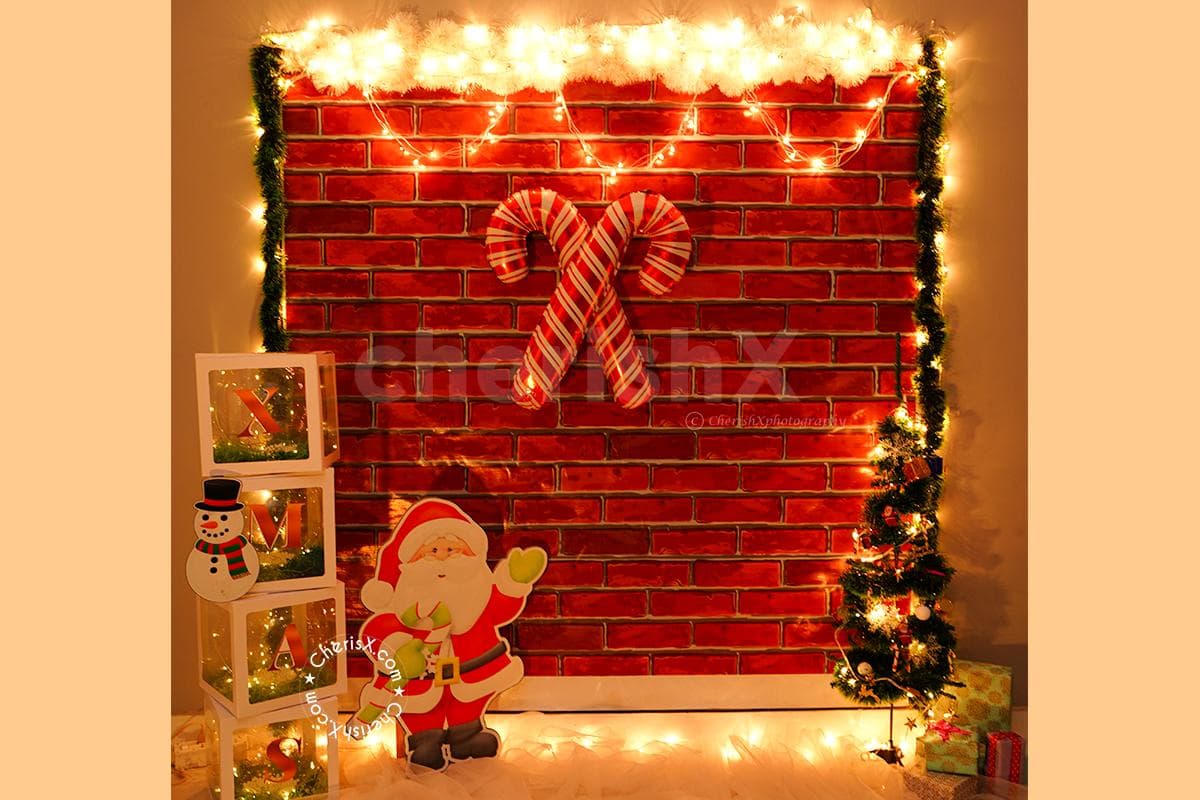 Get a top-notch Christmas experience with this Premium X Mas Theme Decor. For your extraordinary Christmas feel, we have curated this theme with a brick wall that gives a homely and attractive backdrop for your decoration. Being unique and premium decor, this composes of green frill moss, and white frill moss placed on top of the flex. Apart from this, get candy cane foil balloons, fairy lights, a Christmas tree, a cutout of Santa, a snowman, and a Christmas tree. And, transparent Christmas boxes filled with different balloons.
Elegant Christmas Decor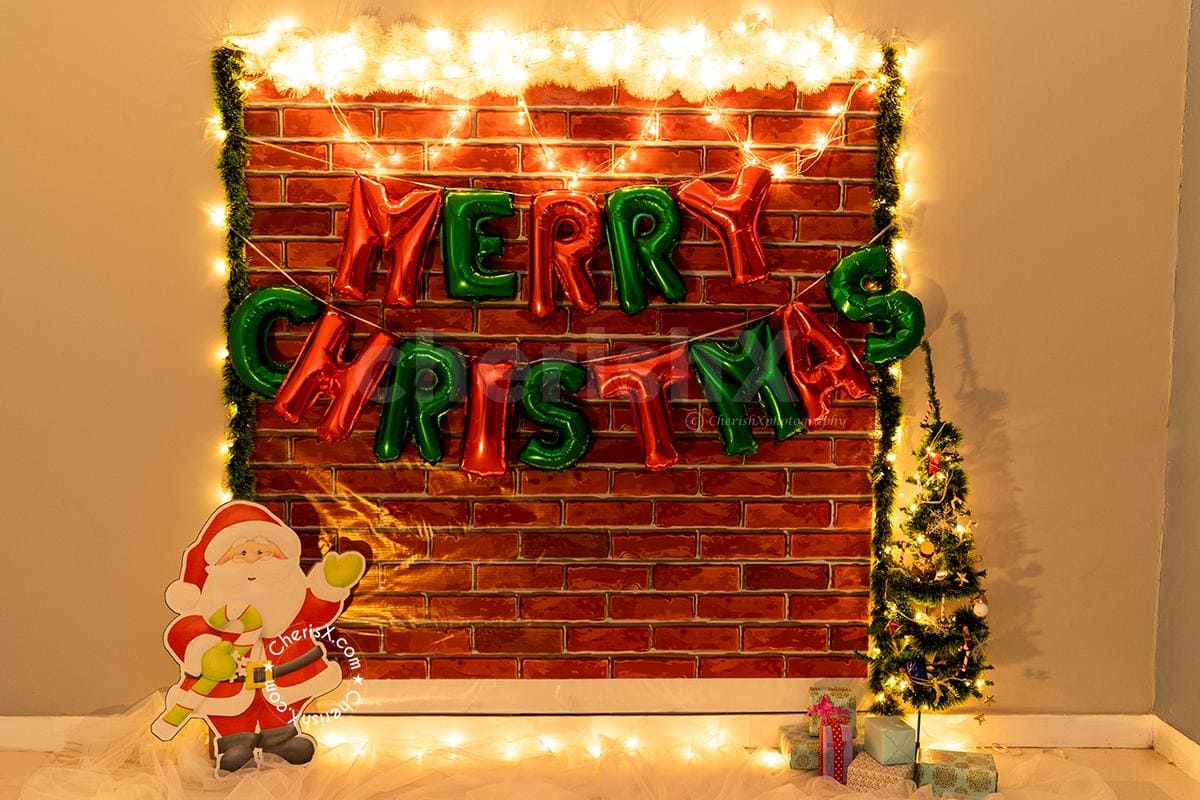 Loaded with elegance and charm, this Elegant Christmas Decor will surely brighten up your office space. This decor is curated with a brick effect flex backdrop, green frill moss, a set of Christmas foil balloons, and fairy lights. Besides, in this decor, you will get a Santa cutout, and a Christmas Tree decorated with all the ornaments. Get this unique and trendy Christmas decoration and enhance your office for this festival.
X-Mas Decor (Gold Pack)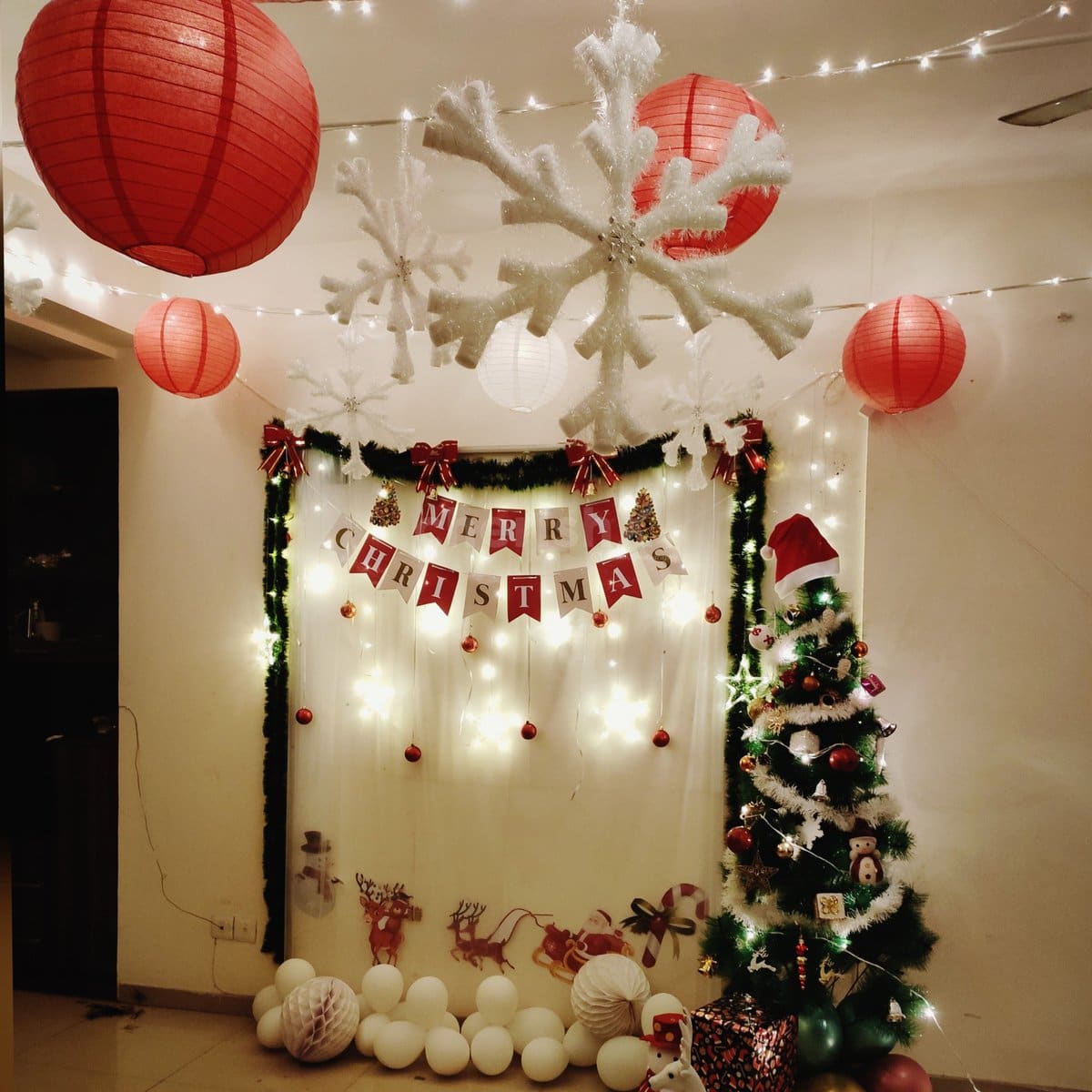 During this festival season, we present you with X-Mas decor that includes a 6 feet Christmas tree along with beautiful ornaments to establish and decorate the tree. The ceiling is decorated using tempting red and white lanterns and glittering snowflakes used as hangings. Bunting banners, bows, Christmas-themed cutouts, and green moss frills decorate the office and adorn it with star-shaped LED lights along with fairy lights.
Merry Christmas Tree Decoration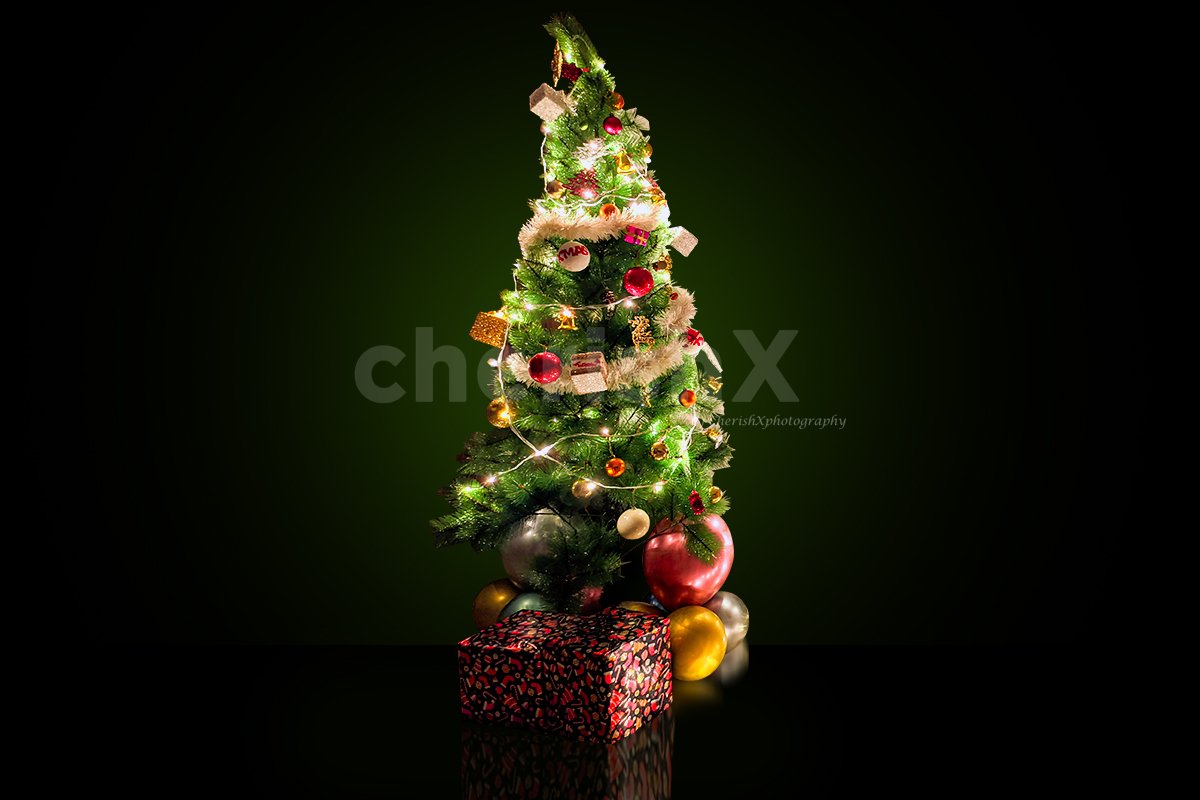 This Christmas, decorate your working space with our Merry Christmas Tree Decoration which entails a 4ft Christmas pine tree decorated with a bunch of beautiful ornaments. For a flawless festival vibe, we add a 25ft fairy light string on the Christmas tree. A fun and easy office Christmas decoration that is outstanding for the holiday season.
Christmas Theme Balloon Backdrop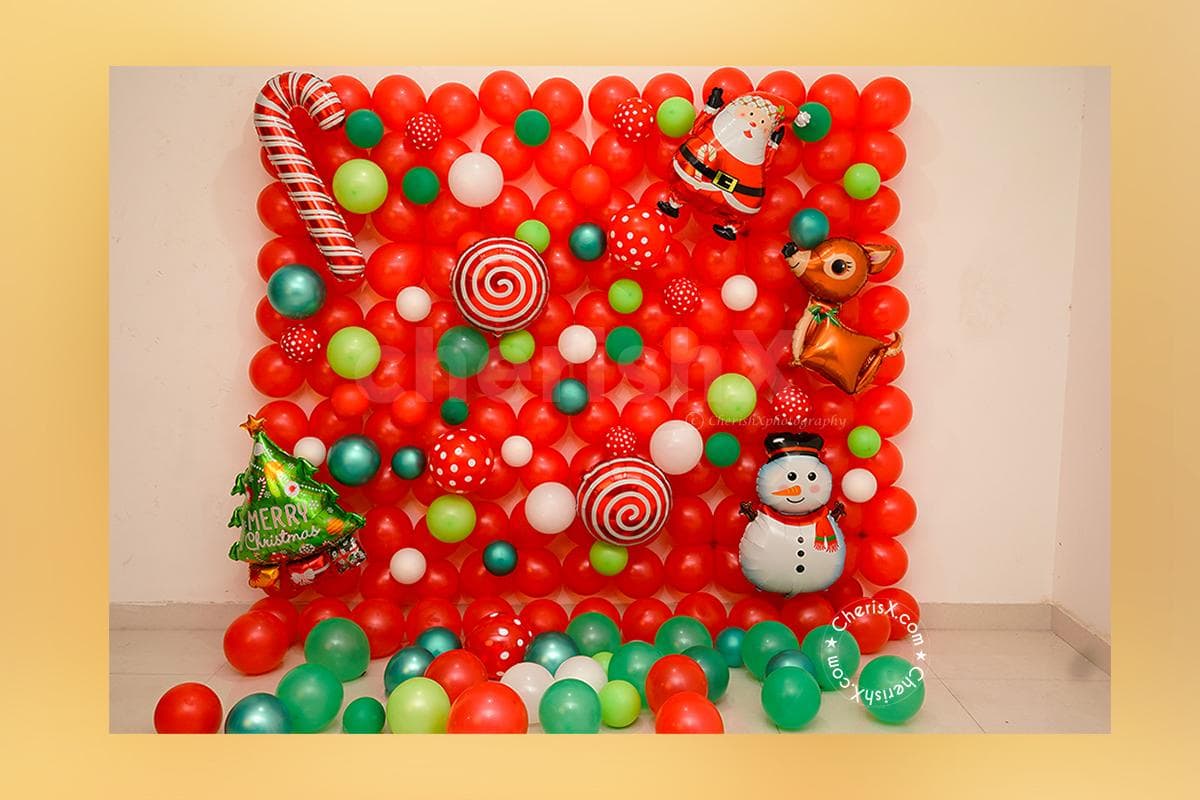 Make your office Christmas celebration brighter and merrier with a Christmas Theme Balloon Backdrop theme decoration. This gorgeous backdrop possesses a wall-pasted backdrop of red latex balloons and other green, white, and polka dot balloons. Further, the backdrop is illuminated with a candy cane, a Christmas tree, Santa Claus, deer, and snowman foil balloons with floating balloons.
Christmas Lantern Decor
For a flawless office Christmas theme party, choose this Christmas Lantern Decor from CherishX. This comprises red and white lanterns along with wintery snowflakes and fairy lights. To sweeten the look, add Santa and candy cutouts and hang them with lights.
Christmas Decoration Ideas for Office Walls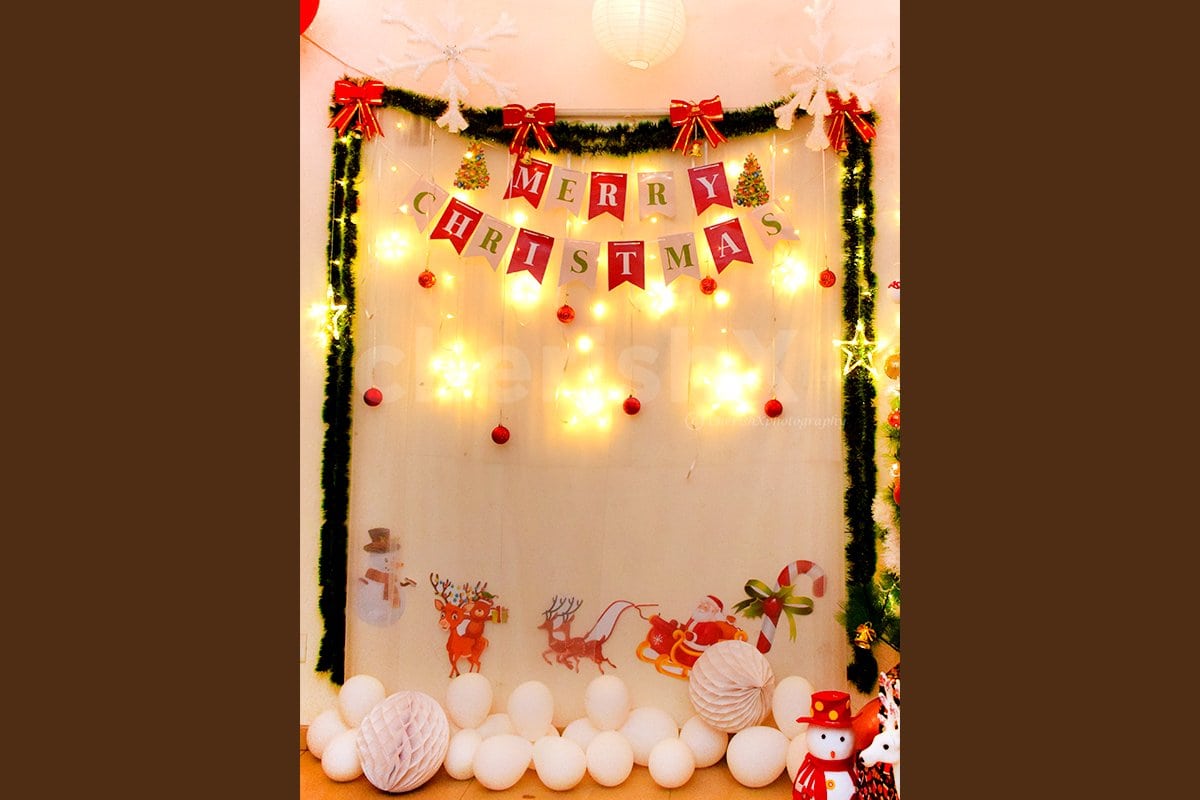 Adore your office space with this sensational Christmas Backdrop decor. It's one of the bright Christmas decoration ideas for office walls. In this decor, we make a stunning wall and convert that into a lavish white net curtain. Moving ahead, this decor comes up with a Merry Christmas bunting banner, Christmas bows, beautiful green frills, and Christmas theme cutouts. For an additional gorgeous look, we add star-shaped Led lights and some white balloons. 
Some Additional Unique Office Christmas Decorating Ideas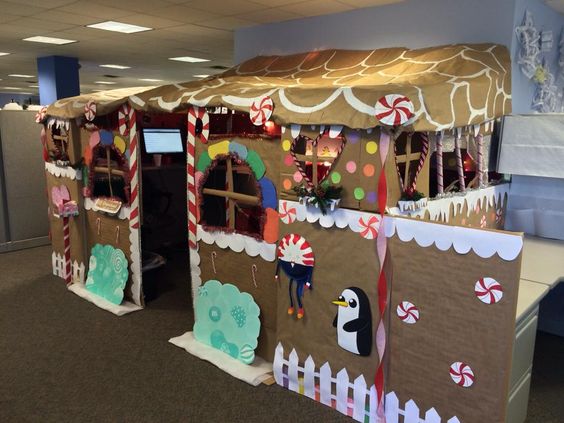 Decorate the Cubicles with Snowflakes- For this, add paper snowflakes over the desks for a snowy effect. Also, cover the office hallways with white carpets.
Enhance the Office Lobby with Colorful Things- Set up a lovely ambiance by decorating the lobby with hanging colorful objects such as bells, baubles, or other Christmas ornaments. Tap here to shop Christmas Party Props
Convert Desks into Gingerbread House- With the help of cardboard, some cotton, and red and brown wrapping paper, recast the office cubicles into a gingerbread-themed house.
Hang Christmas Boots- For a perfect office Christmas decor, hang toy snow boots or skies on the office walls. Also, decorate them with red and white paper cuttings or ribbons.
Make a Snowman – Make a snowman using white cotton and glace paper to carve out his eyes and nose and place it near the office entrance.
Adorn the Door with Christmas Wreath – Hang it on your office door or in the reception area and wrap the wreaths with some string lights.
Cover the Ceiling with Stars- To light up your workplace, hang stars on the office ceiling.
Give your Office a Brick Look- Create a brick effect on each cubicle and hang Christmas stockings and some trinkets on them.
Make Paper Santas – Make a few cut-outs of little paper Santas in various sizes.
Photo booths- Add special touches to make Christmas parties more fun. Christmas-themed photo booths are especially humorous because of the potential for Christmas props. Get props like Santa hats, Elf ears, Reindeer antlers, Scarves, mittens, and hats. Photo Booths give employees memories of the event and the office.
Why CherishX for Christmas Party Decoration?
A few options like the aforementioned for office Christmas decorations may make your office a more festive and lively atmosphere. These can help to alleviate the monotony of the day-to-day grind with a life of color here and there.
If you are looking for advice on how to decorate your office for Christmas correctly, these above-top ideas will come in handy.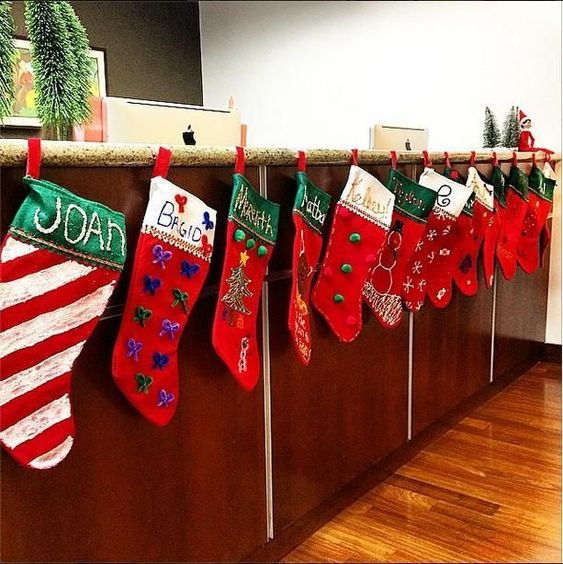 Let CherishX make your office Christmas celebration grand by delivering top-notch Christmas theme decorations at the most nominal prices.
Our experienced and skilled team ensures to offer only happiness and great moments of joy to you and your colleagues.
To book our Christmas theme decorations, just select the date and slot and makes the payment.
To know more about our decorations and services, you can connect with us via email or WhatsApp.  Hope you loved our Christmas decorations ideas for office.
FAQs
From where can I avail great Christmas office party decorations?
Book beautiful and unique office Christmas theme party decorations from CherishX. The experienced team can handle customized and creative Christmas decorations at the best prices.
Why do we need office Christmas theme party decorations?
Christmas decorations provide a great feel and festive vibe to all. Besides, they bring cheerfulness and togetherness among people. You can celebrate Christmas by decorating your office with paper lanterns, candles, bells, and gifts amongst others.