You may not know that giving someone plants can prove to be a great gift. Plants are a sign of growth. They also provide you with health benefits. Besides that, one can use them to decorate their home. Rather than being materialistic while gifting, you can choose to give something useful and beneficial to your close one.
Keeping plants in the home will always make a person feel better. Therefore, you can think of giving them to others. You don't need a specific occasion. You can choose to give it on a birthday, an anniversary or to congratulate someone. People also give plants as gifts for good luck and success. 
Plants are symbolized with different emotions. Each plant has a significant story to tell and a blessing to give. Therefore, you can choose a plant by knowing their story and what they are symbolized for! So, which plants to choose? Here are mentioned some of the famous plants that you can gift to your loved ones:
Bamboo Plants
Bamboo Plants are the best gift if you want to wish someone Good Luck. They are said to bring you luck. Therefore, you can choose to gift these. Also, these plants are represented as a Feng Shui, which means that they are a symbol of positivity and peace. Keeping them in a home brings good vibes and positive energy. 
Bamboo Plants are also easy to maintain. You don't have to worry about providing it with direct sunlight. They can stay well with indirect sunlight as well. So, you only have to take care of watering the plant from time to time. You can also decorate your home with these plants. They look beautiful and add to the beauty of your home. So, choosing something like this will make your loved one happier even if they don't like to take care of plants. 
Jade Plant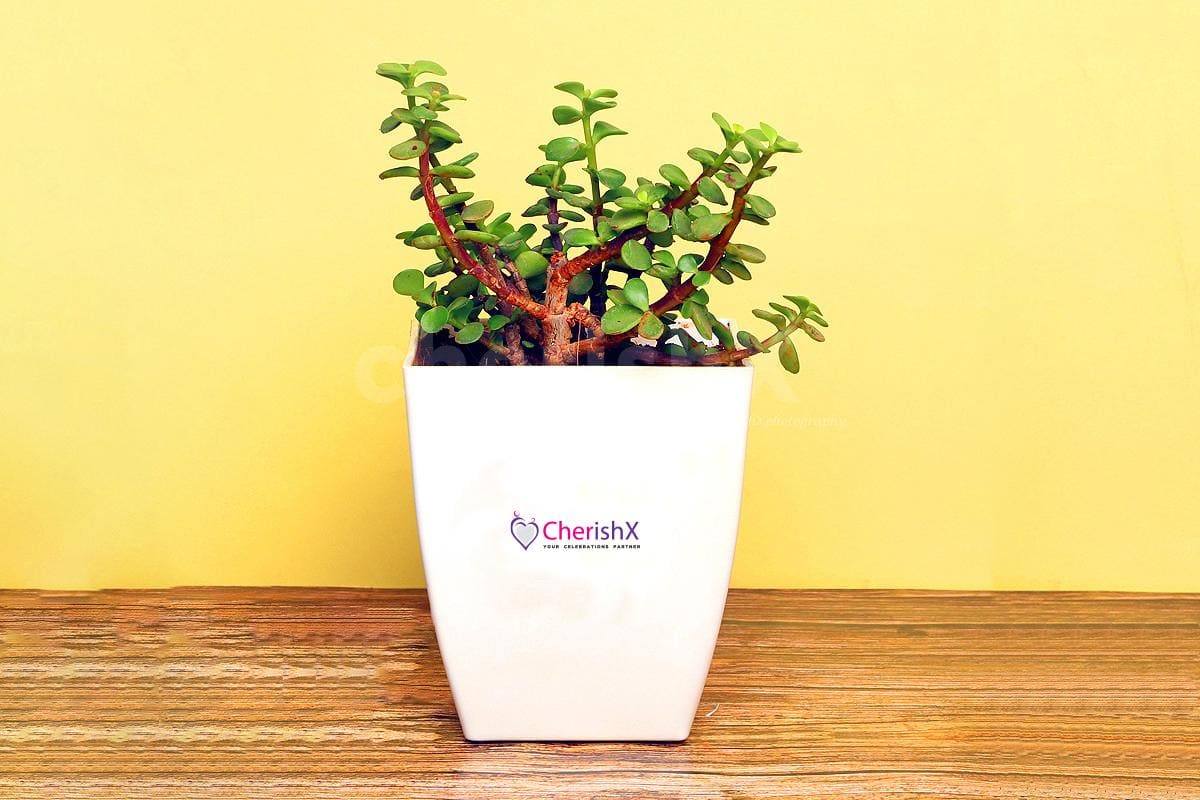 Like Bamboo Plants, Jade Plants also symbolize Good Luck. They are easy to maintain and act best as humidifiers. They help in maintaining humidity so you can easily put them inside in winters. They will keep the room warm. Also, these plants have many medicinal properties. They are used for treating wounds, warts and diabetes. You can make tea from the leaves of these plants. 
Jade plants can be a great gift to give to someone. You can choose to book one from CherishX as a gift on any occasion. With its medicinal properties as well as its decorative look, it will be beneficial for your loved one and their home. 
Money Plants
Money plants are also a good choice. They are symbolized to bring prosperity and wealth. So, gifting this can be very effective. Other than this, it provides many benefits such as it helps in releasing stress and keeps one calm. Keeping this plant in homes will also help in enhancing the decor of the rooms. With its air-purifying property, it will create a healthy environment to live in. Because of its properties, many people suggest keeping money plants in homes. 
Also, money plants are said to be among the best low maintenance houseplants as they can grow in water without any soil. So, giving this plant can be beneficial without having to worry about the maintenance. 
Cactus Plants
Cactus Plants are very famous for their look. People might think that they are harmful by the way they look but it's the opposite. They have many benefits to offer. Having them at home can help to reduce diabetes, and supplies fresh air which further helps in improving sleep. They can also be used for decorating your room.
The maintenance of Cactus is not like the maintenance of other plants. They need a lot more sunlight and water. As you might know, cactus are found more in desert areas. The thick cacti can store water in their stems. As a result, they can survive. So, make sure that they are given water from time to time. They also have a unique look therefore keeping them will help the room stand out. 
Heartleaf Philodendron
Heartleaf Philodendron Plant is a uniquely beautiful plant. With its heart-shaped leaves, it gives an exquisite look to wherever you put it. The heartleaf plant is said to be a symbol of love. So, giving this as a gift to someone close to you will be special for them. Its leaves itself give a sign of love. 
The Philodendron does not need any specific atmosphere to grow. All they need is water when the soil gets dry. The plant grows beautifully if cared a little. So, giving someone this plant can make them happy and loved.
Bonsai Plants
Bonsai Plants are beautiful as they are shaped like a little tree. They are attractive and look exquisite wherever you keep them. Gifting these to someone will take their attention within no time. The best part about these plants is that they last longer than any other plant. They need low maintenance; you just have to water them when the soil is dry. 
They look like beautiful little trees thereby making your room look appealing. They look like little showpieces that you can put anywhere. Therefore, you should think about giving these. 
Orchid Plants
Orchids are beautiful flowers that will help you to give your room a perfect look. These plants are the best gift as they offer improved air quality and provide stress relief. Giving beautiful flowers to your close ones can make them feel special. These plants also help to encourage deep breathing. Therefore gifting these flower plants can be very effective and healthy. 
The maintenance of these plants is also not very hectic. You can simply water them from the top so that the plant gets soaked. 
Thinking of giving a gift such as plants is effective and unique. Everybody gives materialistic gifts that don't last too long. So, it's better to choose something that has healing powers and can last longer. Choose among these above-mentioned plants and surprise your loved one!