Many a time you have situations in life, which though being small were keeping you away from giving full attention to your partner or family or your kids. It could be a work problem, a situation with your friend or various other reasons. When you come out of such a situation you want to just be happy and enjoy the day with your partner but you don't want to have a lavish candlelight dinner as well just something simple & cheap.
Worry not, CherishX has curated some amazing Candlelight Dinners in Jaipur which is nice but still light on the pocket. They range from 1200 to 2000 and are perfect for enjoying these moments! Sharing the list in increasing order of budget 😉
Rustic Rooftop
Head out with your partner for a candlelight setting in one of the most lively locations in Jaipur.


Cost: Rs 1450 for a couple
Inclusions:Welcome drinks (Mocktails or Soups),Choice of rooftop or indoor dining,Rose petal decoration,3 course meal – 1 starter, 1 dal, 1 main dish, unlimited indian breads, 2 portions of chef choice desserts;Cuisine: North Indian (Recommended Paneer butter masala for main dish);Private butler.
Place: Murlipura, Sikar Road
Book Here
Romantic Rooftop
What better way to enjoy an evening with your love over a 3 course hugely popular North Indian dinner! The menu also has some continental, Chinese options of which Pizzas, Garlic Breads are quite famous. All this a very attractive price!
Cost: Rs 1800 for a couple
Inclusions: Welcome mocktails; 3-course meal (Veg/ Non-Veg) — 2 starters, 2 mains, 2 desserts; Cuisine — North Indian, Chinese, Continental; Decorated table with candles and rose petals.
Place: Chitrakoot
Book Here
Intimate Candlelight
Relish an intimate conversation alongside a romantic candlelight dinner with your better half at a contemporary restaurant with a homely feel.

Cost: 1450 for a couple
Inclusions: Refreshing welcome drinks; Chef special 3 course veg meal (Continental cuisine) — 2 Starters, 1 Main, 1 Dessert;Candlelight dinner setting with rose petals, candles, balloons;Private butler to take care of all your needs.
Place: Vaishali Nagar
Book Here
Popping Love
Nothing spells romance like a quiet candlelight dinner. We always wish to celebrate our happy days with our favorite humans because that is what makes that moment ten times more beautiful.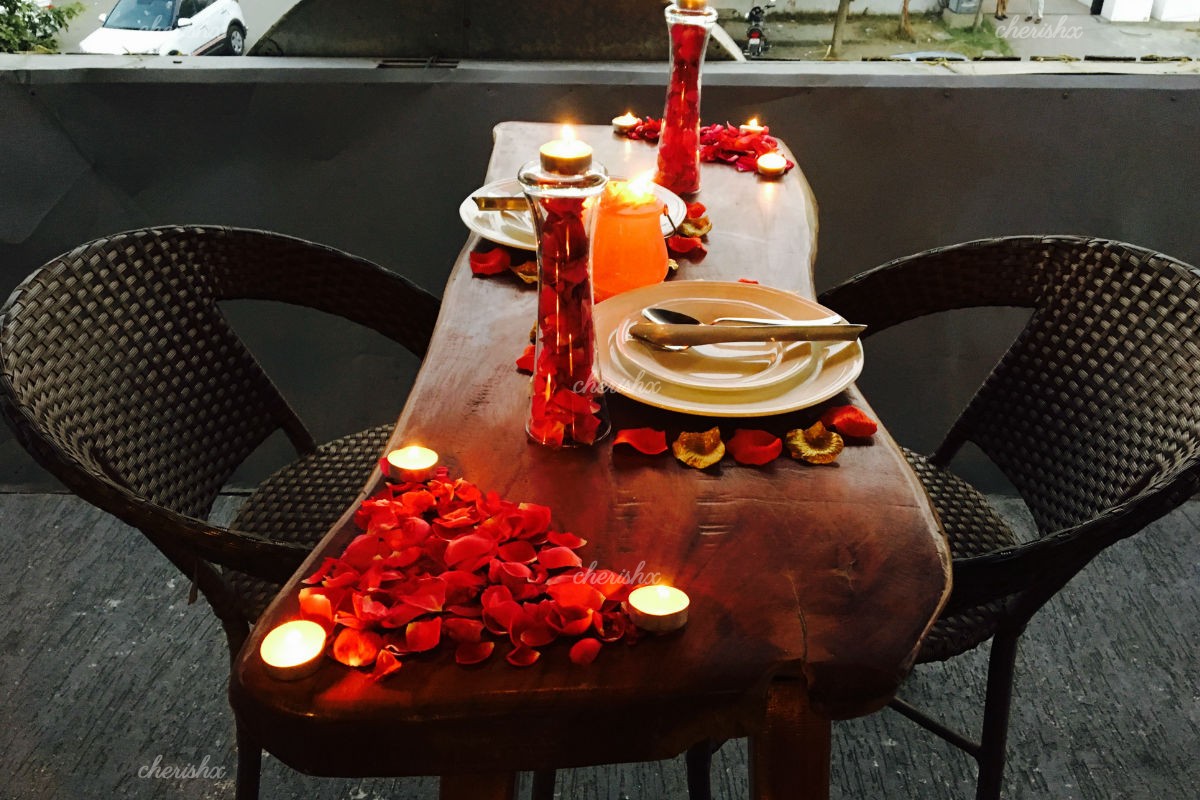 Cost: Rs 1650 for a couple
Inclusions: Welcome drinks for 2, 3-course meal — 1 starter, 2 mains, 2 desserts, Decorated table with candles and flowers
Place: C Scheme
Book Here
Terrace Candlelight
There is something about the setting, the ambience of this place that gets you going. Beautiful potted plants all around, unique furniture and light music.
Cost: 1800 for a couple
Inclusions: 2 welcome mocktails;Decorated table on a terrace;4 course dinner — 1 Soup/Salad, 1 starter, 2 main course dishes, 1 dessert; Food: Continental. 100% Vegetarian.
Place: Vidhayak Nagar, Lalkothi
Book Here

We have more amazing candlelight dinners in Jaipur! To see the whole list check the candlelight dinners category on our website –Candlelight Dinners in Jaipur