Are you excited to avail your free makeup products on your birthday? If so, then get ready to avail your free makeup products on birthday! Get ready and have a look at our birthday offers India.
Birthdays are more than just celebrations; they're a canvas for joy, adorned with wishes, exquisite birthday decorations, and, of course, gifts. But what if those gifts include makeup, and better yet, they're absolutely free? Calling all makeup enthusiasts to grab their makeup freebies. This blog is your go-to guide for the brands that turn your birthday into a beauty bonanza. So, let's get started to get your free stuff on your birthday online in India, no matter where you reside.
Grab Your Makeup Birthday Freebies
Check out these brands and get your free stuff on your birthday online in India.
1. Winky Lux – Unlock Your Birthday Glam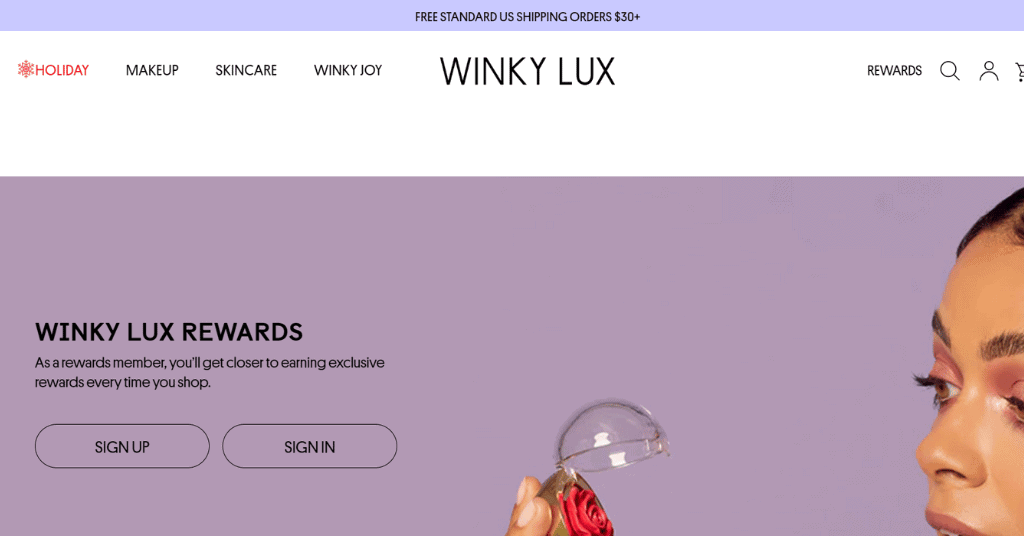 Visit Winky Lux's website, register with your email, and voila! On your birthday, they send a free code for you to claim your birthday freebies India. Get ready to unwrap the magic!
2. Sephora Free Gift – Your Beauty Haven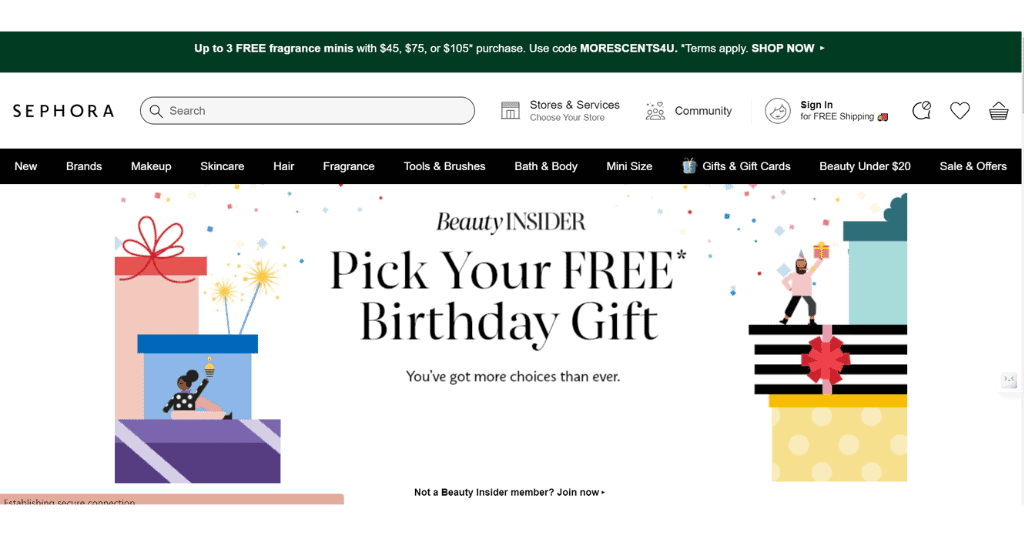 Sephora, a beloved brand, knows how to make birthdays extra special with their birthday makeup freebies. A minimum purchase of $25 opens the door to a world of freebies – from curly hair sets to Dior fragrances. It's a beauty spree you won't want to miss, so do check out their website and grab your Sephora free gift.
Suggested Read: 100% Real -12 Restaurants That Offer Birthday Freebies In India
3. Makeup Freebies By L'Oreal Paris – Rewards Galore
Looking for birthday free gifts in india? Join L'Oreal Paris as a Rewards Member, and your birthday gift is just a membership away. Dive into the world of free beauty treats on your special day.
4. Nat Habit – Indian Beauty, International Standards
An Indian gem, Nat Habit, gifts you a freebie on a purchase of ₹500. Embrace the paraben and chemical-free goodness and add a touch of luxury to your birthday.
5. Makeup Freebies By Benefit Cosmetics – Arch Your Brows, Celebrate Your Birthday
Visit Benefit Cosmetics to get your birthday makeup freebies during your special week for a complimentary brow arch. Note: this fantastic service is available in selected locations.
6. Kiehl's – Pamper Yourself with Premium Products
Kiehl's Rewards Members relish a complimentary full-size Lip Balm #1 or a travel-sized item of their choice with any purchase during their birthday month. You can visit Kiehl's in DLF Mall to purchase your makeup birthday freebies.
Suggested Read: Get Your Free Starbucks Birthday Drink in 2023 – 100% Genuine
7. Purplle – Elite Beauty Privileges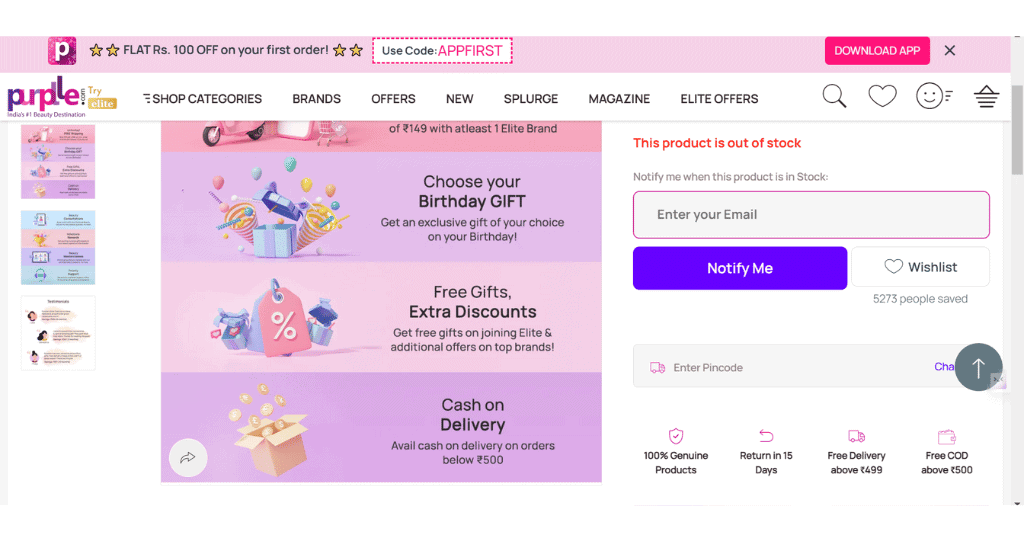 Exclusive to Purplle Elite and Purplle Elite Plus members, this offer includes a free joining gift, a birthday gift, and cash on delivery for orders under ₹500.
8. Sugar Cosmetics – More Than Just Sugar-Coated Offers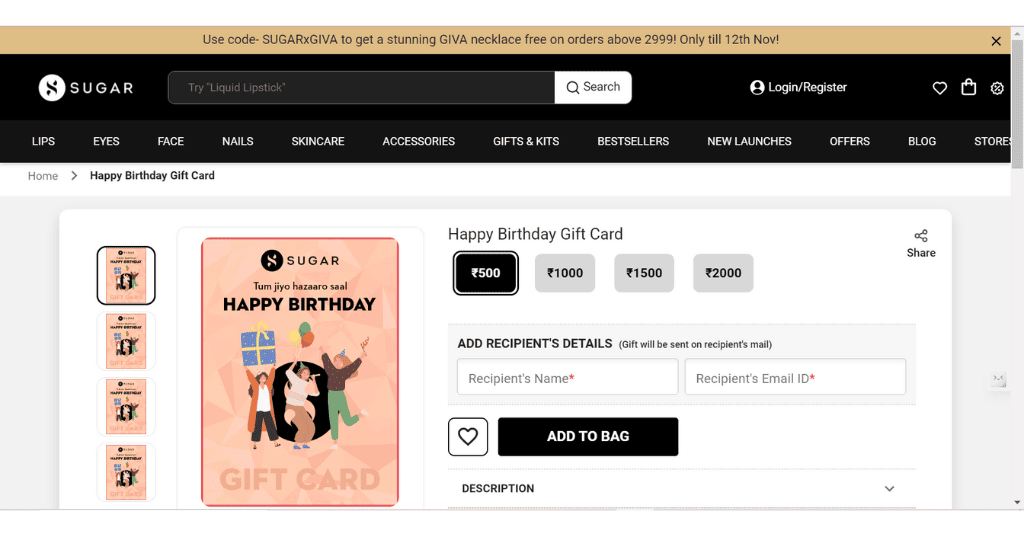 While Sugar Cosmetics may not have a direct birthday gift, their ongoing offers are sweet enough. With every purchase of ₹799 or more, indulge in complimentary makeup products, including kits, setting powders, and crayon lipsticks. Their makeup birthday freebies is all about the "happy birthday gift card."
9. Renee Cosmetics – Indian Elegance Perfumed
Renee Cosmetics, an Indian brand, delights customers with a free perfume on every purchase. Elevate your beauty routine with this fragrant birthday treat. It doesn't have any birthday month offer yet, but still gives you a free perfume on your any purchase and trust us Renee has some great range of makeup products that you should try.
10. MAC Cosmetics – Loyalty Rewarded
Want to know the brands that give birthday discounts in India? MAC Cosmetics' Loyalty Program members receive double points on purchases and a fabulous birthday gift. It's a double delight for makeup lovers. So, grab your birthday month offers by MAC. Go, grab your birthday makeup freebies!
11. The Body Shop – Love Your Body, Love Your Birthday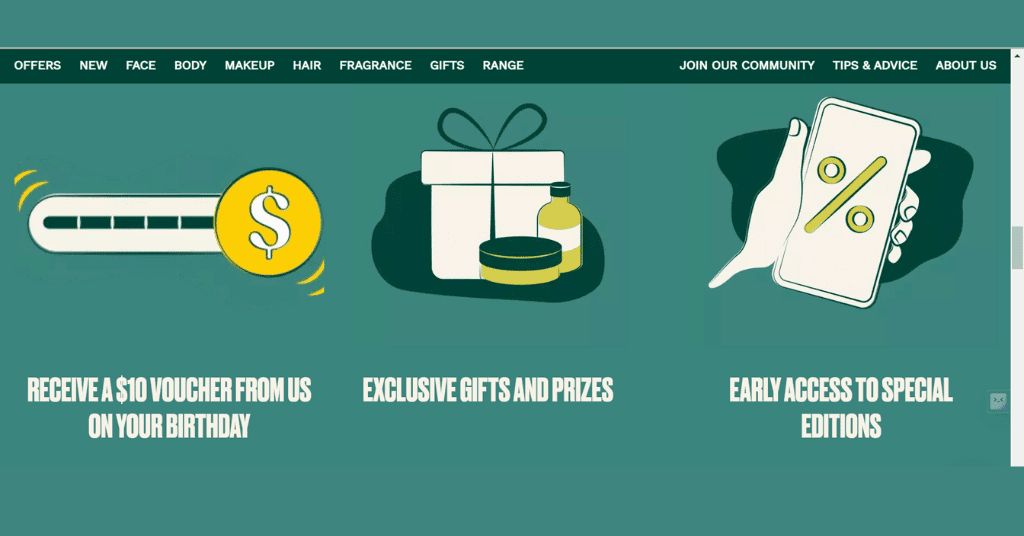 Join The Body Shop's Love Your Body Club and receive a free $10 birthday voucher. Treat yourself to a guilt-free shopping spree online or in-store. So, go grab your makeup freebies on birthday India.
12. Free Birthday Gifts Makeup By Ulta – Unleash the Ultimate Birthday Glam
Looking for free birthday gifts makeup? Check out the Ultimate Rewards Members at Ulta and receive a free full-size makeup product each year with a special code sent via email. Ensure your birthday details are up-to-date and get ready to glam up! Claim your free stuff on your birthday online in India by Ulta beauty.
13. Bare Minerals – Makeup Birthday Freebies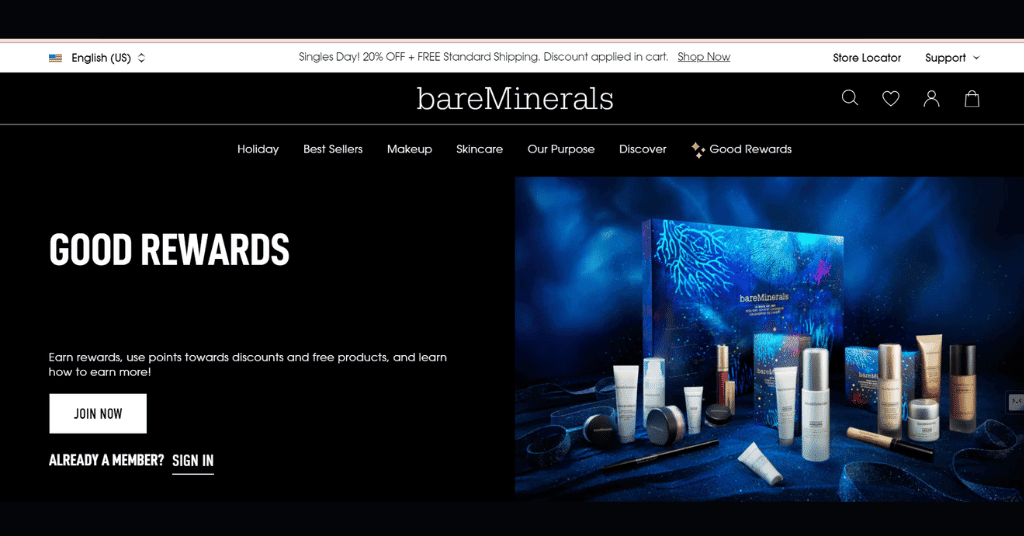 Currently offering a Free Full-Size Loose Mineral Eyeshadow retailing at $15, Bare Minerals makes your birthday a glittering affair.
Suggested Read: Here's How to Get Free Birthday Gifts in India – 100% Real
Conclusion
Birthdays are about more than just growing a year older. So, are you excited to avail your free makeup products on birthday? They're an opportunity to pamper yourself, and what better way than with free makeup birthday freebies? Explore these brands, enjoy the perks, and let your birthday be a celebration of beauty!
FAQS
1. Is joining loyalty programs worth it for the birthday gifts?
Absolutely! Loyalty programs not only offer birthday gifts but also provide ongoing discounts and exclusive offers, making them a fantastic deal for beauty enthusiasts and avail your free makeup products on birthday.
2. Where can I get free gifts on my birthday in India?
Discover birthday offers India from various makeup brands available online or offline. Explore their websites or visit showrooms in Delhi, and many brands are accessible online or at DLF Mall in Noida.
3. Do all brands mentioned offer birthday gifts worldwide?
While some brands are international, others may have specific offers based on geographical locations. It's recommended to check with each brand for their specific terms and conditions.
4. Are there any additional perks for loyalty program members?
Yes, many brands offer additional perks, such as double points on purchases, exclusive access to new products, and special discounts, making loyalty programs a valuable investment.
5. Can I redeem my birthday gifts online?
Most brands mentioned allow online redemption of birthday gifts, ensuring you can enjoy your beauty treats from the comfort of your home. So, avail your avail your free makeup products on birthday.
6. How long do I have to redeem my birthday gifts?
The redemption period varies, but generally, brands provide at least 30 days for you to claim your birthday gifts. Be sure to check the terms and conditions for each brand to make the most of your treats.
7. What makeup brands give free birthday gifts?
Brands that give you birthday offers India are Sephora, Ulta beauty, The body shop, Sugar cosmetics, Kiehl's, and more.